If you have particularly excitable or boisterous kids with short attention spans, there are plenty of educational attractions that will keep even the most hyperactive child amused this summer. Here are some fun, child friendly days out in the UK where there's plenty to learn about: but there's also plenty to see, play with and do.
Take little palaeontologists to... The Dinosaur Park, Pembrokeshire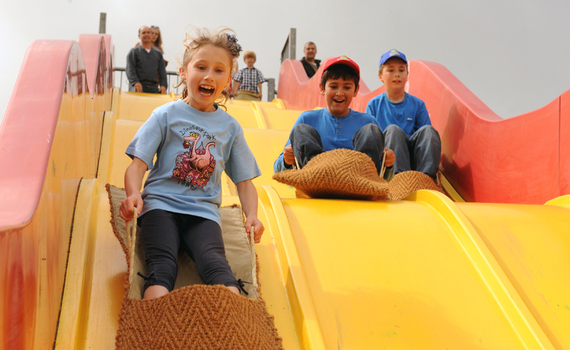 Let your little learners burn off energy whilst secretly learning © The Dinosaur Park
Dinosaur mad kids will love this theme park with an educational twist. There are plenty of exciting fairground rides including Wales' only Tubey ride, the bubble ride where children can walk on water (you have to see it to believe it), mini hover crafts and Jeeps they can drive around in.
There's play areas, a mini golf course and giant board games to keep the children entertained. The real attraction though is The Dinosaur Trail, where your family can explore the swamps and come face to face with over 30 model dinosaurs. Children can complete a Dino Quiz to win an Expert sticker.
There's also an Info Centre with educational displays about dinosaurs, including interactive screens and model dinosaur hatchings. The Dinosaur Park is also very budget friendly as all manned rides are included in the price of a ticket so Mum and Dad don't have to feel like they have to spend the entire day saying no to the children to keep spending on track. There's also a picnic area if you want to bring a packed lunch rather than pay to eat out.
Take little soldiers to... The Tank Museum, Dorset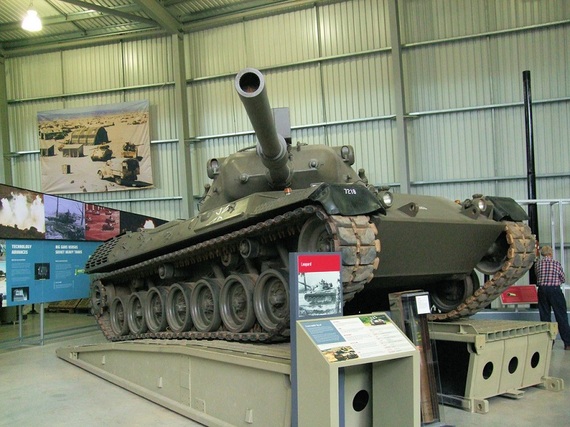 Don't let Dad drive it home! © Jim Linwood
If your kids are studying either of the world wars at school at the moment, they'll love The Tank Museum, which tells the story of the tank's invention and use around the world, in the context of the different conflicts where it has played a part. The Discovery Centre displays 35 of the most important tanks from history and includes a new exhibition, Warhorse to Horsepower, which explores the transition made in WW1 from cavalry to tanks.
As well as the chance to see real life tanks on display from different periods in history, there are also a number of family friendly things to do including trails, play tables, dress up activities and an outdoor play area.
If that wasn't enough, The Tank Museum also has its own outdoor arena and puts on live Tank Action Displays and lets visitors take rides in tracked vehicles. Real enthusiasts shouldn't miss special events like the annual Tank Fest and The Tank Museum Experience Day, where Mum and Dad can learn to drive an armoured vehicle (the kids had better watch out)!
Take little explorers to... The Eden Project, Cornwall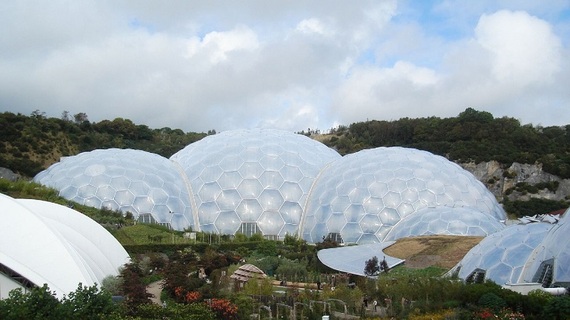 See the world's flora in a day without leaving Cornwall © Lawrie Cate
Where can you see the rainforest, the sunny Mediterranean and an English garden all in a single day? The Eden Project of course! The Eden Project is a giant eco park which is dedicated to teaching its visitors about the natural environment, climate and plants.
The main highlight is the world's largest captive rainforest, full of exotic plants, which also has a fun rainforest canopy walkway. There are also garden displays with plants from across the globe, which explain their uses as medicine, food and fuels. Over the summer there are plenty of special activities for young children including story telling, art sessions, child-friendly talks from experts and gardening demonstrations, as well as a playground to blow off steam.
Plus, for summer 2014 only, there's the chance to encounter a T-rex. Yes that's right, a T-rex. The Eden Project is hosting the special event, Dinosaurs Unleashed. Explore the recreated primeval swamp; keep your fingers crossed that the gentle triceratops won't get eaten and help the hapless Professor Stein track down the escaped tyrannosaurus rex. This event only lasts till the beginning of September, so get down to the Eden Project now if you want to go dinosaur hunting.
Take little archaeologists to... Jorvik Viking Centre, Yorkshire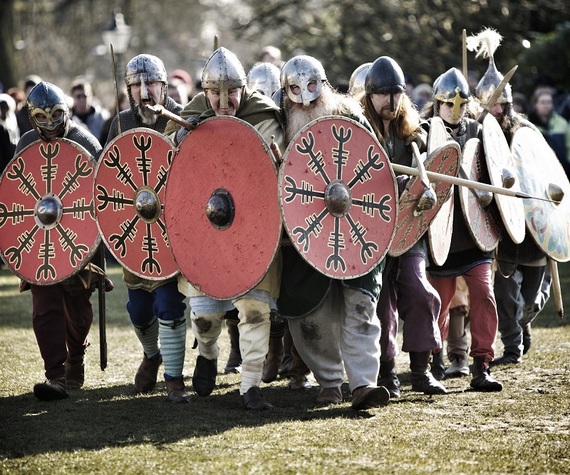 Just like Thor, only without his MARVELlous buddies © Jorvik Viking Centre
If your kids like Marvel's Thor films, you can take them back in time to explore the Viking civilisation, which inspired the original comics. Jorvik Viking Centre is built on the site of the ancient Viking city of Jorvik, one of the most important archaeological discoveries of recent times.
During your visit you can explore reconstructed Viking streets, see inside Viking homes, and visit craftsmen's workshops. You'll also get to meet the city's very real Viking inhabitants. There are also four permanent exhibitions which tell the story of how the Viking's lived, show real pieces from the archaeological site and explain Britain's unique Viking heritage.
The Jorvik Centre is also partnered with four other attractions, including DIG Jorvik, where your children can learn more about archaeology and have a go at digging up artefacts from Roman to Victorian times.
Take little farmers to... Honeybrook Farm, Dorset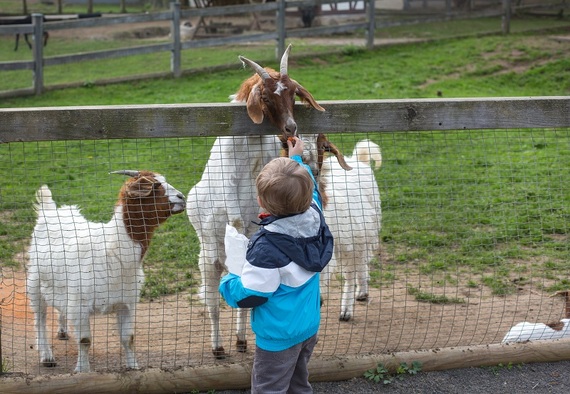 Kids will love the survival skills workshop © Honeybrook Farm
Honeybrook Farm is a family farm and play park, where children can learn about nature and farming in a fun, stimulating environment. There's a farmyard where children can meet the cows, pigs sheep and goats, see demonstrations of farm work such as milking, and even help the farmer feed the new born lambs in springtime.
There are also plenty of smaller fluffier animals to pet in Pet's Corner, or can even have a pony ride at the Honeybrook Riding Stables. As well as meeting the animals Honeybrook farm offers a number of activities such as the Wild Sessions where children can learn about bush craft and outdoor survival skills (such as building a shelter and foraging for food), see Xtreme Falconry demonstrations and ride tractors.
If they still have some energy left, there's also a massive adventure playground with a zip wire, rope tower and Trojan horse playhouse. There's a free picnic area, restaurant, café and for those of you with a sweet tooth there's also an ice cream parlour, yum.
Take little gardeners to... Hestercombe Gardens, Somerset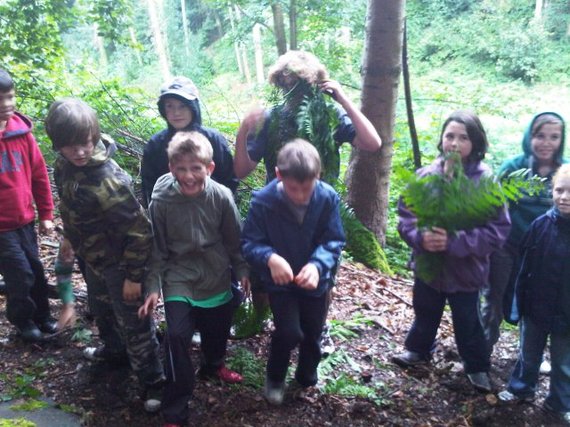 A vivid and civilised day. Did we mention the pirates... © Hestercombe Gardens
Hestercombe Gardens comprises over 50 acres of diverse garden design spanning from the Georgian to Edwardian era. In the summer the grounds are awash with vivid colours and the family can spend the day exploring the gardens many lakes, cascading waterfalls and formal terraces, or enjoy an afternoon tea in a very civilised setting.
Hestercombe Gardens are also known for their family friendly events and activities, every Friday this summer there's a themed fun day for children: including Pirate Friday (which includes rafting, a treasure hunt and a fancy dress competition), Fairy Friday (where the children can watch a magic show and go to a fairy tea party), and Sporty Friday (an old fashioned school sports day, where there's even a race for the Mums and the Dads).
After that you can visit the restored 17th century watermill and see the still working machinery, or take the children to the outdoor playground.
Written by Hana Chelache, a travel writer for HomeAway.co.uk.