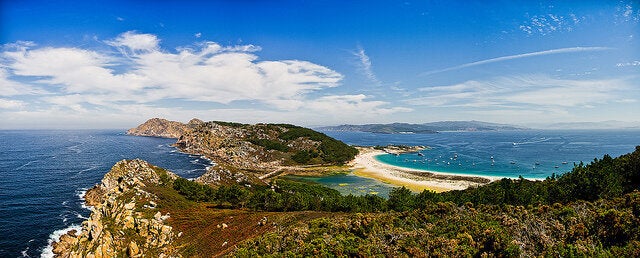 Beautiful Islas Cies, off the coast of Galicia © Oscar Megía
It's not hard to see why Spain is one of the most popular destinations for British holidaymakers. There are many beautiful places in Spain where you'll find plenty of sunshine, good food, good wine, and beautiful beaches, but beyond these destinations we know and love, there are some Spanish gems that have been blissfully unaffected by mass tourism. These delightful destinations are the perfect summer hideaway and ideal for anybody wanting to explore off the beaten path. Here are some of Spain's best-kept secrets that you may want to keep in mind when you're planning your next holiday in Spain.
Galicia for the gastronome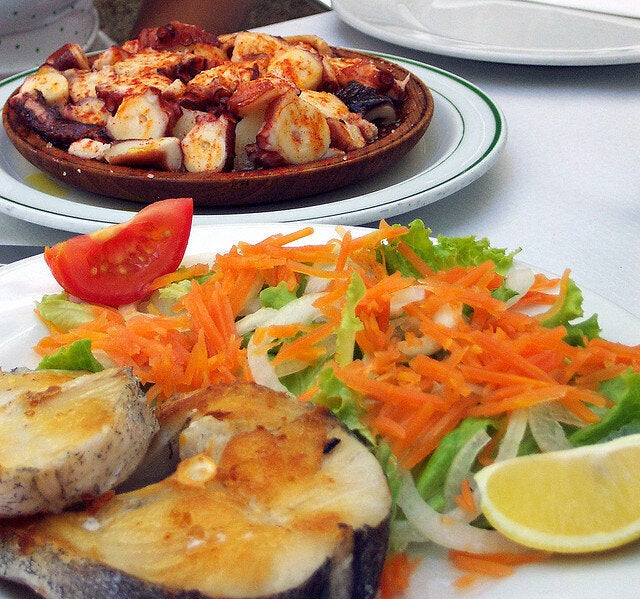 With delicious seafood dishes on the menu, Galicia is a foodie's paradise © ebifry
Located in the northwest of the country, this autonomous community has a rich cultural heritage and fantastic architecture. Best of all, it's a very affordable destination for British holidaymakers. The towns along the coast are famous for their fabulous seafood dishes like Pulpo a Feri. With things likeempanada and bacallau ao alvariño on the menu it's a foodie's paradise.
When you're not sampling the regional cuisine you can get lost exploring the quaint streets of cities and towns like Santiago de Compostela, Vigo, Fisterra, Ribadavia,A Coruña and Lugo. Visitors can also take time out to explore Galicia's wine country and beautiful inland region. Some of the region's best tourist attractions include St. James Cathedral in Santiago de Compostela, the Menhir of Ribeiro megalith site, Hercules Tower, the thermal springs at Ourense, and the Lugo Wall. If you're looking for rest and relaxation you head to Islas Cies and Islas Ons. These two small islands off the coast of Galicia have soft white sand and azure water and are ideal for soaking up the sun.
Historical treasures in Cáceres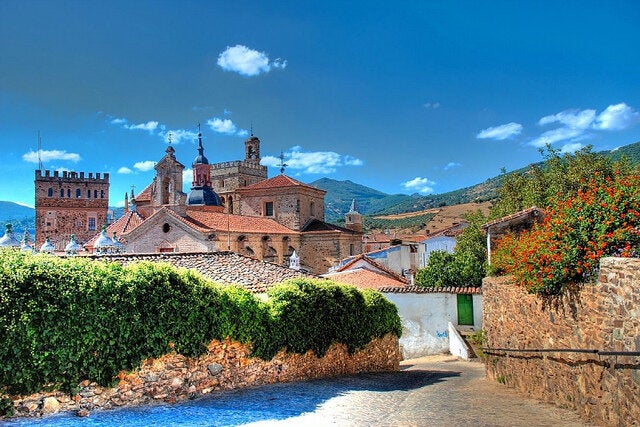 The entire province of Cáceres is filled with tourist gems, like the Real Monasterio de Santa María de Guadalupe © Ventura Carmona
The beautiful old city of Cáceres is located in the Extremadura region in the western part of central Spain. Here you'll be able to walk along Cáceres' narrow cobbled streets that wind their way up the hill, surrounded by ancient stone walls that make you feel as if you have stepped back in time. The architecture of the well-preserved town reflects the Roman, Medieval, Moorish and Renaissance periods that have all left their mark. History buffs will love visiting sights like Museo de Cáceres, the 15th-century Casa de los Becerra, and Palacio de los Golfines de Arriba. If you enjoy people watching you can eat lunch at Plaza de San Mateo, or climb to the top of the 12th-century Torre de Bujaco for a bird's-eye view of Plaza Mayor.
If you want to spend a day in the great outdoors you can explore the nearby Monfrague National Park, which has some splendid bird life, including vultures and eagles, and is the perfect place for hiking. In the province of Cáceres you'll also find the delightful towns of Guadalupe and Trujillo, which are well worth a visit.
Art and architecture in Cuenca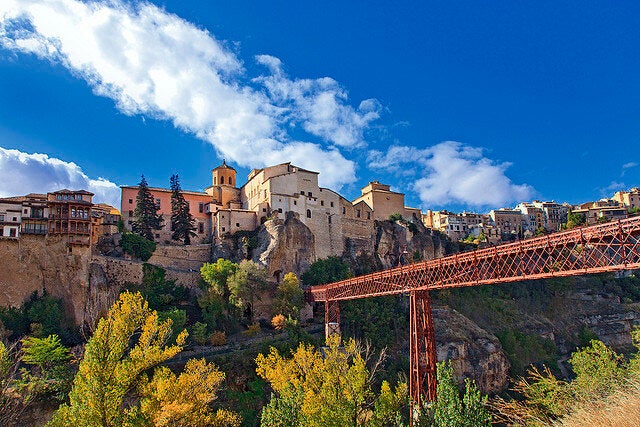 Walk across the Puente de San Pablo for great views of Cuenca's hanging houses © Tomás Fano
Clinging to rocks on a steep mountainside in central Spain, you'll find a city that is a UNESCO World Heritage site and one of Spain's best-kept secrets. Once a Moorish fortress, the town of Cuenca dates back to the 8th century and is best known for the casas colgadas (hanging houses) that hang over the gorge above the Huécar and Júcar rivers.
Among these hanging houses art enthusiasts can visit the Museum of Abstract Arts, as well as galleries like the Museo Fundacion Antonio Perez, and a myriad of quaint galleries that can be found in the quiet streets and alleys of Cuenca. Anybody with an interest in architecture can visit the Our Lady of Grace Cathedral, one of the oldest Gothic buildings in Spain. The stained-glass windows and Renaissance-style domes can't be missed. For some good views of the historic buildings in the city head to the bell tower at Iglesia de San Pedro, or walk across the Puente de San Pablo, a narrow bridge that connects the old town to a 16th-century convent-turned-hotel. When you need a snack break head to one of the tapas bars in the El Castillo quarter, where there are numerous terraces with great views.
Splendid Segovia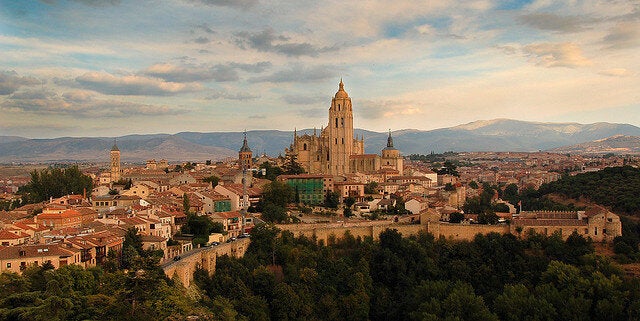 Just 30 minutes from Madrid, beautiful Segovia makes a great day trip © Raúl A
The picturesque old city of Segovia is located in the Castile and León region. Although there is no shortage of great accommodation in Segovia, it's just 30 minutes from Madrid, making it a great day trip for those staying in a Madrid holiday rental. The city has quaint alleyways that twist their way between sandstone houses, medieval villas and Romanesque churches, towards Alcázar fortress that is perched on the hill.
Popular attractions in Segovia include the Roman Aqueduct which is a beautifully preserved example of Roman engineering, as well as the beautiful Baroque-style Royal Palace of La Granja, the Segovia Cathedral of Santa Maria, and the Museo de Segovia Casa del Sol. It may look like a sleepy town, but Segovia has a wonderful selection of bars and restaurants, where you can enjoy local dishes when you're not walking the streets of this delightful city.