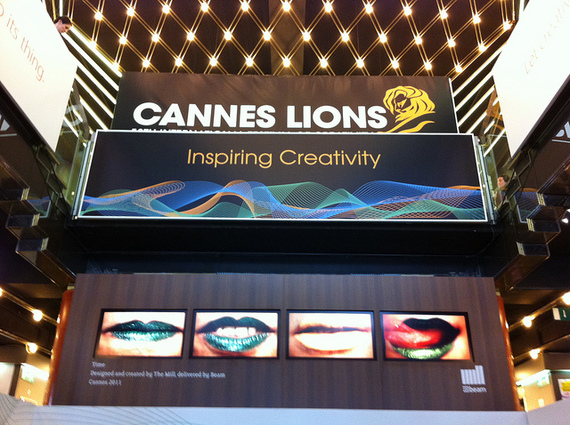 (photo credit: Digitas
As the sun sets on another Cannes Lions Festival, and members of the advertising industry get used to drinking something other than champagne (it's a hard life ;), we reflect on one key takeaway: adverting is changing.
This was the first year that the Cannes Lions was extended to also include a two day Lions Innovation Festival showcasing the best that tech has to offer the advertising world... and the tech giants didn't need to be asked twice.
Tech Trumps
The biggest parties (thank you Google, Vice, Facebook), as well as the biggest announcements were all hosted by tech companies this year:
Snapchat launched both a new video ad product and a marketing studio. Unilever partnered with Vice to launch a female-minded video channel. Instagram made subtle, yet important move s to become an in-the-moment marketing platform. All this in a week's work.
Some brands / agencies were heard begrudging this 'techified' change to their beloved Cannes festival, saying spitefully that 'Tech is taking over our festival' however other brands and agencies were seen to proactively embrace it.
Embracing Change
Leading this embrace of technology was Unilever who showcased 50 of the world's most exciting Marketing and Advertising tech startups, through their Foundry50 program, started by Unilever's Jeremy Bassett
A selection of these startups include:
Adludio - The world's leading Sensory Advertising Platform: mobile advertising that uses touch & haptic sensory feedback technologies to create ads proven to be 10x more memorable (disclosure, I'm a founder of Adludio)
Reeleyes - Realeyes is the world's leading platform for measuring how people feel as they view video content.
Seenit - a video collaboration platform that allows brands and organisations to engage with fans/consumers and specialists, to create content that they can curate and distribute.
Novalia - Conductive stickers that add sound to displays (such as 'point of sale' displays etc)
It appears Unilever's stance is simple: Embrace the Disruption or Be Disrupted which was fittingly also the name of Unilever CMO Luis di Como's keynote: a stance many other brands could take a valuable lesson from.
Unilever have shown real commitment to innovation where other brands and agencies have been known to pay it lip service. Question is, will others follow suit?
In summary, Cannes 2015 was another great success with talking points, parties and announcement... but the Innovation Festival was definitely the highlight that made a big impression. I wonder how long it will be until it takes center stage?