There's no doubt about the Black Friday prayer. It's "God make me good, but not yet." After all, you'd be insane not to snatch this, grab that and bag one of those. Wouldn't you? Or should you stop consuming so wantonly and cherish quality goods made better?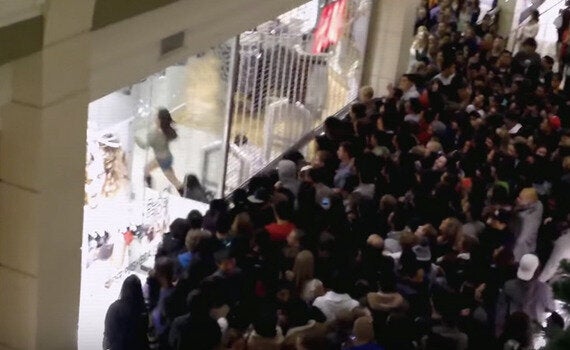 Retailers are determined to lure us to Black Friday, the ultimate shopping day of the year. But as COP 21 kicks off, the UN Global Goal 12 urges us to ensure sustainable consumption and production patterns. It's the conscientious consumer's conundrum.
According to Drapers*, this coming Friday, 27 November, is set to be the biggest day ever in UK retail history, with sales of almost £2 billion. They predict that the figure, equivalent to £83 million every hour, £1.4 million every minute and more than £23,000 every second, will be up significantly on last year. Google Trends data already shows that the number of internet searches for Black Friday is 3.54 times greater than at the same time in 2014.
What might be a bitter truth is summed up by Vietnamese Buddhist monk, teacher, author, poet and peace activist Thich Nhat Hanh, "The situation the earth is in today has been created by unmindful production and unmindful consumption. We consume to forget our worries and our anxieties. Tranquilising ourselves with over-consumption is not the way." So are we really consumption junkies, addicted to an endless cycle of mindless buying, giving and receiving?
As Stephen Colbert says in a clip in the 'The True Cost' movie, about the orgy that is Christmas shopping, "America is back. Once again, we're spending money we don't have, on things we don't need, to give to people we don't like."
Our hope is that shoppers see through the sugar fix that is Black Friday. And that, as they sit calmly at home thinking about what and why they buy, they actually decide to buy less, made better. We have particularly high hopes when it comes to shopping for fashion. We hope that consumers will start to feel so strongly about their wardrobes that they start to make their own rules.
Our number one rule? Only buy something if you can commit to wearing it more than thirty times. If you can cherish it for thirty years, even better. The best wardrobes tell you about the people who wear the clothes, not the last fashion magazine they read. They have some vintage, some sustainable new fashion, some much loved pieces bought years ago and maybe their Mum's old, but hip winter coat. New, old, loved and irreplaceable. That's the mix to remember.
Black Friday will come and go. So will the Christmas rush and the New Year discount sales. The figures will speak for themselves. But we know a few already. The global fashion industry generates upward of 2.5 trillion dollars a year. The world produces 80 billion clothes a year and consumes 400% more clothing than it did 20 years ago. There are over 40 million garment workers in the world today. In Bangladesh, which has one of the lowest minimum wages in the world, there are an estimated 4 million garment workers working in 5,000 factories. 85% are women.
So when you look through your Black Friday bargains, spare a thought for the women at the end of the supply chain in the garment factory. They often work on the production line for 12 to 14 hours a day, in buildings with armed guards at the door and barred windows. They have to produce 150 pieces an hour, with two toilet breaks a day. They need the work. They want to work. But not like slaves in prison.
So spare a thought for them and then remember our mantra. Fast fashion is like fast food. After the sugar rush, it just leaves a bad taste in your mouth. Instead of the sugar rush, consume less and commit to cherish more.
*Drapers, "Black Friday to be biggest day in UK retail history", 23 November 2015.