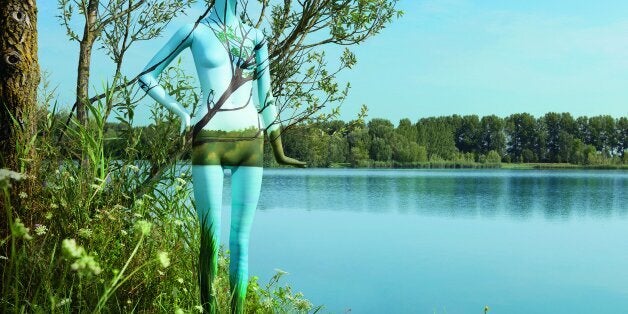 Italian company Bonaveri's new creation doesn't just look good. It's also the world's first biodegradable mannequin. That makes it unique and pretty irresitible. CEO Andrea Bonaveri enthuses why.
Our new mannequin is a thing of great beauty. I'm so very proud of it. And the wonderful thing is that the beauty is also on the inside, not just the outside. In the fashion business, even in the digital age, mannequins still have a charm and a mystique about them. Now they have a goodness about them too. A goodness that goes right to the core. It's a totally innovative product.
For me our mannequins are, without doubt, unique works of art. Each one is masterpiece of craftsmanship and an object of beauty. I was speechless when I saw them at our launch event, created by Livia Firth's sustainability consultancy Eco-Age, in partnership with BAFTA - the British Academy of Film and Television Arts - and the British Fashion Council.
Founded by Eco-Age, the 2016 Green Carpet Challenge (GCC) brings together glamour and ethics to raise the profile of sustainability, ethics and social welfare. It seemed absolutely to be the perfect vehicle to unveil the world's first biodegradable mannequin.
The new mannequins were dressed in couture creations by William Vintage, with work by Hubert de Givenchy to John Galliano and Alexander McQueen. I have to say, those gowns did justice to our mannequins. I'm not joking. The gowns were undeniable red carpet icons. And just like our mannequins, they bring to life the values of artisanal skills and handcrafting, so valued again in the 21st century.
As I said, the new mannequin is a totally innovative product. Forgive my fascination with the science, but for me, it's fascinating. The body is made of B Plast®, a bio-based polymer consisting of 72% sugarcane derivative and finished with B Paint®, which is made solely of renewable, organic substances.
At the start of the project, we imagined a new way of creating the mannequins we love. Our mannequins wear unique and beautiful clothes, dwelling in store windows to show the world the true beauty of fashion. At the end of their journey, when they're ready to be replaced, they biodegrade, literally refuelling a whole new lifecycle. Now that's truly magical.
My family and our business have developed an enviable reputation over many years. We're already acknowledged as a leader in the field of high-end, artistic mannequins and bust forms. Now, with these B Plast® and B Paint® products, we're delivering a product that has been analysed from top to toe. Literally. Because the new Bonaveri mannequin has undergone a full Life Cycle Analysis.
It all started back in 2012, when we launched an ambitious research project. We appointed the Politecnico di Milano to undertake a Life Cycle Assessment on our entire mannequin production. The study painstakingly documented the environmental impact of each phase of the manufacture. Right from the design of the mannequin through to the product's end-of-life recycling.
As I said, I'm a bit of techie, so I must tell you about my passion for our biodegradable and natural materials. BPlast® is an innovative bio-based polymer made from a sugar cane derivative. The production of mannequins in BPlast reduces CO2 emissions compared to commonly used petrochemical plastics over the lifecycle of the product.
Then I must tell you about BPaint®, which gives our mannequins, "colour from natural sources". BPaint® is a colour range made exclusively by Bonaveri from natural plant based resins and oils. We use plant based, phosphorous-free surfactants and solvents from orange peel and desiccant-free cobalt salts and naphtha. It's a wonderful use of Nature's resources and a fitting complement to the beautiful clothes that our mannequins showcase.
I can assure you, we have submitted the materials and coatings to the most severe tests. Our manufacturing operations were assessed against Eco-Age's GCC Principles of Sustainable Excellence, covering social welfare, environmental protection, training provision and security for workers.
It's been a difficult path, full of surprises. But thanks to the commitment and expertise of the entire team, we're able to offer our customers a product which is environmentally conscious and aesthetically impeccable. Because the word "quality" has only one meaning for us, whether we use it to describe aesthetic, manufacturing, service, or environmental sustainability. That is because fashions come and go, but nature has to stay.
This September The Huffington Post UK Style is focusing on all things sustainable, for the second year running. Our thirst for fast fashion is dramatically impacting the environment and the lives of thousands of workers in a negative way. Our aim is to raise awareness of this zeitgeist issue and champion brands and people working to make the fashion industry a more ethical place.
We'll be sharing stories and blogs with the hashtag #SustainableFashion and we'd like you to do the same. If you'd like to use our blogging platform to share your story, email ukblogteam@huffingtonpost.com