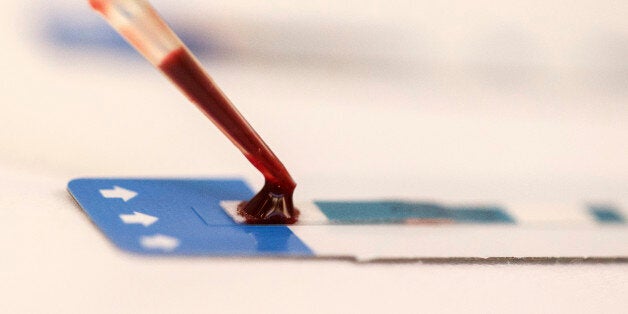 This time last year, the world was talking about HIV testing. Charlie Sheen had just been forced to disclose his HIV status to the world and within minutes, Twitter had exploded.
It was days before National HIV Testing Week, and under the media's relentless pressure, Charlie Sheen came forward to say he was the 'mystery Hollywood actor' living with HIV. Cue predictable headlines about him 'deserving' the virus and a 'Hollywood AIDS panic'.
This was a few months before I became chief executive of Terrence Higgins Trust, the UK's HIV and sexual health charity. I observed the situation as someone living with HIV, and I found it incredibly disappointing that someone was forced to disclose their HIV status in 2016.
But there was some genuine good that came from this unfortunate situation. For the first time, a really important message made it out into the public arena on a global scale - that people on effective HIV treatment cannot transmit the virus.
Today, an HIV test is nothing to be feared. It is quick, anonymous, and puts you in control. And if you get a positive result, you can get onto treatment that enables you to live a normal healthy life.
But it hasn't always been this way. When I think back to my own experiences of HIV testing, my mind is cast back to 1983. I was a student in Ripon College, during those terrible early days of the AIDS epidemic.
Every few months, without telling a soul where I was going, I would go for an HIV test at Leeds General Infirmary.
The room was tucked away in a basement, giving you a creeping sense of shame from the moment you walk through the door.
It was impossible to avoid that stigma becoming internalised - I even used a false name. I was just beginning to explore my own sexuality in a very hidden way, but I had not come out to my family, and I didn't know any openly gay, sexually active people. So those HIV tests were something I did completely alone.
Back then, results from an HIV test took about three weeks. Those three weeks were hell - an all-consuming fear engulfed you as you sat in the waiting room to get your results.
I wish I had known then, that 30 years later, I would be leading a charity that tests people for HIV out in the open, in everyday situations - in high streets, churches, supermarkets and at football matches. Or, if they prefer, in the privacy of their own home, using a self test kit.
Today, we can give people their results in minutes - not weeks. We now put real people, real voices, at the heart of our HIV prevention campaigns, to normalise HIV testing and to show it's nothing to be ashamed of.
It would have brought me enormous comfort to see a public figure like Prince Harry testing for HIV in front of the world's media, as he did in summer 2016. At the time, THT saw a five-fold increase in requests for our self-test kits; as soon as someone lifted the lid on what HIV testing is really like, people's fear temporarily evaporated.
I was eventually diagnosed with HIV in 1996. I must have had about 20 or 30 negative HIV test results by then. It's not enough to know your last test was negative - if you've taken a risk since then, you could be living with undiagnosed HIV.
Indeed, one in six people with HIV in the UK don't know they have it - and are therefore missing out on treatment. Four out of ten people with HIV in the UK are diagnosed late, once they should have already started treatment. People who are diagnosed late have a ten-fold increased risk of death in the first year of diagnosis, compared to those diagnosed early.
We have a weapon against these alarming statistics; the HIV test. If everyone knew their status and got onto effective treatment, we could end HIV infections for good in the UK, and ensure those who do have HIV can live healthy lives.
The challenges we face before we can get there are two-fold. One, we need to make HIV testing as accessible as possible and stop relying on people proactively visiting a clinic - we will never reach everyone this way. Two, we must normalise testing.
It my genuine hope that young people grow up informed and empowered, in a world where HIV testing is as normal as going to the dentist or having your blood pressure checked.
A world where no young person finds themselves alone and ashamed, waiting for their HIV test results in a dark basement in Leeds.
Related