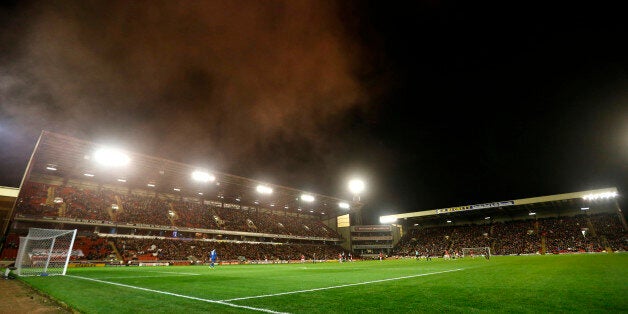 Have you thought about taking your own life? It is quite alarming to think that someone you know, love or just walk past in the street may have had suicidal thoughts. But with the statistic that men under the age of 45 are more likely to die by suicide than anything else - this is a shocking reality.
I work with many young men who have thought about taking their own life. I have received phone calls on a Saturday evening whilst sat on my sofa, from distressed young men ready to do it. Luckily, through my training and awareness around the issues that lead a person to this point, I have been able to make sure the appropriate steps are taken to help get these individuals to safety.
But how can we help to make sure that this type of intervention is not needed and make sure that young men feel that they are able to express how they are feeling or start conversations with their peers.
One answer is through football.
It might seem strange suggesting football as an answer. I for one know how the pressures of life can build. In 1996 I signed for Notts County FC as a player on loan and since then, it doesn't really feel as though I've left, because in 2004 I was then appointed caretaker manager of the Club. This was a difficult time as the team were in the relegation zone, we had no money and I quickly became acutely aware of the number of people required to help make sure a club functions. In just seven months, after successfully managing to keep the Club in the league, I then lost my role as manager as well as my career as a player.
It was bitter sweet to say the least. I was now faced with a decision on what to do next. My family was firmly established in Nottingham, but I felt as though I had been let down. To say I was feeling low is an understatement.
But football is my passion. And through the community scheme at Notts County FC I have found a new mission that allows me to share my own personal experiences to help young men who experience anxiety, depression and other mental health problems.
First hand I have witnessed the appeal of football to help engage young men who a suffering with mental health problems. In 2007 Notts County FC Football in the Community established, On the Ball, a project designed to help young men aged 18 - 45 build their confidence in a non-clinical environment and to open up about some of the day to day problems they are facing.
Football has a global audience and I believe that by using football to reach those with a mental health problem, is a way to help normalise discussing emotions and destigmatise mental health in men. Football is one of many sports that can help reach young men with mental health problems and through the Mental Health Charter for Sport and Recreation, more sports are now committed to using the power of sport to promote wellbeing, with a special focus on encouraging physical activity and social interaction for their contribution to good mental health.
The On the Ball project gives young men the opportunity to connect with other people with mental health problems and it helps them socialise, which really helps to combat the social exclusion that is felt by so many with a mental health diagnosis. Football training and being part of a team really supports the young men to break down the barriers and builds a camaraderie that gets them talking about their own personal experience in workshops provided by the programme.
Often the young men I deal with warm to the idea of discussing scenarios that they can relate to. Whether this is a football manager under pressure from a club because of a run of bad results or a player handling the opinions of thousands of fans on the side line. In group discussions this use of football language helps the young men to identify with scenarios they may have dealt with in the last week or so and to open up about how that might be making them feel. The success of the project was recognised by the Sport and Recreation Alliance at their 2016 Community Sport and Recreation Awards where we won the Professional Club Programme of the Year Award sponsored by The Professional Footballers' Association. These Awards have been running for over two decades and the money we won has helped us employ a part-time mental health specialist.
I truly believe that this programme should be available across the country. The good news is that Professional Footballers' Association has now established a network of Football in the Community and I believe On the Ball should be a project that is rolled out across this network. This is because in nine years we have played a role in the recovery of 500 young men alone in the Nottinghamshire region.
Think about it, if we are able to expand the programme, just think of how many more young lives we can reach.
HuffPost UK is running a month-long focus around men to highlight the pressures they face around identity and to raise awareness of the epidemic of suicide. To address some of the issues at hand, Building Modern Men presents a snapshot of life for men, the difficulty in expressing emotion, the challenges of speaking out, as well as kick starting conversations around male body image, LGBT identity, male friendship and mental health.
To blog for Building Modern Men, email ukblogteam@huffingtonpost.com. If you would like to read our features focused around men, click here