In a whirlwind of actions since assuming the Presidency, Donald Trump has implemented a number of controversial decisions, which his supporters applaud and his detractors jeer.
Now, members of the LGBT community are becoming concerned they may be the next target for one of Trump's blizzard of Executive Orders, currently redrawing America's political landscape.
Data in a new research report released by Out Now reveal just how worried LGBT Americans - and their many allies - are at the prospect of Donald Trump signing a new Executive Order stripping them of their rights to equal protections under US law.
On January 30, 2017 Trump's Press Secretary, Sean Spicer, refused to answer a question put to him about a rumoured action, designed to strip equal rights protections from LGBT people in the name of 'religious freedom'.
Such actions against their rights have been feared by America's LGBT communities since soon after Trump's election in November.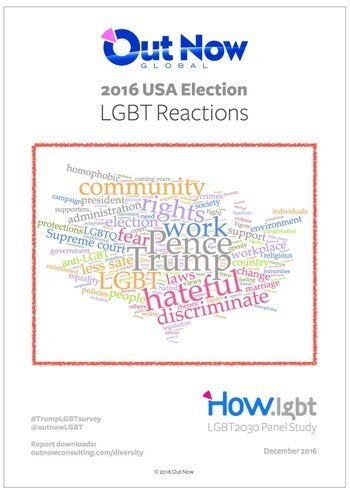 Worried about equality going backwards
We found that Pence's name was used by respondents in the write-in remarks almost as much as Trump's - as can be seen in the report's wordcloud cover graphic.
The most common words self-written into the survey by respondents were: "Trump", "Pence", "hateful", "fear", "anti-LGBT", "less safe", "discriminate", "homophobia/homophobic." Many respondents cited personal experiences of anti-LGBT incidents having risen since the November 8 election of Trump and Pence.
Key findings from the study reveal:
• 82% of respondents said "day-to-day life is likely to get worse for LGBT people in US society" as a result of the election result.
• 77% of respondents said they expect it to become harder to be "out" as an openly LGBT person with work colleagues.
• 75% 'strongly agree' that "it will become more necessary for corporations to activate workplace inclusion policies that support and protect equal rights for LGBT employees". A further 13% 'agree' somewhat.
• 86% of respondents agreed (75% strongly) that the election of Trump and Pence is a "BAD THING" for members of LGBT communities in the USA.
One respondent's remark in the study is typical of many others who took part in the study:
"While it is hard to see how they can implement policy that attacks the rights and freedoms of LGBT people, it is likely that people will feel more emboldened to act upon their prejudices, particularly given Mike Pence's past. The election of both Trump and Pence, but the latter in particular, is likely to be seen as an endorsement by certain groups to end what they perceive as nothing more than political correctness and it is likely that they will act, one way or another, on their homophobia. Be it violent attacks or small, insidious acts, I can't see how being LGBT in the "flyover states" is going to be great in the coming years."
Many respondents singled out Mike Pence as being of particular concern.
Pence was reported in 2000 to favour funding organizations that work to "change gay sexual behavior" which many interpret as supporting so-called 'conversion-therapy' - a practice medical professionals now generally refute as cruel and ineffective.
In 2015, when Governor of Indiana, Pence signed a 'religious freedom' law which members of the LGBT community believed could worsen discrimination against them.
As one respondent in the new report commented: "I believe Mike Pence will normalize homo/trans/biphobic attitudes throughout the United States, and this will have a flow-on effect in the world. Trump will do so indirectly, as he has shown little to no interest in standing up for any of us, and seems eager to put things back to the States (such as trans bathroom laws)."
The new report '2016 USA Elections: LGBT Reactions' sampled almost 900 LGBT people and allies in the three weeks immediately following Trump's election in November 2016. Copies of the report are available to download at this link.