The yearly Calabar Carnival is the biggest street party in West Africa and one of the biggest in Africa.
I started 2016 with a plan of visiting five countries, but a combination of time and currency fluctuations meant I had to slightly modify my travel goals. I ended up having some really special moments discovering Nigeria in fun and exciting ways.
Calabar is the capital of Cross River, a lush state in the South South region of Nigeria that gets its name from the Cross River, a river that passes through the state. It is a peaceful, pleasant and surprisingly organised city in the turbid Niger Delta
The Calabar Carnival was my final destination in a year where I visited four countries and over 15 states in Nigeria. A difficult task to manage with a full time job and diverse social engagements, but where there is a will, there is always a way. You may call me Ajala (Ajala is a word that describes someone with wanderlust in the Yourba language, the Yoruba language is the language spoken by identical named indigenes in the South Western part of Nigeria.).
After my first trip, I decided to start a Discover Nigeria movement (#DiscoverNigeria); a movement to change the negative perception of Nigeria and Nigerians through exposure of the diverse parts of the Nigerian culture and people using social media and public relations- articles, videos, etc. Home grown tour companies are doing a great job with their promotion of Nigerian destinations on Instagram and other social media platforms.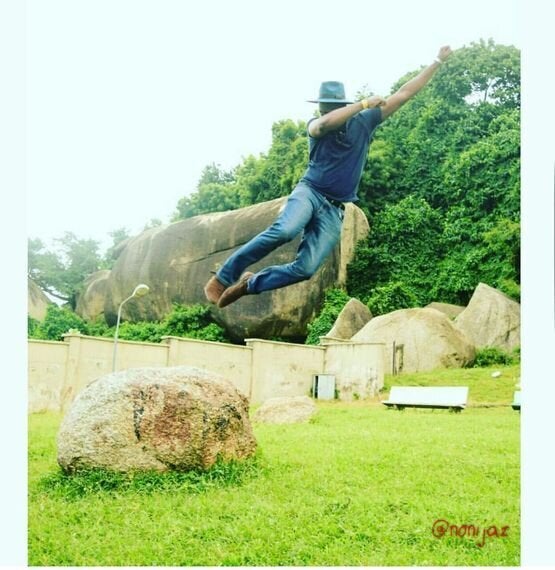 My first Discover Nigeria trip: The trip took me to Olumo Rock in Abeokuta. Picture credit: Author's own
The Margaret Ekpo International Airport is the only airport in Calabar and has an estimated 200,000 travelers annually according to Wikipedia. Most of these passengers come in for the Calabar Carnival which has over 60,000 visitors yearly.
I enjoy travelling alone because it provides an opportunity to explore wherever I go uninhibited. In 2016 however, I discovered the ease and convenience of travelling with tour companies and making new travel friends.
I set up to go for the carnival with a tour company and flights were booked for Tuesday Dec 27th so we could arrive early for the main carnival which began with the exotic processions early on the 28th of December
On the 26th of December, the skies in Lagos and other parts of Nigeria were shrouded with a thick harmattan fog that affected visibility and made flying almost impossible. Still optimistic, I arrived at the airport a few hours before my flight, to meet a drove of angry passengers who had been unable to fly for days. Troops of dancers, musicians and celebrities all potential revelers for the carnival were also stranded at the airport. I met up with some of the other travelers on my tour group and we waited for a few hours before the airline postponed our flights due to the bad weather conditions in Lagos and Calabar.
We spontaneously decided to embark on a road trip to Calabar, a trip that took us 17 hours and (we had to make a night stop in between) through eight Nigerian states; Ogun, Ondo, Edo, Delta, Anambra, Imo, Abia and Akwa Ibom state.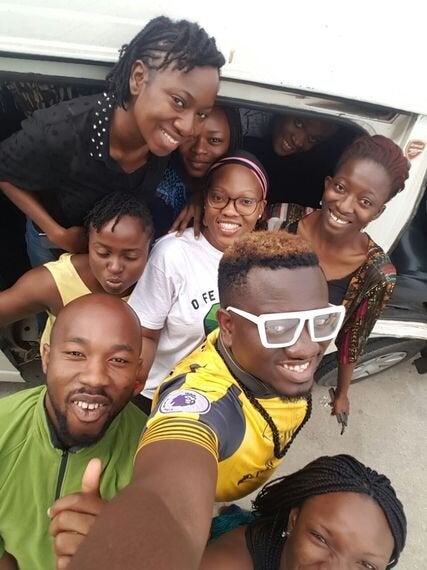 Unfiltered picture 17 hours later in Calabar, Picture credit: Author's own
The Calabar Carnival was created in 2004 by the then governor, Mr Donald Duke who wanted to make Cross River the hub for tourism and hospitality in Nigeria and in Africa.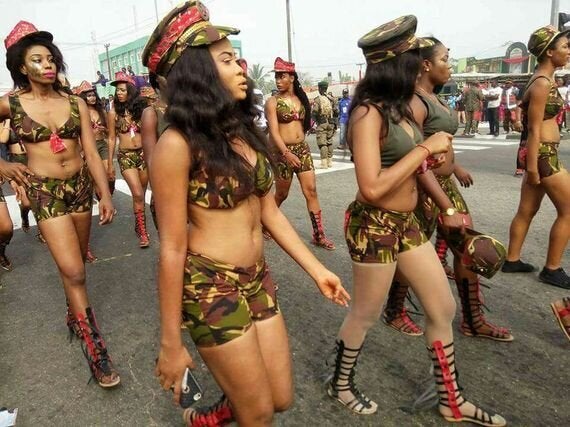 A picture of some of the dancers at the carnival. Picture credit: Author's own
We arrived exhausted in Calabar on the 27th of December but jumped right into the activities. We had missed the biker's carnival led by the visionary creator of the carnival and former governor of Cross River, Mr Donald Duke. He led bikers from all across Nigeria and other international guest bikers.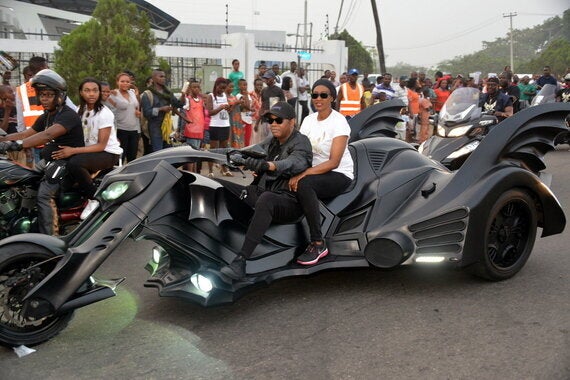 Former Governor Donald Duke, the founder of the Calabar Carnival. Picture credit: Author's own
The carnival takes over all major roads in Calabar. It stretches across an estimated 12 kilometres starting from UJ Esuene Stadium passing through Mary Slessor road to Ndidem Usang Iso and MCC Road before finally ending at the stadium.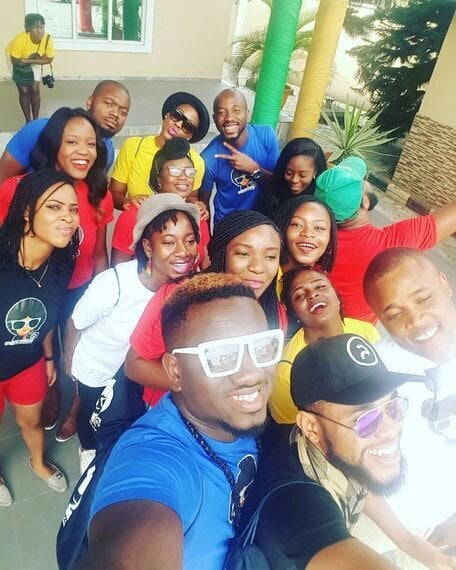 Setting out with other tourists an hour after arriving. Picture credit: Author's own
Every year the carnival has a theme and the bands have to come up with costumes and routines around that theme. The 2016 carnival theme announced by the governor, Professor Ayade, an environmentalist was "Climate Change".
The four main bands- The Bayside Band, Master Blaster Band, Seagull and Passion 4 Band came up with some extremely creative costumes that depicted various aspects of climate change. Watching the parade was fascinating but equally it was equally interesting to watch the interpretation of the global phenomenon of climate change by the individual bands.
Other attractions at the carnival were musical performances, a special international display, late night dancing on the streets, 24 hour Christmas villages and a delectable array of tasty delicacies that not only show the complex if under represented flavor profile of Nigerian cuisine but also the hospitality of the Calabar people.
The beauty of the carnival goes beyond the story of picturesque costumes and diverse choreographed dances to tell a story of hope, progress and development despite such debilitating political and economic constraints.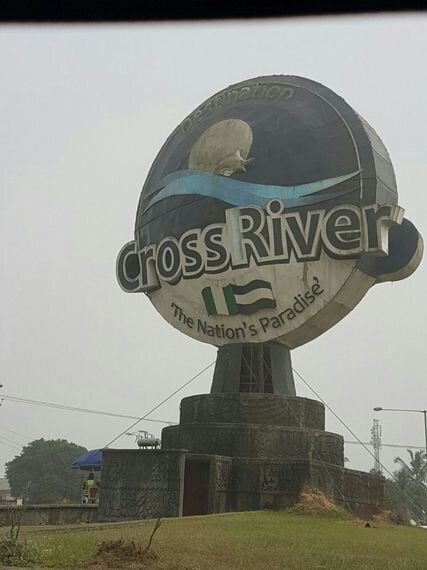 Official emblem of the state. Picture credit: Author's own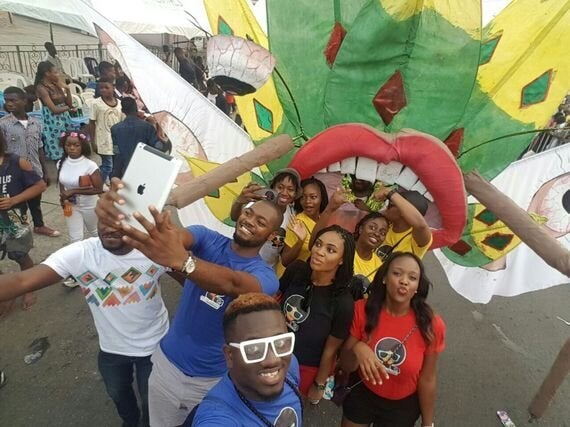 Myself and other happy tourists. Picture credit: Author's own