As a teacher, my main focus is ensuring the children I teach get the education they need, but it's hard to do when malaria threatens to disrupt every lesson.
Before Malaria Consortium visited our village in Uganda, as many as ten pupils in my class would fall sick from the disease on a regular basis. Sometimes I would see students convulsing from the pain and would stop the lesson to try to help them. It was very hard.
Contracting malaria means missing three days of school on average. So those who frequently fell ill were missing out on their education.
Growing up in Uganda, I became used to the constant threat of malaria. My sister died from it when she was six years old. Now I have five children of my own - the oldest is sixteen, the youngest is six - and all of them have been sick with the disease many times, as have I.
Malaria is a life-threatening disease, but it is preventable.
The turning point for me was receiving training to become a volunteer health worker for Malaria Consortium (a project which benefits from money raised through Sport Relief). I learnt how to spot the first signs of the disease, diagnose malaria and provide treatment in simple cases.
My training proved priceless when my neighbour Hadijjah rushed to my door one day. Her three-year-old son had a high temperature. She was very worried because her baby daughter had died from malaria only a few days earlier.
I realised straightaway Hadijjah's son had malaria and began to treat him. I wrote a referral to the nearest health centre, and made arrangements for him to be taken there. Within a few days, he made a full recovery. I was so happy; I helped to save his life.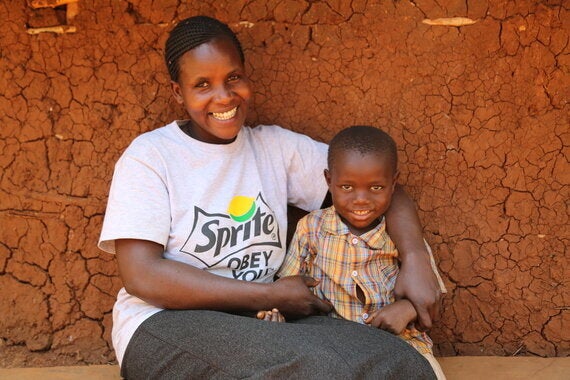 After that, I advised Hadijjah to use a mosquito net to keep her children safe.
A few years on, my neighbour's child is a happy, healthy six-year-old. He goes to school, just like his brothers and sisters. None of them have had a serious malaria attack like he did since his mother began using a mosquito net at home.
I'm very proud to be a volunteer health worker. It's so easy for me to spot malaria now, and it feels good to help others and make a positive contribution to my community. Expectant mothers and their children come to me for help - and not just about malaria.
Students in my class still get ill from the disease, but it's much less common. I can teach without so many disruptions and my pupils perform better as a result. I give frequent health talks, especially on malaria mosquito net use, and teach adolescent health and life skills. Hopefully the students will pass on this knowledge as they grow up too.
Since Malaria Consortium trained volunteers like me to start raising awareness of the disease, malaria is still a threat in our village, but I don't live in fear any more.
In Uganda, £2.50 could pay for a mosquito net to protect a child from contracting life-threatening malaria while they sleep. To help change lives, visit sportrelief.com to sign-up to the Sainsbury's Sport Relief Games.
Popular in the Community