Nurse Pauline Cafferkey hit the headlines in December 2014 when she became the first person in the UK to be diagnosed with Ebola during the devastating epidemic that swept through Africa, killing 4,000 people in Sierra Leone alone.
Pauline was diagnosed with the disease when she returned to the UK, after volunteering to help nurse those struck down by Ebola in Sierra Leone's capital city Freetown during the outbreak.
Despite her first-hand experience of the 'horrendous' virus, brave Pauline has now decided to return to Sierra Leone to raise funds and awareness for the 1,400 seriously at risk orphans still struggling with the fall out of the crisis.
Her decision shines a much-needed spotlight on the fact that life has actually gotten worse rather than better from some of Ebola's worst impacted and hardest to reach orphans.
While many in Sierra Leone are looking to the future after the 2014-2015 Ebola Crisis, Street Child has identified 1,400 Ebola-impacted orphans who are still struggling to survive.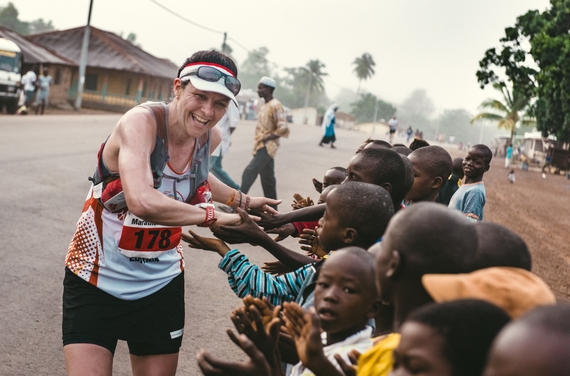 One of these is Alice Turay*, a shy 16-year-old, wearing a dress far too big for her, who we met with in Freetown.
Alice, who had already lost her mother in 2012, contracted malaria during the Ebola epidemic and was sent away from her family to stay with her uncle in Freetown where she could get treatment.
Her father, two younger sisters and brother contracted Ebola in the time she was away. Alice later heard they had all died of the virus.
'I couldn't go back to my village so I went to stay with my grandmother in Kissy [a suburb of Freetown].
'While staying there I met a boy, he was a year older than me and he was supporting me with clothes and food. After some time I fell pregnant.
'I felt very scared. I wanted to run away.'
Alice's grandmother couldn't forgive her for the pregnancy, and began starving Alice and stealing her clothes.
She left her grandmother's home and instead moved in with a friend, who was herself only 15 years old, and her friend's husband.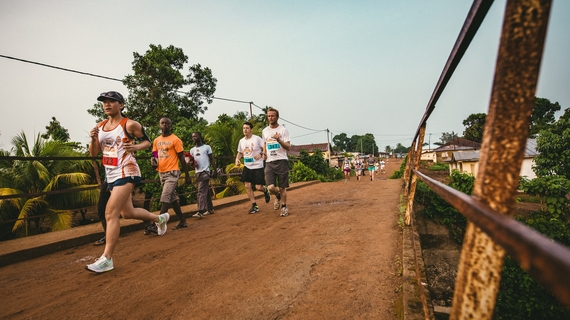 'They took me in but the living conditions are not good. I sleep on some broken foam on the floor with three other people. I worry about finding food and getting proper bedding.'
The house where she lives is small and scruffy, with gaping holes in the roof and chickens pecking around the courtyard. Her bed is simply a piece of foam on the floor with blue mosquito nets hanging above.
'It is so difficult that I often sit in the corner and cry. I want to go back to school and study. I'd like to become a policewoman so that I can help protect the girls who are maltreated in their homes. I want to make life more comfortable for them.'
One reason that so many Ebola orphans are struggling to get back on their feet in Sierra Leone is that a deep stigma still surrounds those who survived the disease's devastation.
Jeneba Kamara*, 18, has been left as the sole carer for her five younger siblings following the death of her parents.
'It happened after my parents went to the provinces,' she told Street Child. 'They had gone to the market to buy commodities to sell in Freetown.
'My father stayed there longer and my mother came home first. From the moment she got back she started to show symptoms of Ebola.'
Jeneba was training to be a nurse at the time, and knew about the importance of quarantining her sick mother. But when her father returned after two days, he was sick too.
'I provided care for them both but they got worse and worse and eventually my mother died. We called the helpline to come and take the body away but the burial team didn't arrive for two days.
'We left her body in the isolated room with my father and the next day we also found him dead. His body was on top of hers, holding her.'
As silent tears poured down her cheeks, she continued: 'After their deaths we were stigmatised by our community and they would talk badly about us and stopped helping us with food.'
It is to help the worst-affected orphans like Alice, Jeneba and her siblings, that Pauline has decided to return to Sierra Leone even after all that she has been through.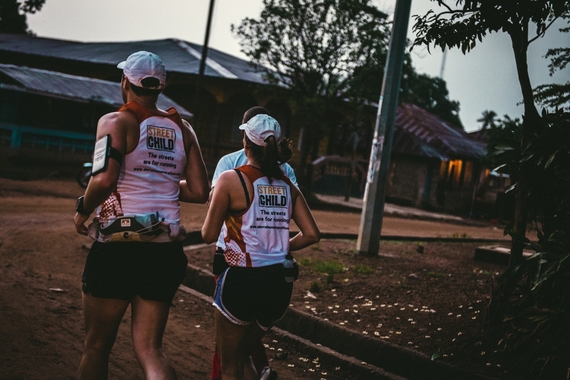 Street Child is so pleased to be working with Pauline to bring some relief to these children, who have already suffered so much loss and heartbreak, and who are being forgotten now that Ebola is no longer a headline news item.
Pauline will be taking on the challenge of Street Child's Sierra Leone Marathon, labelled by Runners World magazine as the 'world's craziest marathon', to help raise much-needed funds.
As well as a full and half marathon, there are 10km and 5km routes to unite runners of all abilities behind a common cause.
Street Child CEO Tom Dannatt said: 'We're so pleased that Pauline is joining us for the 2017 Sierra Leone Marathon. She saw first-hand the devastation caused by Ebola and we are so touched that she's coming back to Sierra Leone to fundraise to help children who were orphaned by the virus.
'She is a remarkable woman. We hope that many more Ebola orphans who are still desperately in need will be helped as a result of her trip.'
If you would like to support Pauline's Sierra Leone Marathon effort, please visit her Everyday Hero fundraising page
*Names changed to protect the identity of the children and young adults involved