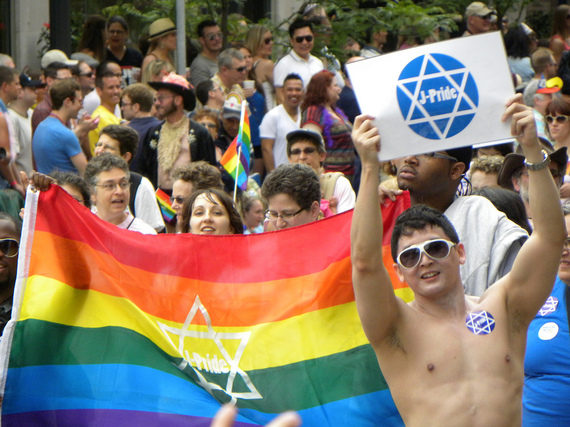 Esther was just a teenager when she had her first crush. Like many other teenage girls she told her parents, her parents, however, were shocked. How could their orthodox Jewish daughter have feelings for a GIRL? "I didn't know what was wrong, I thought we were just close friends but my parents obviously knew what it was and forbade me to see her," she recalls.
Like hundreds of other young Jews, Esther grew up in an ultra-orthodox family in Stamford Hill. "I told people I lived in London, but really I lived in Stamford Hill. It was like being on the inside looking out." Her parents, in fitting with tradition, arranged her marriage and banned THAT girl from attending. "I was distraught." Esther reveals, "I remember being scared to go with this man, to have sex with this man, but I was told that this is what I had to do. I just wanted to go back home with my siblings." Fast forward almost a decade and she is a married woman with five children and her story is one that resonates with many young orthodox Jews.
At the launch of the Rainbow Jews exhibition and film at the London School of Economics, Esther's story is one of a multitude that have been recorded to celebrate LGBT history month. The two-year "Rainbow Jews" initiative, the first of its kind in the UK, was awarded a grant by the UK Heritage Lottery Fund to research, record and archive the experiences of LGBT Jews from the 1950s to the present. The project was conducted by the Liberal Judaism, whose Chief Executive Rabbi Danny Rich, believes there needs to be more work of this kind.
"It's a matter of justice. The main issue is that the Jewish community don't want to talk about being LGBT because there's a prejudice there and because of that the LGBT voice is absent."
Liberal Judaism was the first religious movement to introduce an official liturgy for blessing same-sex ceremonies back in 2005. However, according to the project's director and instigator Surat Knan argues that more needed to be done to recognise Jewish-British LGBT rights.
"There is still a lot of discrimination faced by the LGBT Jewish community and that is something that this project aims to tackle," Knan says. "We need to celebrate this history as it is a history that has not really been looked at before."
The issue of being gay and being a practicing Jew, much like in other religions, is forbidden territory. In 1993, the UK's former chief rabbi, Lord Jakobovits, infamously proclaimed that he viewed homosexuality as "a disability" and that he saw "no moral objection" in using genetic engineering to quash it. "It would be like correcting many other conditions such as infertility or multiple sclerosis." And just a couple of years ago controversy struck again as a Jewish free school in London was caught showing seniors material that suggested that homosexuality could be cured.
Out and proud gay Jews in the public eye include comedian Simon Amstell, who explored both his religious background and sexual orientation in his sitcom "Grandma's House," actor Stephen Fry who offered his support to Rainbow Jews via Twitter. Though both Fry and Amstell were not involved in the project, other high profile members of the Jewish LGBT, like Rabbi Lionel Blue, the first British Rabbi to declare his sexuality, have played a significant part in the exhibition.
Rabbi Mark Solomon, one of the pioneers of Rainbow Jews, who left Orthodox Judaism publicly after coming out as gay so that "they (the Orthodox) didn't have to throw him out," says that "in Orthodox Judaism being gay is unthinkable," and he experienced hostility from his peers who accused LGBT Jews of "finishing off Hitler's work." Though he states that the views from within the Orthodox community are progressing.
According to Searle Kochberg, a film-maker and lecturer at the University of Portsmouth whose role is integral to the Rainbow Jews project, the introduction of civil partnerships has helped the Jewish community accept LGBT relationships. He cites West London Synagogue, a modern reform synagogue, who have previously hosted a Friday night ceremony with 19 gay and lesbian rabbis and who are reportedly, according to The Jewish News, the first synagogue to offer same-sex marriage, as revolutionary in their practices.
While homophobia in the Jewish community may be gradually subsiding, projects like Rainbow Jews are leading the way in bringing Jewish LGBT history to the forefront of people's minds.
The response to the exhibition, Knan says has been incredible: "Of course we expected that some people from more traditional Judaism wouldn't want to appear on camera. But we had someone tell us that their uncle who's in his 80s, who has never spoken about being Jewish and gay wanted to participate!"
The exhibition will be archived online at rainbowjews.com and the full archive will be available via London Metropolitan Archives as from May 2014