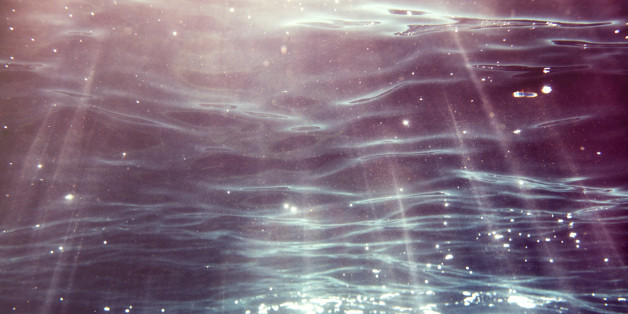 Alexander Rhind via Getty Images
I realised in Mumbai, where I launched the Sky Ocean Rescue campaign earlier this year, that we are all sleep-walking into a man-made crisis. Almost all of the plastic ever made still exists, only 5% of plastic is recycled worldwide, and the world's oceans are the gateway which connects what we throw away to far flung places. As I stood on a once beautiful Indian beach, which is now drowning in plastic, I asked myself what on earth we are doing to our planet?
This has been my motivation to take on the difficult challenge of giving up single-use plastics for two weeks. The average family uses 55kg of plastic every year and 40% of it is only used once. Much of it is designed to make life convenient and easy, so for a mum-on-the-run with a demanding job, I expected to see my life made significantly harder.
After having a baby 18 months ago I was horrified by the number of nappies we got through every day; up to 11 in the early months, but we still use around six. A shocking eight million disposable nappies are thrown away in the UK daily, many of which end up in the sea, so I knew I was going to have to look into re-usable cloth nappies.
Growing up, I'd heard horror stories of the relentless and dirty work my mother endured with the reusable Terry Nappies. An unpleasant business, and also not as kind on babies bottoms as modern disposables. With this in mind I was reluctant to inflict a trial on my family.
However, we got stuck in and to my amazement the experience has been a game changer. I admit I was swayed a bit by the cute designs of the reusable waterproof nappy prints (dinosaurs and rockets), but mainly by their soft, fleecy feel. If anything, this seemed like a luxurious alternative - why wear plastic when you can wear what must feel like silk? The cloth nappy industry claims that when toddlers have been asked which nappy they want to wear they have opted for the reusables themselves, and I can well believe it. Perhaps, because, contrary to what I assumed, reusables actually cause fewer incidents of nappy rash than disposables. We used Baba+Boo cloth nappies who recommend a set of 20 to cut out disposables completely. That will set you back £195 - compared to £1,000 if you bought all your disposable nappies up front. It seems to me the multi-million pound disposable nappy industry is winning the PR battle, unfairly, since using resuables is now a world away from when I was a baby.
Wet wipes, a more modern phenomena, have actually been harder to part with. I'm acutely aware that they are getting into our waterways and having a major impact on marine life in the UK. A recent survey of the River Thames found more than 235 wipes per square metre near Hammersmith Bridge, not far from our home. Unfortunately, nothing can compete with their effectiveness to tidy up a dirty baby's bottom, so we have continued using them responsibly - and never flush them down the loo. I have economised by ripping each wipe in half, but I'm not convinced that's reduced the overall amount we've used. We are now using a flannel for a quick freshener between wet nappies, and that has been an easy change to make.
Avoiding single-use plastic when food shopping has forced us to change our habits completely. The easiest way to get loose fruit and vegetables was definitely in paper bags from the green grocer. The same for meat from the local butchers - we took our own containers. Although that can be more expensive, it actually made us eat more healthily and puts pressure on supermarkets to reduce their excess packaging. It is clear they need to do more. The plastic bag charge has reduced consumption by 80%, so why not levy plastic bottles and introduce a deposit return scheme to incentivize change? It's a move being considered by government. In the meantime, I was advised to leave excess packaging at the till to make it a problem for the supermarkets to think about.
As for my family, this challenge has made us face up to our personal responsibilities. What will our son's future look like if we continue to choke up our planet with plastic? This crisis is entirely avoidable and we must work together and individually, now, to stop it.
Be an #OceanHero and change your plastic habits today @SkyOceanRescue