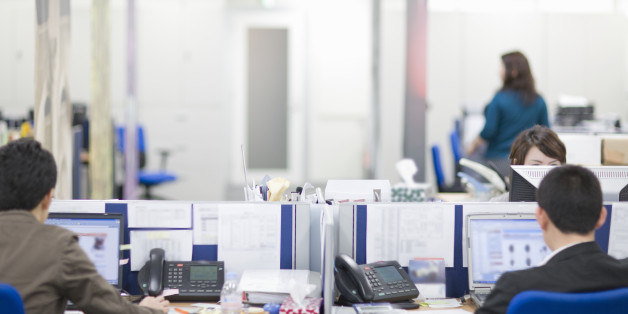 Getty Images
When a New Year starts, it is supposed bring new hope for the year ahead. For the 1.4 million people with a learning disability in the UK, there is still sadly a lot to be fearful of. But, there is a lot happening in 2017 that can ensure more people with a learning disability feel included and listened to in society.
There is a big opportunity with employment. As someone with a learning disability, I know the struggles of finding work. Employers rarely seem to see past learning disability on your application, and employers are not confident enough to employ people with a learning disability.
However, this year the Government has published a Green paper and will be starting a new programme, the Work and Health Programme, to get more disabled people into work. Currently, just 5.8% of people with a learning disability known to social services in the UK are in paid work. This means people are missing out on the chance to earn their own money, be independent and become part of their community. This needs to change and the number of people with a learning disability in paid work needs to increase.
Some people think that people with a learning disability are scroungers. This isn't right. Many do want to and can work, but there are not enough opportunities available. MPs and employers need to work together to make more jobs available to people with a learning disability. Cutting benefits isn't the right way to get people in to work, MPs need to provide more support to get people into work rather than cutting their benefits.
To help this we need employers to be more understanding of what people with a learning disability can do, they just need support to help them work. Employers need to know more about schemes like the Access to Work scheme, which means people with disabilities are supported in the workplace. It's there and it's already available.
I get a lot of support through Access to Work and my colleagues at work. I know if I didn't have that my life, in and out of work, would be very different. It would be very challenging.
On top of this a major concern for 2017 is the benefits system. Last year, I had to be assessed for my benefits. Like thousands of others, I had to go through the whole process and I found it really tough. From when I received the first letter, it was very stressful and very scary. The letters were hard to understand, the phone calls were scary and the actual assessment appointment was really challenging. This needs to be improved so that no one else has to go through that.
Along with employment healthcare is a big area that needs to improve for people with a learning disability. Each year 1,200 people with a learning disability die avoidably in the NHS.
Things can be improved if reasonable adjustments are made so that individuals can get the care they need. These will also stop the amount of people with a learning disability dying in the NHS because of poor treatment.
Giving patients more time, using hospital passports, listening to the people who know the person best, all of these are simple changes to make but can mean the quality of care is much better. Mencap will be doing a lot of work in this area to help health professionals make the right adjustments needed for people with a learning disability. I hope for 2017 we don't see any more avoidable deaths. Too many families have had their lives ruined.
Lastly I hope society can be more understanding of learning disability as well. Last year, Mencap launched it's Here I Am campaign, which is all about tackling negative attitudes and improving society's understanding. It was great to get that message out there and it's great to put people with a learning disability on billboards, on TV and in newspapers.
I hope that this year, proper action happens. We need people with a learning disability to be recognised as people and part of society, just like anyone else and this year we can make real improvements if we work together.