My Dad thinks its cheating to listen to music when running. His argument being - 'If the pro's don't do it, I won't'. While I can see this would be a noble quest, I struggle to agree. Sorry Dad.
There comes a time in most people's lives when you have to admit that you aren't going to be a professional athlete. I blame the poor scouting system...but most of all, my complete lack of any athletic ability. With that in mind, what's the point in killing ourselves? Stick on some music and enjoy. It's ok to admit you need a little bit of help sometimes.
Running with music can be a glorious experience. When the perfect song kicks in it can take you to a place where tired legs, heavy breathing and copious amounts of sweat don't exist (or they don't bother you anymore).
Training for a spring marathon like the London Marathon means you come face-to-face with the worst that British weather has to offer. In these dark winter months with rain lashing against your window, just stepping out of the door feels akin to conquering Everest, so any extra motivation is more than welcome.
There are some definite negatives to running with music though it's important to remember. If I'm out for a run without my iPod I get shocked at just how out of breath I am just because I'm not used to hearing it. iPod shuffle is both a blessing and curse too. Occasionally it can throw a 'wow what I was thinking when I downloaded that' spanner in the works, which can really knock you back. There's also a danger of becoming over reliant on your music, the feeling you can't run without it.
Overall, I think music should be there to supplement to what you've already got. It shouldn't be the be all and end all. This is why, in general, I only use mine when I know it's a tough day. When I'm feeling fitter, my music stays at home. My humble opinion is that you should use music like training wheels and before you know it you'll be riding free and will actually enjoy the hard earnt freedom.
When it comes to race day I'll be running music free. You can't beat the atmosphere of race day and the sound of a crowd. This is especially true if like me you wear a Team Macmillan top (wearily modeled below) with your name on. If I had a pound for every time I've been saved by a miracle second wind from hearing strangers shout my name, I'd be living a comfortable life in the country with a ruddy big house and a dog. For a few fleeting moments you feel like a ten foot tall perfect hybrid of Mo Farah and Usain Bolt (imagine...!) and you can't beat that feeling. If you can put your name on your top, I can't recommend it enough.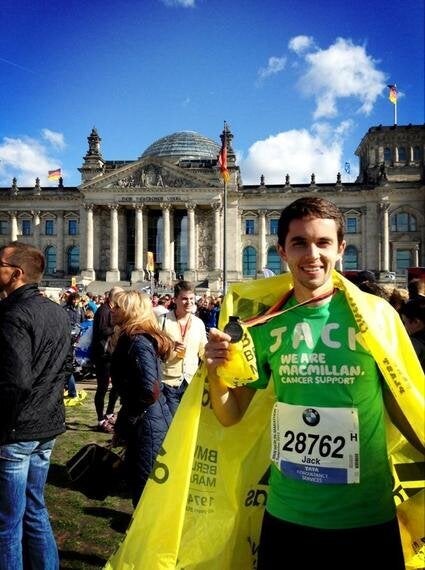 Anyway, onto my current London Marathon playlist. As someone who grew up in Chesterfield, a place that isn't exactly famous for a rich tapestry of music, I've adopted nearby Sheffield as my own. As a result, I've been spoilt rotten. Running has helped to slightly broaden my music taste beyond the steel city horizons (anything with a good bassline) but I still keep coming back.
Here are a handful of my essential London Marathon tracks on my iPod:
Arctic Monkeys - Still Take You Home To be honest, anything by the Arctic Monkeys works for me but this one seems to give me a second wind when I need it.
Toddla T - Soundtape Killin 'DJ from Sheffield who plays dancehall riddims'. Repetition is the key.
Oasis - Live ForeverYou can't beat a bit of northern council estate swagger blasting in your ears! Take that Blur!
Roots Manuva - Witness (1 Hope) Witness the fitness - done.
Jr. Walker & The All Stars - Shotgun Love a bit of Motown it always helps to cheer me up if I'm flagging. If you can listen to this and not feel happy I question your very soul.
I've created a special London Marathon Spotify playlist with these tracks and more - so have a listen!
So what are your key tracks? (I always need new songs to get along to) Does music help or hinder you?

Tweet me @jackwilson89 or comment below!
Related