This weekend's training race was a big deal in marathon preparation terms. It wasn't about securing a personal best. It wasn't even about a time. It was about starting a half marathon injured and trying to prove to myself that I had the mental strength to go the distance.
I got my finisher's medal and, with it, something far more powerful than packets of Ibuprofen, sprayings of deep heat and minutes spent trying to release my bum muscles with a lacrosse ball (yes, that is a thing and yes, it hurts a lot!).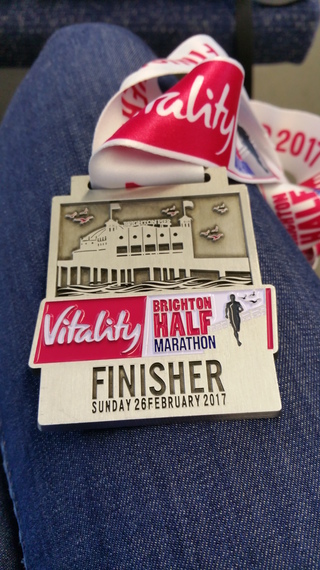 Image: Jackie Scully
That run gave me hope.
Hope that my body was capable of more than I feared. Hope that I still had a long run in my legs (despite injurying myself a few weeks ago). And, hope, that my marathon wedding in eight weeks could still be a run and not a hobble or a crawl.
We all need hope in our lives. Viktor Frankl, who spent time in a concentration camp and wrote about his memories in the famous book Man's Search for Meaning said that it was hope that kept some people alive and a lack of it that forced many to a early death.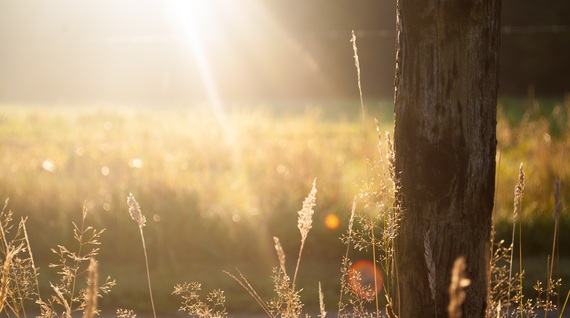 Image: Unsplash
I get that.
When the London Marathon asked me to declare my #ReasonToRun as part of this year's campaign, I chose #hope. Why?
When I was standing in my parents' kitchen back in 2007 wondering if I'd ever walk again, I needed hope to take that first step. I needed to believe I would once again dance at friends' weddings and be able to run for the bus.
Then, in 2014, getting engaged just three weeks before being diagnosed with an aggressive form of breast cancer gave me the hope I needed to imagine a world where I would walk down the aisle. I remember my partner once saying that he wished he hadn't proposed (having waiting 13 years to do so) because I had lost the chance to really celebrate. But, only weeks later, he changed his mind. He had gifted me a future I couldn't write for myself. He gave me hope.
When people think about going through cancer treatment, they focus on the life saving, the pain, the surgery, the drugs and the needles. But, hope - gifted to me by two incredible charities Willow and Breast Cancer Care - is what reminds you that you have a life worth fighting for. They helped me look to the future when cancer had other ideas. They reminded me that I was so much more than a bald, weary 32-year-old too scared to look in the mirror. They showed me that I, too, could make a difference. They gave me the hope I needed to thrive - not just survive.
Hope got me out in my trainers and into the fresh air. Hope got me through my first 10k on chemo. Hope gave me the confidence to book a wedding ceremony an hour before the London Marathon (which for someone with a hip full of metal is a risky strategy). And, it is hope that is what has me smiling again today.
On 23 April, whether I end up hobbling, walking or jogging, I 'run' to offer hope to all those facing the biggest challenges in their lives. I have been at the bottom of stairs I can't walk up. At the weekend's half marathon, I started a race I didn't think I would finish, due to injury. I have experienced loss and fear and pain. But, I have found a way through - a way to smile through the darkness.
Raising money and awareness for our two charities is the greatest of wedding gifts. But, what if, our efforts could help bring a bit more hope into a world that has, at times in the last year, felt rather hopeless?
That's why I invite you all to join me - virtually or in person - in sending a message of hope to the world. Wherever you are, whatever you're doing, on 23 April, please take a photo of yourself with a sign that says #hope (and tweet it or post it our across social media)? Wouldn't it be great if hope is what people remember on that day and hope is what they feel inspired to bring into their own lives? I hope that the efforts of a former breast cancer patient with a reconstructed boob, superglued stomach and hip full of metal will encourage others to take the next step in their lives and find the strength to carry on - however difficult life might me.
And I hope to see you on the finish line!
If you'd like to help us over our fundraising finish line and offer hope to many more people going through serious illness, please donate to our sponsorship page.