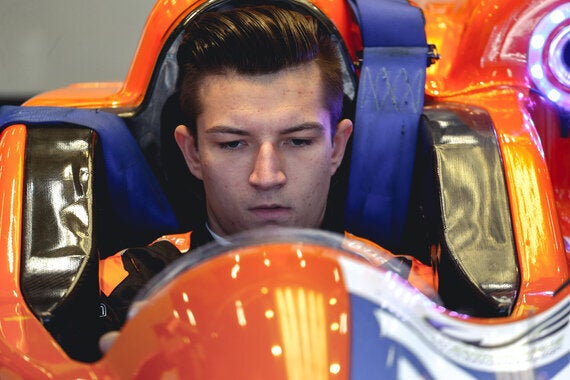 It's been a busy week to say the least, having just come back from Spa where I made my debut for JOTA Sport in their LMP2.
My journey to Spa started bright and early on Wednesday morning, tackling the seven-hour drive with the team physio in our mini bus. Once we arrived, I had to sign in with all the other drivers, before a quick scrutineering check of our clothing. After passing with flying colours, we moved on to the track walk with the team.
We were running a little behind schedule, which meant it was more of a track jog for JOTA, as we had to cover the entire seven kilometre circuit in just over an hour. Although it might sound exhausting, the walk is a really important part of our preparation, as it gives us the chance to familiarise ourselves with each and every corner of the circuit and discuss how we'll approach them as a team. We also look for reference points to help with breaking too, as when you're flying round the track at 150mph it can be pretty hard to spot them! The walk also gives us the chance to bond as a team, as there isn't much to look out for down the kilometre straight, so you find yourselves just having a general chat.
Thursday morning saw us arrive at the track for about 9am, where we had a team meeting with the engineers to discuss how we would attack the circuit during our two practice rounds.
Before each practice we meet to discuss our driver order for the race, and deliberate afterwards to revaluate the order. It's quite a repetitive process, but it's a vital step to ensure the car is always progressing throughout the weekend.
On Friday we had one free practice and one qualifying round lined up. I did five laps in the free practice and left Giedo (van der Garde) and Simon (Dolan) to do qualifying. It's mandatory that the silver ranked driver, Simon, takes place in qualifying and we only need one pro-driver to join him. The guys ended up qualifying 4th overall, which was in line with what we were aiming for.
With such a big day ahead of us, we finished qualifying at 6pm and headed back to the hotel to rest up for race. It's crucial that you're fit, healthy and mentally prepared for the race... So it was early nights all round for the team.
Race day on Saturday saw us head to the track at 9.30am, which meant that we had four hours to prepare ahead of the event. We kicked things off with a press session for the fans, inviting spectators into the pit lane for autographs and pictures. It's a pretty cool experience and each category you climb in the sport means more people want your autograph. 45 minutes of nonstop signing was pretty intense!
Before the race, Giedo took the car for the warm up, allowing Simon and me to soak up the atmosphere on the grid before returning to the garage to wait for our turn in the car.
By the time it came to my stint, we were four laps down; we'd lost a mirror early on (which cost us four minutes in the pit lane) and we had also made contact with another car, which meant a two-minute stop-go penalty.
Although it was frustrating to be behind, I didn't feel as much pressure as we were already out of contention by this point. However, having two hours behind the wheel was still an invaluable learning opportunity, as the event was very different from the 35-45 minute races that I have been used to racing in previously. You get very hot in the car and being crammed in such a small space for so long, is physically and mentally exhausting. But we train to do it so as a driver you just get on with it.
We finished 6th and considering the chaos of the race we were happy with the result.
Jake Dennis is set to join British endurance motor racing team JOTA Sport - operating under G-Drive Racing - for the iconic Le Mans 24 Hour race. Follow @JotaSport on twitter.