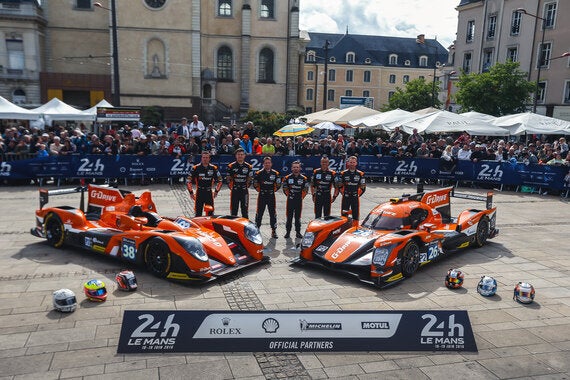 I'm finally back on British soil again after an incredible time at Le Mans! The Eurotunnel was closed on the way back though, so it took us fourteen hours to drive home... which after a 24-hour race is certainly enough driving for me for a while.
Looking back at the race now it all seems so surreal. It was my first time competing there and certainly an experience that I'll never forget.
Given that I posted the fastest time in my team for qualifying, I was given the chance to start the race for JOTA. Le Mans is the biggest race in the world and it was certainly a privilege and something to make the family and girlfriend proud of.
It was chucking it down with rain at the start of the race which meant that we started the race behind the safety car for the first 45 minutes. It's always frustrating not being able to attack from the off and my car doesn't have a roof either, which made it a very cold, wet and horrible start to the race. However once the rain stopped and the track started to dry out, I got a chance to warm up and dry out and then finally we could start racing.
The start of the race is the part that the majority of fans come to watch and every corner was jam packed with people watching. I've never really driven in front of that many fans before, so it was a great feeling.
My first three-hour stint went really well and I managed to position us in third place, putting us in contention for a podium finish. Everything was running smoothly, allowing me to seamlessly hand over the car to my co-driver, Simon for his two-and-a-half-hour stint, followed by Giedo for another three hours.
In-between stints the team really encourage you to get away from the track and switch off. After getting out of the car the last thing you want to do is be around the garage or the track, it's mentally and physically draining, so it's important to make some time to relax.
JOTA had camper vans which were a two-minute scooter ride away from the circuit. During my time off I head straight back there to chill with the other drivers and get some sleep ahead of my night shift.
The time flew by and before I knew it the team were ready for me to tackle the night shift. I drove from 11pm to 2.30am, which was a surreal experience as I've never competed in the dark before. It's actually trickier than you'd think as the lights on racing cars aren't all that powerful, meaning you really have to squint and concentrate to fly around the track. With Le Mans, you have cars that are a lot faster than you and others that are much slower too, so there's a lot of obstacles to keep you on your toes.
Although it's dark, you can still make out the masses in the grand stands watching the race. Even at 2am you could still see floods of people, which was such a motivation to keep going. Lots of people also have midnight feasts as they watch, so I could smell all the BBQ's as I was flying round. It was a crazy thing to experience - and I guess it's lucky that I ate before I got in the car too, else I would have been starving. I have to admit; I was craving a burger once I finished though!
Even though it had its challenges I loved the night shift and finished in fourth position before handing the car back to Giedo again.
Simon then jumped in the car after him, everything was going smoothly with Simon managing to overtake a GT car on one of the chicanes. Unfortunately, the GT car then out-breaked itself, a mistake which meant they hit the back of our car and put us straight into the wall. Thankfully our engineers' hard work meant Simon walked away unharmed, but the front of our suspension was damaged along with the fuel tank.
We could have repaired the suspension, but the fuel tank was pierced and changing it would have taken the team too long. When you're playing with fuel in a racing car, you obviously need to take your time and do things properly - so the team decided to call it a day as it would have been too dangerous to try and repair.
It was a frustrating moment for all of the team as we were heading for a podium finish (especially as the car in front of us failed a few laps later!). It's a shame but there's nothing you can do... I guess it's just a hazard of the trade in motor racing.
Once we knew we were out of contention for the race, we all turned our focus to supporting the No.26 G Drive Racing JOTA car from the pits. They did incredibly well and finished in second place which meant that JOTA Sport have now been on the podium for the last three years running, which is a great achievement. We obviously got up on the podium and helped the team celebrate, after all, we're all in it together as a team!
Overall, Le Mans was a phenomenal experience for me. I was happy with the stints that I did and enjoyed racing at such an iconic circuit . From the initial preparations, to the meeting the fans and the drivers parade - Le Mans is certainly a race that I'll never forget.