This season's FA Cup has been fascinating viewing and a return to the good old days when giant-killings and Cup shocks seemed to happen every year. With many Barclay's Premier League sides being drawn against each other in early rounds it has also provided a chance for less-fancied teams and those outside the top flight, to progress to the latter stages of the competition. I, for one, can't wait to see to see who progresses from next weekend's Semi Finals.
This season's competition is the first to be televised by BT Sport which will give me the chance to fulfil a lifetime ambition of presenting at the FA Cup Final, English football's showpiece event. It will also be the first time presenting on television for the lucky winner of the BT Sport Young FA Cup Presenter of the Year competition which we have been running alongside our coverage of this year's tournament. This nationwide initiative was open to 13-16 year olds who were asked to submit a video of themselves presenting a match report from an FA Cup fixture from the earlier stages of the competition.
I had the privilege of meeting the four finalists at a judging day at the BT Sport Studios earlier this week and I was blown away by the passion, enthusiasm and professionalism that all four displayed. We really put them through their paces. We took them into a TV studio, the first time for many of them; they worked with autocue, with a monitor and an earpiece, taking direction from the gallery. It really wasn't easy for them in any way, shape, or form, but all of them excelled and that's the whole point of this competition, it shouldn't be easy because the prize is incredible and the opportunity is remarkable. Stephen Cook, an executive producer at BT Sport, and I had the unenviable task of picking a winner and I can assure you it was a very difficult decision.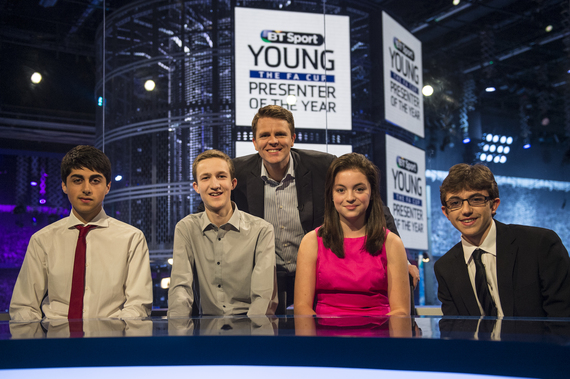 When I was younger and I was dreaming of being a TV presenter there were no opportunities like this, but remarkably my very first chance to do some presenting was via a much smaller version of this, a tiny competition on a TV channel in Norfolk called Rapture Television. They were looking for one viewer to win the chance to go and present the show from Paris. I was lucky enough to win and that's how I directly ended up as a TV presenter so initiatives like this go to show that you can actually build a career out of an opportunity like this and I hope that all four of our finalists manage to do that.
In the meantime, the biggest thing for the winner of this competition is being able to deal with the nerves on Cup Final day. I'm going to be super nervous, it's going to be my first FA Cup final and yet they're going to be there, much younger than me, standing alongside me doing some presenting on a huge occasion with millions watching at home. But that's what we want to see, that's the time when you come alive as a TV presenter, it's those big moments where you have to deliver and that's what I'm sure our winner will do. Make sure you tune in to see how they get on, I for one can't wait.
The FA Cup Semi Final between Hull City and Sheffield United is live on BT Sport 1 from 3pm on Sunday April 13