A week is a long time in football but a century can really turn the tide. In 1914 the paths of the "Father" English Corinthians team and their "Sons", Corinthians Paulista of Brazil, diverged dramatically and irrevocably, but the Tolworth-based Ryman League side will return to Sao Paolo this summer, a hundred years to the week of their first visit, and pack out a stadium for a friendly that will celebrate the magical historical union and shared ethos of attractive, sportsmanlike play between the two clubs.
In 1882, founder "Pa" Jackson had aimed to create a team that could beat Scotland - at the time the pre-eminent footballing force. Priding themselves on honour, fair play and an impermeable moral code, Corinthians stringently abided by the principle that they would 'not compete for any challenge cup or any prizes of any description whatsoever' for fear that it would tarnish the proper spirit of the game. Their desire to spread this message globally led Corinthians to become the world's first football superstars. Their proselytising took the beautiful game to South Africa, South America, Canada, the US and every corner of Europe, inspiring Real Madrid to wear their now-legendary white strip and England to wear their... slightly less legendary white strip.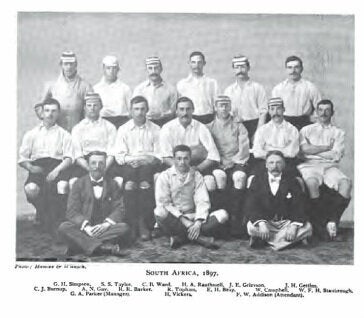 The Corinthians' first ever foreign tour was of South Africa in 1897
Sadly, with 14 players on a ship bound for Brazil for their third South American tour, war was declared in 1914. Hearing the news, they immediately returned before a ball was kicked to fight in the British Army. For a generation of players that had defeated Germany, Brazil, Holland, South Africa and Belgium, the tour of 1913 had, tragically, been their last. Only one of the 14 who embarked on the journey toured again. Three died in service, including Cuthbert Brisley, one of Europe's best forwards, and Thomas Rowlandson, a vivacious goalkeeper who famously stepped aside for a penalty, convinced that it was not in keeping with football's principles to acknowledge the causative deliberate foul. Rowlandson donated his home to the Red Cross before serving, and died in the Battle of the Somme. Throughout the war the club's squad was ravaged. They lost 22 men in total.
In 1910 Corinthians had been the first English team to play in Brazil. They made such an impression on the Anglophiles in Sao Paolo that impoverished local workers founded a club and named it after them - Sport Club Corinthians Paulista. That team have now won the Sao Paulo State League 20 times and have nurtured some of the world's greatest talents from Rivelino, who starred in three World Cups, to Dr Socrates, Brazil's captain at the 1982 World Cup. They are the most valuable football team outside Europe and in 2012 became, at least officially, the World's best club side for the second time in little over a decade after defeating Chelsea in the FIFA Club World Cup.
Fortunes fared less favourably for their English counterparts, who in the 1930s began to slip behind their rivals as the chasm between amateur and professional clubs grew wider and less forgiving. What was perceived as the pesky disturbance of World War Two combined with a perennial need to ground-share to derail the administrators' plans for development. It was only through bar receipts and fundraising that the club stayed afloat.
Corinthians merged with Casuals seventy-five years ago and remains the highest ranked amateur side in the country. Their rich history and unwavering philosophy of attractive football helps attract the requisite calibre to compete against paid competitors in a semi-professional league but convincing young men to travel six hour round coach trips while they work other jobs to make ends meet is increasingly challenging in a suffocating economic climate.
Their transatlantic associates share another custom, albeit an undesirable one, in their long wait to get a stadium. Despite the Brazilian side's enormous fan base, the Arena Corinthians, which hosted the opening match of the Brazil 2014 World Cup, was only built in 2011. Correspondingly, Corinthian-Casuals have just recently acquired a ground in Tolworth, a feat alumnus Trevor Brooking described as "a key factor in the strengthening and re-emergence of the club on the playing side".
It was with sweet serendipity that England stepped out at the Corinthians Arena against Uruguay on 19th June wearing white shirts originally inspired by the Corinthians who popularised the sport in Brazil a century ago.
Similarly gratifying were the 1988 centenary celebrations, for which 20 million viewers tuned in to watch Paulista legends Rivelino and Socrates team up as part of a "best ever" collection in 'Corinthians v Corinthians'. With 20 minutes remaining, Socrates switched sides and slipped into the Casuals' iconic chocolate and pink halves - a fitting tribute from the thinking man's footballer, who once philosophised:
"It's not victory that matters; it's not success that matters; it's not beauty that matters. It's content that matters. It's the context in which one is in relation to this art. In reality, those who seek only victory seek conformity. Those who seek art are doing it for themselves and to show the world who they are."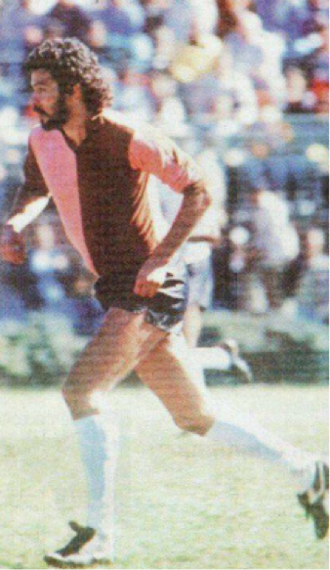 Socrates dons the Casuals' renowned chocolate and pink kit
The aim of the upcoming tour, which has been sanctioned by the FA and will take place after this summer's World Cup, is to fulfil the fixtures that never took place for the great generation of 1914. It will be the first reunion since 2001, when Corinthians-Casuals were guests at the final of the Sao Paolo State Cup between Corinthians and Botafogo, entertaining 13 million viewers in a friendly the Brazilians won 2-0. Corinthians sent their team bus for the Englishmen, who were rushed by fans banging on its side and showering them in rapturous applause. They were then introduced to the 80,000-strong crowd as the "Fathers" of the then World Club Champions to an enormous ovation.
The Casuals continue to draw support from their Brazilian namesakes and are already a force on social media thanks to a slew of South American followers (120,000 facebook likes places them in the top 25 clubs in the country.) Paulista's offer to host them again is as timely as it is welcome. The euphoric reception the Englishmen receive in South America is an extraordinary experience for the players but it does little to assuage the financial difficulties the side faces. While they can fill a Sao Paolo stadium to the rafters, their home attendances in the Ryman League South tend to be in the low hundreds. For a club with such tremendous history, one can only hope that, along with the advent of social media and sports minister Helen Grant's promises to support grassroots football, this trip will be the beginning of a new and prosperous journey for Corinthian-Casuals.
The club are still searching for sponsors and commercial partners for the tour. For more information, please visit www.vaicorinthiansfilm.com or www.corinthian-casuals.com.
Related