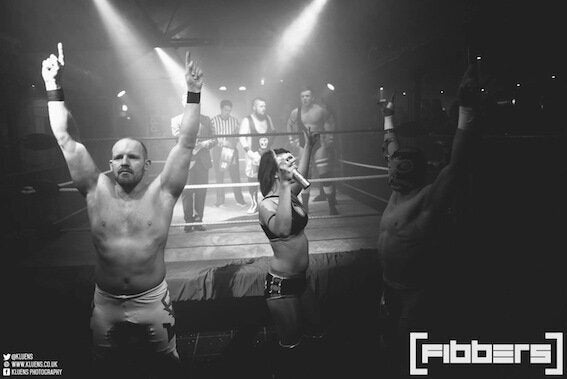 This weekend was a busy one as I had four wrestling shows in three days. All very different types of matches and situations! The Megaslam tour continued of course with more sold out shows across the country. The big Grapple show took place in York and was a huge success - thanks to Dave Lewis for setting that one up and to everyone else who helped out, it was brilliant! Also, raising funds for the equipment destroyed by the flood is looking positive too, more details below.
The wrestling started on Friday with a Megaslam show at the Civic Hall in Stalybridge. On this day I would be facing the 'Muscle Cat' Saxon! As you may have suspected the Muscle Cat is a big guy and I was looking forward to having a match with another heavyweight (after those Christmas mince pies I have now put myself in that category).
The other interesting dynamic was that I would be a good guy JC Thunder today! 'Oh no JC, you told us you are terrible at that!' I hear you cry. Well fear not, as this actually went pretty well. I was possibly a bit aggressive as I shouted intensely in attempt to rally support, but overall I still had the majority of the crowd on my side and the match itself was really enjoyable. A good solid wrestling match to start the weekend and Saxon is definitely one to watch for the future.
Saturday and finally the Fibbers, York show is here for Grapple. We had 150 pre-sales going in and reached a total crowd of 220 in the end, which meant it was rammed in our new nightclub home in York! The show had a real professional feel about it; similar to the TGW ones I put on last year. It was the best Grapple show to date and all those involved should be immensely proud of themselves.
My match would be me (JC Thunder - the bad version!) and El Ligero (also bad!) vs. The Burial (David Graves & B.A.Rose) for the Grapple tag team championship. I very much enjoyed this and we seemed to get the rowdy Fibbers crowd firmly into the show as The Burial battered the self-proclaimed Grapple Dream Team. The only slight snag was I landed awkwardly at the end and managed to hurt my lower back, which made the rest of the weekend and gym work this week a bit difficult. A minor inconvenience however, as the match was great fun! Anyway no time to gloat as Ligero and I had another show to get to pronto....
It was a shame to leave the amazing atmosphere of Fibbers and not see the rest of the show, but we had another event 30 miles down the road at the Driffield Leisure Centre for Megaslam. CJ Banks was doing the same in the other direction and it was a mad dash for us all to make it on time.
We raced down the Yorkshire A-roads, as I transformed from an arrogant JC Thunder to a gruff Russian (I changed my tights in the back seat of the car). Now I would be facing Ligero (the very same man who I just teamed with) in the main event as Boris Koslov! Just to clarify he is now good, I am Russian and we now hate each other. Very confusing!
We arrived just in time and the match went well considering we were both hurt from earlier (through no fault of anyone in the match). Ligero had hurt his ribs and my back was making it very difficult to lift him up - wheel out the 'plus 30 category' for the main event! However, I'm very doubtful anyone in the audience could tell and the match went well. Also, Megaslam raised a load of cash for our replacement gym equipment via a raffle - their generosity is massively appreciated!
The final show of the weekend took place at a Lincoln Theatre Royal on Sunday afternoon. This was a different set-up as it was a theatre, the ring is placed on the stage and you obviously only have a crowd on one side.
I would be facing Robbie McKenzie, the Megaslam champion. He is quite a bit smaller than me, so this was a real underdog David and Goliath type match (I'm frigging huge after those mince pies remember!) History repeated itself as David triumphed over this Russian Goliath, however this was a fun and entertaining match that I look forward to doing again. Another great show to cap off the weekend!
I enjoyed all four matches and was pleased it was so varied. This was good preparation for the upcoming camps, when we will be doing up to 7 days straight on some weeks.
I am also pleased Grapple is doing so well. Not only was the show really successful, but we are starting to raise a fair bit for the replacement equipment that was destroyed by the floods. Please give our page below a look and donate anything you can to help us get back on our feet. Any amount would be hugely appreciated!
Two more Megslam shows this weekend in Accrington and North Ferriby! Looking forward to it!