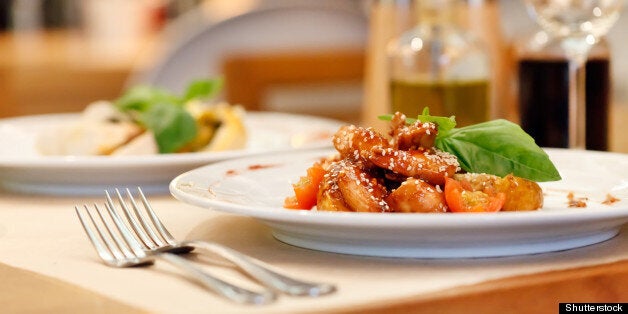 I found myself munching on a gull's egg this week. I wasn't planning on it, the situation just sort of arose and presented itself in my mouth. What's special about a gull's egg, you might be wondering. I was. Larger than a quail's and smaller than a hen's, the gull's egg is somewhat of a seasonal delicacy, making a rare but consistent appearance one month of the year, from late April to late May. It was being bigged up by the waiter at The Clove Club, a Shoreditch restaurant offering up a five course tasting menu of 'often overlooked' British produce. I had indeed overlooked this particular egg from my bird based bucket list.
So in it went, down the hatch as one, as advised by the bigging up waiter. Cooked so that the white was only just robust enough to hold in all the yolk, it exploded in my mouth like an egg sized water balloon. Now I love a good yolk, don't get me wrong, by blimey those gulls know how to fill 'em. My throat became a water slide of undeveloped embryos. Super rich and super distinctive, it sort of slithered it's way round my mouth for a far longer than average egg based eating time. I mean, I could have gargled with it if I'd been so inclined.
Although I won't be popping out to stock up on gulls in too much of a hurry, finding these little seasonal delicacies enhances the whole dining experience. The main show at The Clove Club is the five course ever changing feast, which on this night consisted of grilled squids, legs of lamb and more succulent sauces, foams and jus than you could shake a gull's nest at. But if you go before the end of May, and if the primal stock flow of gull's eggs keeps up for that long, then I'd recommend giving this supplemantry appetizer a go, just to say you have.
Another thing to give a go this month is the cocktail range over at the bar in St James' Hotel, Mayfair. If, like me, you don't often trot off to this part of town, but happen to find yourself skulking around the Mall in need of a seasonal cocktail, then give this opulent little bar a try. Tucked away on the lesser known side of Mayfair's beaten tracks, it's mixing up a floral themed drinks menu in honour of the Chelsea Flower Show, complete with an indoor garden designed by the flower herself, Jane Packer.
Two of the three cocktails stood out as being worthy of their hype: the Flower of Scotland, which was a bitter sweet whiskey number (SO in to whiskey at the mo) and the Jasmine Buttercup, which is a hot vodka toddy served with a massive Jasmine in the middle. What is it about heating up your alcohol - completely revolutionises it, strengthens it, and immediately makes you want to go 'awwwwwwwwwhhhh' after sipping. Go now though, as this pop up menu is only available from 20th to 25th May, and while you're there you can gorge on king prawn skewers, chicken liver pate and crisp toast. Could have drank these cocktails all night, but I'm not sure rolling out of venues in Mayfair is totally acceptable.
If this is all sounding a tad pretentious for your post work pint, that's because it is. Both The Clove and St James' are pretty treat yourself type places. For something less formal though head to The Blues Kitchen in Camden for some pulled pork and whiskey. I did say I was in to whiskey right now, and this place has a bourbon list that would make even the most sturdy Scot go weak at the kilt. To top, they do whiskey of the month, and this month is the ultra smooth Buffalo Trace which is worth the trip to Camden alone. This matched with melt in the mouth pulled pork that comes with the Southern American slang of "fries and 'slaw", makes a reasonably cheap and very cheerful post work gourging place. I'm actually still thinking of that pork... one of those.