Not a day goes by that I don't get a tweet or Instagram DM from a young rugby player wanting to know the tricks of the trade and/or how to get noticed in a trial.
So having responded so many times to different topics but essentially all about the same rugby related questions I decided it was time to write an extensive eBook/downloadable package, which revealed all the training tips and secrets, to either get you started on the road to becoming a fitter, better rugby player or for those of you already playing the game to help take you to the next level and improve your current game, to really enhance your enjoyment of the sport.
I have poured all the knowledge I have taken from the last twelve years of being a professional rugby player into the book. The programme is not just for the young, it's for anyone who loves the sport of rugby and for anyone who wants to train like a pro rugby player.
I have cut out all the nonsense. Instead I tell you, the reader, exactly how it is, what to do and most importantly what we do as professional players. Critically what I have found that works and importantly what also doesn't work.
The book is due out at the start of the World Cup and will be ready to download through my site www.jameshaskell.com.
So if this sounds like something you might like to learn more about, then please either visit the site or follow us on our social media channels, Twitter @jameshaskellhf/Instagram @jameshaskellhf.
For those of you who are already followers of BodyFire and James Haskell Health and Fitness, you may have noticed a subtle shift back towards all things rugby. Our view is there are loads of people out there following and living the fitness dream, as well as sharing their do's and don'ts of getting and staying in shape.
Don't get me wrong. I love my general fitness and nutrition and will continue to reach out to you on and about this as I have always done as before.
However in my humble opinion there is no one giving you an in-depth and unique insight into rugby and how you really should be training, in order to become a better equipped, fitter player.
I want to share all this great sport has to offer with you, the amazing fans of JHHF/BodyFire and of rugby in general. With the package due out very soon, I wanted to cover off just a few of the FAQ's [frequently asked questions] I get asked all the time, to get the ball rolling.
I won't go into mental detail here, as I don't want to spoil the surprise of the package, but hopefully this blog should whet the appetite of some of you budding young male and female players.
How do I stand out in a trial?
First things first; please understand this. One game does not make a career! Not every game goes the way you want it to and rugby, not being a solo sport, means you are but a small cog, in a bigger machine.
If your team are struggling and you find yourself constantly on the back-foot, then you can pretty much forget about making those famous 80-metre runs of yours!
If you can't win the ball off your own set piece (scrums and line-outs) then in simple terms you can't mount any form of sustained attack. So don't be too disheartened if you come off the field unhappy with how things went.
I was always terrible in trial games when I was younger [some will say I still am!!] The occasion would get to me. I worried too much about my competition and things that I just couldn't control. If you asked anyone when I was younger back in the day, they would never have picked me to pay for Wasps thirds, let alone England.
You need to keep putting yourself back into the shop window. Every time you time you play for your school, club or county is a chance to shine. You never know who is watching. Premiership clubs now days aside from their existing scouting networks, have all sorts of open-days you can attend, as well as formal trials.
So never give up. To be honest trialling for England u16 and u18s almost put me off rugby for life. They need to change the system but that is another story for another time.
It's quite simple really, you need to worry about the things you can control.
If you are trying to showcase yourself, then you need to identify through your training and previous games, what is your point of difference. In other words, what makes you a standout player?
Sadly at amateur level, being really hard working is not always going to win you a place in the team. When you enter the world of professional rugby, all the stats from your games are analyzed, so the unsung and behind the scenes work does get recognized.
Human nature being what it is, we tend to only appreciate the big stand out moments and this is pretty much the same for trial games, unless the coaches and selectors are really qualified and in-tune with the modern game. So you need to do what you do best and be ready to take the opportunity when it presents itself, which will always come at least once during a game.
Although in truth you can control events to a degree. For example if you are a big hitter then you need to put yourself in positions to make tackles. This comes down to being efficient in what you are trying to do.
You don't want to be chasing the ball all over the park hoping someone will run straight at you. You need to get yourself into the right position in the defensive line to make that decisive tackle. This may mean sitting out a phase or two of play (obviously not to the detriment of your team!!) to work yourself into that position. When the adrenaline is going and you are nervous, it is difficult to take control. Always remember Sir Clive Woodward's famous anagram from the 2003 World Cup - T-Cup [Take control under pressure]
However with a bit of clear thinking you can see what is about to unfold in front of you and make the hit. If you carry the ball well then you need to show case what you can do! Being efficient and technically correct will make a huge difference.
As with tackling, when it comes to ball carrying, you need to put yourself into the correct position to get the ball. This means, staying calm, reading the play and demanding the ball. Then comes the decision making process - Do you use footwork to avoid the tackler? Do I run low or run high? Do I need to employ the use of a hand-off, which of course comes with the inherent risk of losing the ball in contact, as a consequence of only having one hand on the ball.
All of these things are areas you can think about and work on during training before you get to the trial game. So when you are in the thick of the action, none of this is a shock to you.
I go into more detail in the "Introduction to RugbyFit" eBook/package but my real point about this is simply being super big and doing loads of gym work is not going to help you in a trial game. What will help you are good core skills, some of the thought processes I list above and a good level of fitness to execute the skills under pressure.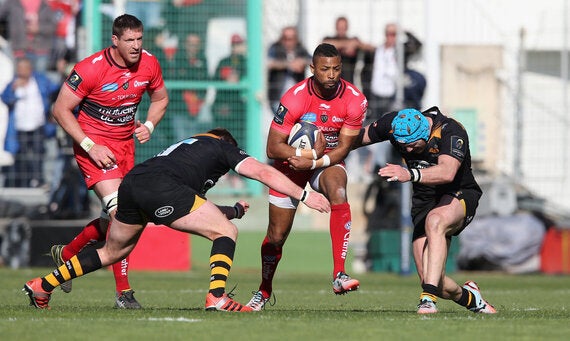 "I keep missing tackles!" "I need to be bigger!" "How do I do this?" are all the common cries I repeatedly hear
However In truth, it is all pretty simple. If you keep missing tackles this has absolutely nothing to do with your size.
I was tweeted the other day from a concerned father, saying his son was being physically dominated so "how could he get bigger?" The boy was only 15!!
Cutting to the nub of this issue. The simple truth is you can't become a good rugby player out of gym work alone. It just will never work.
Some of the best players in the world are smaller than most. What they have over other people is great core skills, power and strength. So my answer to this Dad was really simple. I told him to forget about the gym. Instead teach your son to tackle by working on this discipline for ten minutes every day, after training.
I couldn't tackle when I started at Wasps. I hated it and I was bigger than most. However my Father constantly badgered me about this, so I decided it was make or break and Instead of further compounding and confusing the issue by going into the gym to get in my mind even bigger, so I could tackle, I cornered poor Wasps and England legend Joe Worsley and worked with him every day for five years after training, to help me improve.
I broke down the components of tackling into different sections, which I drilled separately time and time again. I watched clips of him play and tackle along with others. I looked at what they did. Their technique, stepping, foot position, angle of attack, as well as crucially their decision making as to what sort of tackle to execute.
With a simple formula you will never really miss a tackle again!! It doesn't matter how big the guy or girl is you are tackling. It's important whatever you are coached you take full ownership of. So what Joe told me to do and then showed me. I worked on and eventually came up with my own version of the execution.
Overtime I developed a mantra and formulaic process, which I still use today.
If I miss a tackle, then I look back and can tell straight away why I missed it. It is always because I failed to do something from my formula. For example I had omitted to correctly determine the right level of attack. In other words I had gone to high and been knocked back. Or I hadn't got my feet right and had slid down.
There are lots of technical reasons why tackles are missed but size is never one of them!
Popular in the Community