It's been nearly a year since the Queen of Pop (there can be more than one don't argue about this in the comment section) performed on our shores, and it's been all change since then. A hip injury cut short the Born This Way Ball tour sidelining her for half a year - fresh from recovery she's back with Applause, a bonkers music video and new album ARTPOP in November. She's been teasing us with rehearsal videos all week, but last night she finally took to the stage. It's been a while since we saw her, so in the opening slot of the iTunes Festival, did she still have what it takes to stand out from the crowd?
Opening the show singing Aura, complete with a burqa-esque outfit and being dangled over the stage in a metal cage, we're quickly reminded of who we're watching. I somehow always seem to forget how eccentric Lady G is when I'm not watching her. Throughout the night with the pigs in radioactive suits on elastics, the on-stage wig and make up changes, the mermaid bra; we're reminded of just how crazy she is. Visually the show reminded me of the Fame Era, whilst looking totally different. The stageshow had the grand but stripped back feel of her early performances. It feels like it could work at a 3,000 capacity theatre or a 30,000 capacity arena. The crowd was pumped right through the night; she definitely still has a knack for entertainment.
Watching her debuting eight new songs, you definitely get a sense that she's going for a departure from the last albums. Chiefly because she didn't sing anything from them. No Bad Romance. No Poker Face. Nothing. All new album stuff. Don't be too upset though, it was actually all pretty good. The music on show really did fill me with hope. We were promised a "really fun album", and there was certainly plenty of great tunes to dance to. MANiCURE was a highlight for me - a powerful dance/rock track with a catchy chorus you could easily shout along to in an arena or a sweaty club.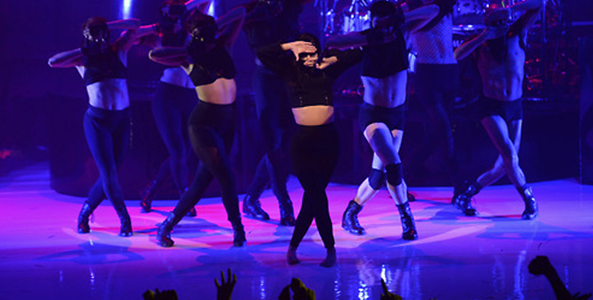 Gaga opening the show with 'Aura'
We've already heard Aura and Applause, but the biggest surprise of the night was Jewels and Drugs - a hip hop/dance number with T.I, Twista and Too $hort totally different to anything she's ever released before. It's unusual, and if she doesn't want to be pushed into a pop music box as she says she's going the right way about it. Sex Dreams is a dirtily infectious song with real potential, even if it is as subtle as a speeding train. Swine is outright insane, hurtling from piano melodies to pounding house beats in an instant. I Wanna Be With You, a love song dedicated to her fans, is beautifully touching and the intimate piano moment was another high point of the night. The ARTPOP title track was a low one for me. It felt a bit slow and robotic, and the lyrics didn't have the same engaging hooks as the other songs. Overall though, if you fell out of love with Gaga's music during Born This Way, which I know a lot of people did, there was plenty to win you back here. She's back to the dance stuff, but it's got her unique edge which still makes it sound different to everything else on the radio.
Gaga's performing ability doesn't seem to have waned in her break. She's still got a strong voice, but sometimes relied too heavily on backing track for the upbeat songs. It's when she gets behind the piano she reminds us just how talented she is. The rest of her performing quirks depend on your view of the woman herself. The on-stage costume/wig changes, the long speeches (however heartfelt they may be) and the many outfits will rub some up the wrong way. And there were a few awkward moments where she was off stage and the music didn't really cover her absence. I'm told the interludes were improvised, which makes sense as they didn't feel prepared for her not being there. The good news is, the hip injury seems to have done nothing to stop her nailing her choreography; she's as good a dancer as she's ever been.
For the first night of a thirty day long festival, she really did lay down the gauntlet for everyone that has to follow her with a hugely entertaining show. It was a Lady Gaga performance in its best form. Well sung, memorable, plenty to talk about. Everything good far outweighed the bad. The big story of the night will be the new music. We've been teased with what looks like the makings of a fantastic dance album. Now we just have to wait until November for it to be released.