 AP
For his 12th solo LP, Jay-Z decided to mix things up a bit. Magna Carta, Holy Grail was released via an exclusive app to one million Samsung users on 4 July, followed by a full conventional release on 7 July. In the week preceding the release, the app has revealed to owners artwork from the album, the track listing and lyrics to songs BBC featuring Beyoncé, Justin Timberlake, Pharrell and Timbaland, as well as Oceans with Frank Ocean.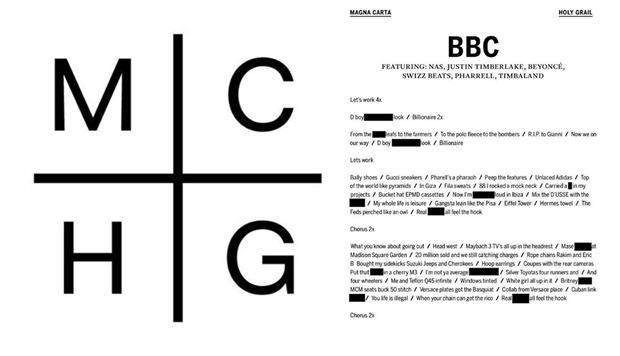 Album artwork and song lyrics from Magna Carta, Holy Grail - both released via Jay-Z's album app
The release has drawn a mixed response from industry regulators. Billboard and the UK Official Charts Company have both refused to count the Samsung sales towards the charts, citing that the people who have the app will be getting the album for free (Samsung have purchased the one million copies that will be given away). However, the RIAA (Recording Industry Association of America) have announced that they will count the app sales, and the album will be certified as platinum denoting a million sales on the day of its release. Either way Jay doesn't seem to care that much, tweeting: "If 1 Million records gets SOLD and billboard doesnt report it, did it happen? Ha. #newrules."
Although the free album aspect of the release is a promotional decision by Samsung, releasing music via app is something that is being talked up more and more. Bjork released the first ever "app album", with her LP Biophilia being released through a series of apps as well as a conventional CD release. Sting has said that he may stop releasing CD albums altogether as he doesn't believe people will continue to buy them, opting instead for release via his Sting 25 app. Jay-Z remains the most prolific to go down the app avenue so far, but Lady Gaga's long awaited upcoming album ARTPOP may take the concept even further. As well as coming with a copy of the album, the iOS and Android app is said to include "chats, films for every song, extra music, content, gaga inspired games, fashion updates, magazines, and more."
On the face of it, app releases solves a problem the music industry has never quite been able to deal with. Music sales are plummeting, but music consumption is higher than ever. People just aren't buying albums anymore. Music apps provide an experience that pirates can't compete with. The chance to communicate with fans directly and unannounced would appeal to both hardcore fans and the casual listener. Even if you're not a fan, having a chat with Gaga or Jay Z or whoever is certainly an enticing prospect. Like with Twitter you'd get instant updates and releases from artists, rather than having to wait for news sources to cover them. The most successful artists are often those that can harness social media well (Bieber on Twitter, Beyoncé on Tumblr, Rihanna on Instagram, Gaga launching her own social network). An app would provide another way to go about this, whilst being totally under their control. It may even encourage the purchase of entire albums and be the silver bullet needed to kill off the recent trend of albums chocked full of filler with two or three stand out tracks.
From a business point of view it looks a good prospect. Slowly releasing artwork, videos or lyrics before the actual release of an album via an app is a great way to build up buzz for free. You get people talking about the album, and actually manage to charge them for it. Jay Z has not released a lead single or music video for his album, opting instead for just one interview, one performance and word of mouth generated by the app. And the phone developers (be it Samsung or Apple) may even pick up some of the promotional slack for them, as the album is more ingrained into their devices so it holds more benefit for them. Releasing albums on a huge scale would be easier, and most crucially cheaper.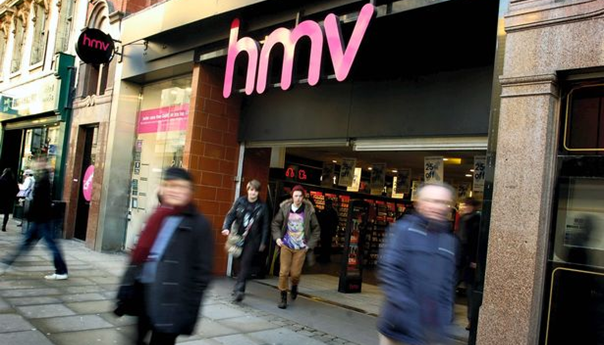 A move towards album apps would be yet another nail in the coffin for struggling music retailers
There is a danger of getting ahead of ourselves predicting an overnight revolution; there still remain drawbacks to overcome. The idea of spending the same amount of money they would on an album (for arguments sake say £7.99) on an app is alien to most of the general public. Although a simple way to sidestep this would be making the app free and having the album as an in app purchase, paying for an album app up front knowing nothing about it might prove a turn off. Smaller or independent acts whose record labels don't have the money to stump up for app developers could see themselves falling behind if this becomes commonplace, and let's not forget not everybody owns an Android or iOS smart phone. Many owners of Jay-Z's app found themselves frustrated at midnight on July 3rd when a surge of traffic caused the app to crash, showing the technical problems that blight apps but not regular CD or digital downloads. But perhaps most pivotally, some people might just not care. There may still be a large sector of the population who just want to buy individual songs or illegally download full albums - and releasing music via apps won't do anything to hinder them.
The fact remains - Jay Z might well be onto something here, and perhaps he knows it. On his Twitter he talks about the need for some #newrules. For a couple of decades now record companies have been playing catch up to rapidly changing technology. Newspaper and book publishers have both tapped into the smartphone market, is it now the turn of the record labels?