"If you are lucky enough to have lived in Paris as a young man, then wherever you go for the rest of your life, it stays with you, for Paris is a moveable feast."
― Ernest Hemingway, A Moveable Feast
I was lucky enough to live in Paris as a young man and Paris has, for me, always been the place I come back to time and time again, or rather it comes back to me. I adore Paris and always will.
I lived in Paris in the 1980s for five years in a chambre de bonne, or a maid's room, little more than a box room. For a young man it was all I needed as I was never home. These days though, I need a bit more space, a bit more sleep and very occasionally I need a bit of luxury.
Nobody does luxury like the Parisians - Paris oozes satisfaction with herself, so absurdly stylish, so majestic and luxurious, yet at the same time a little haughty. I love it! Paris has dozens of deluxe hotels like George V and The Ritz (now re-opened) but nobody does luxury quite like Hôtel Le Meurice.
I recently came back to Paris to stay in Hôtel Le Meurice, whose beds alone are oh so much bigger than my aforementioned entire Paris apartment (no exaggeration!) as Le Meurice is so near to all the main art galleries and museums.
There is nothing like Paris for a weekend of art. In London, I'm ten minutes from King's Cross so the Eurostar makes it easier for me to get to Paris than to get to Peckham. There is no end to exciting and innovative galleries and that's what I came for, using Le Meurice as a hideaway from the crowds and noise.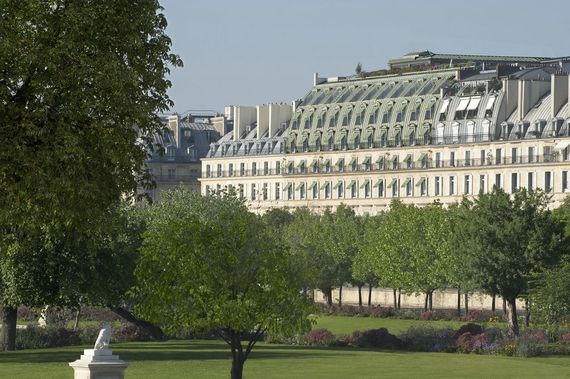 Photo courtesy of Hotel Le Meurice
Since opening in 1815 as one of the world's first luxury hotels, Paris's Hôtel Le Meurice, located across from the Tuileries Garden, has had a fascinating history. For me, I just wanted a fancy weekend. And fancy I got with a range of unique rooms and suites to choose from; one has a telescope, some have canopied beds and each floor has a different style. I was also curious to see the recent refurb of the hotel by France's enfant terrible of design, Phillipe Starck.
The grand foyer and public areas ooze luxury from the glittering chandeliers, lavish brocades and gilded panelling to the marble floors so it's no surprise that Le Meurice has often been referred to as "Hotel des Rois" (Hotel of Kings). And kings and queens have indeed stayed at the hotel, starting with Queen Victoria in 1855 and, from the early 1900s, the King of Spain, Alphonse XIII, King George VI and the Sultan of Zanzibar. Other famous guests have included Tchaikovsky, Picasso and his wife Olga Koklova, who had their wedding dinner at the hotel and numerous politicians, actors and writers such as Franklin D Roosevelt, Charles Dickens, Rudyard Kipling, Liza Minnelli, Placido Domingo, Ginger Rogers, Elizabeth Taylor and Richard Burton. More recently, Jay-Z and Kanye West recorded 'Niggas in Paris' for their 'Watch the Throne' album in 2011 and Woody Allen used the hotel as a setting for his film 'Midnight in Paris.'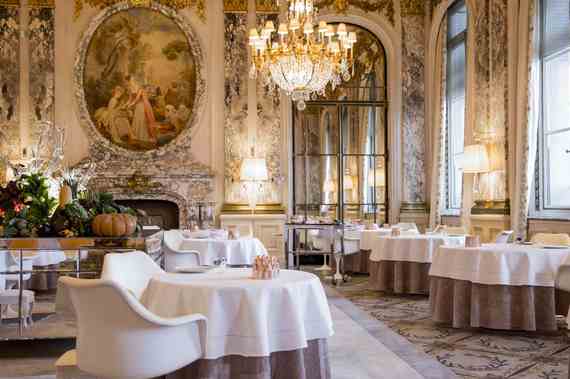 Photo courtesy of Hotel Le Meurice
The whole hotel is steeped in history while the literary dinners given by Franco-American patron and millionaire Florence Gould were the talk of tout Paris. It was thanks to her that Le Meurice hosted one of Paris' last literary salons, attended by numerous writers including Jean Paulhan, Roger Nimier, François Mauriac, Paul Léautaud, Paul Morand, Jean Cocteau, Jean Giraudoux, Francis Scott Fitzgerald and his wife Zelda.
You can of course imagine Burton and Taylor pouring gallons of champagne down each other's throat. Liza caught a few ZZZZs here and Ginger Rogers no doubt waltzed in the glorious ballroom when she stayed. But I love the fact that Mata Hari not only stayed here but also OUTstayed her welcome, leaving unpaid bills which forced the manager to sue her. She was quite literally the spy who came in from the cold.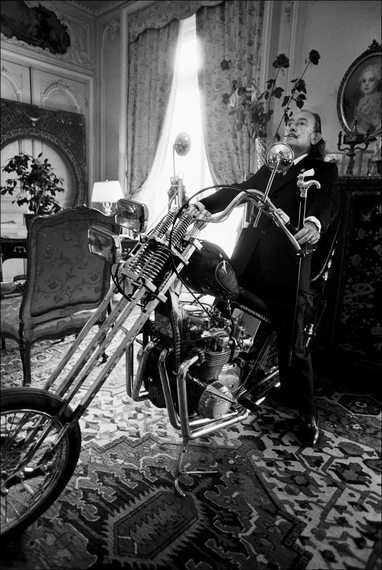 Photo courtesy of Hotel Le Meurice
But of all the icons who stayed here it is perhaps Salvador Dalí who has become most associated with Le Meurice. Tales of the artist's eccentric behaviour are legendary. For one month every year, for more than thirty years, he would take up residence in the Royal Suite once occupied by Alfonso XIII, immediately transforming it into an artist's studio. Staff would assist with delivering goats, a horse, a motorcycle or whatever else he requested to his rooms. He once had a herd of sheep brought to his room so he could shoot them (luckily the gun had blank bullets) and once he asked staff to capture flies from the Tuileries Garden, offering them five francs per fly. It was at Le Meurice, in November 1967, that he organised Hommage à Meisson nier, an exhibition in which he showed Tuna Fishing (Pernod-Ricard collection) among works by Meissonnier, Detaille, Neuville, Boldini and Gustave Moreau. On another occasion, Pierre Cardin was witness to what can only be described as a happening, an episode he recalled on FranceInter radio in 2004: "Having convened the press to his suite, where he had lined up paper bags filled with paint, with great solemnity, Dalí stepped out onto the balcony and proceeded to drop the bags onto the cars parked below. Explosion painting was born!"
Le Meurice oozes artistic flourishes and the hotel's keen interest and support of the arts has continued with the founding of an annual art prize. The creation of the annual Le Meurice Prize for contemporary art helps an emerging artist on the French scene gain international recognition and offers €20,000, awarded by a panel of professionals.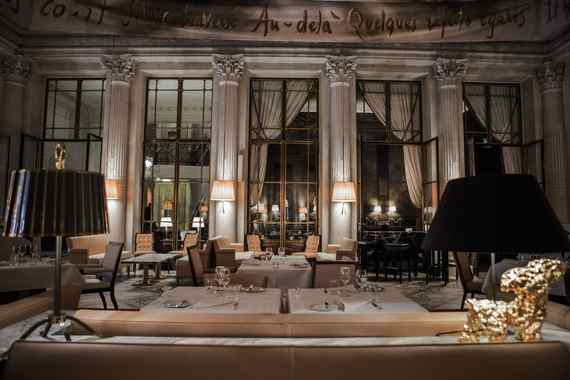 Photo courtesy of Hotel Le Meurice
The spirit of Dalí is still felt in the hotel's atmosphere, particularly Le Dalí, the restaurant named after him. In Le Dali, Philippe Starck has done a fantastic refurb true to the spirit of the great artist. The first thing that strikes you is the spectacular 1560 square foot ceiling canvas designed by Starck's daughter, Ara. Original pieces such as the swan chair and the rocking chair remain while new surrealist elements have been introduced, including a tilted mirror, lighting with crystal droplets, a lamp with drawers and a seat with feet in the form of a lady's shoes. Alongside these design changes, Alain Ducasse has created a new menu for Le Dali that blends the traditional Parisian brasserie style with unfamiliar touches.
Alain Ducasse's main restaurant at the hotel is famous for its Versailles-inspired interior. This has been kept intact while decorative elements have been added to complement the existing features. Crystal and rose copper on the furnishings and a new custom-made carpet blends well with the 18th-century inspired fresco ceiling. The chairs have been replaced by the iconic Eero Saarinen Tulip chair.
To some people Paris is a search for the best croissant, the most unusual macaron. For me it is the search for the perfect Baba au Rhum. For many years my favourite was at a restaurant where it is accompanied by a full bottle of Rum to use as you will. Then I discovered the deconstructed deliciousness of posh grocery store Fauchon's version, served with rum-filled pipettes. But Alain Ducasse has out-baba'd them all with his delicious creation. New decor and Baba au Rhum aside, a dinner at Alain Ducasse's Michelin-starred restaurant will never disappoint with menu choices like scallops, braised lobster and lamb with artichokes.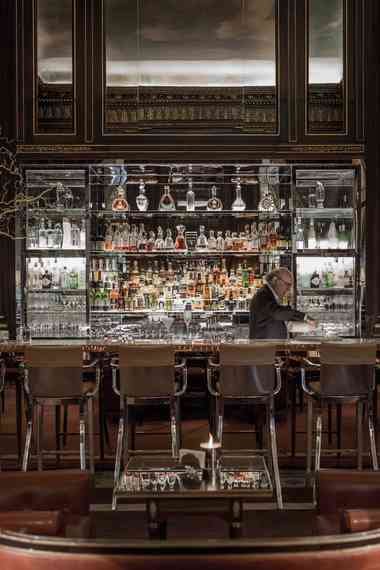 Photo courtesy of Hotel Le Meurice
Philippe Starck's redesign included Bar 228, adding a brand new Carrara marble bar counter, improving a grande Dame of a bar. And making a striking new addition to the Galerie Pompadour lounge, are new armchairs with portraits of 18th-century personalities imprinted on their backs. Even if you're not staying here, it is a spectacular piano bar to meet friends in.
A stay at Le Meurice wouldn't be complete without a visit to Le Meurice's sister hotel, Plaza Athénée for afternoon tea Parisian style, prepared by pastry chef Angelo Musa. French afternoon tea is certainly different from a British one. For a start there are no cucumber sandwiches. With the hotel's fashion heritage in mind, it seemed appropriate to follow tea with a tour of the suite used by fashionista Sarah Jessica Parker and Mikhail Baryshnikov for the Paris portion of the final series of 'Sex in the City'.
Sometimes a bit of luxury is worth saving for and as Salvador Dali once said "there are some days when I think I'm going to die from an overdose of satisfaction." My recent visit to Paris and Le Meurice did feel a bit like that.