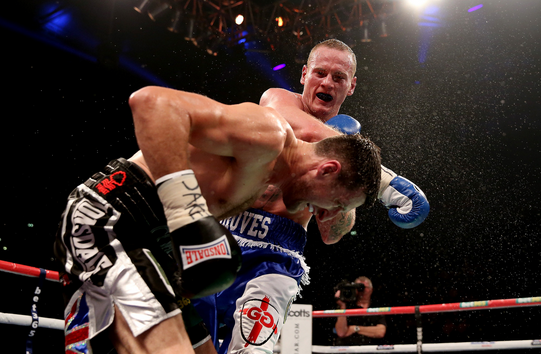 On Saturday night, George Groves entered the ring a lone crusader and returned a hero but he was never going to win, despite completely out boxing Carl Froch. Groves was never going to win, and that had nothing to do with strength, speed, heart, will and the game plan to win. Unless he knocked Froch out (which he very nearly did in the opening round) he was never going to win because the champion's hard earned reputation swayed the subjectivity of the four people that mattered - Referee Howard Foster and the three judges.
Foster has been criticised - rightly so in my opinion - for prematurely stopping Groves when it appeared he certainly had all his faculties having been buzzed for the first time in the fight. The Sky Sports studio was up in arms: "I'm disgusted and cannot believe the fight was stopped," said ex world cruiserweight champion Glenn McCrory.
"The fight wasn't stopped in the first round when Froch was heavily put on the floor and then wobbled about, so why was it stopped when Groves, who was miles ahead and winning hands down, wobbled for the first time?"
"Referee Foster grabbed George in a headlock for some strange reason - this is not WWE here, it's world class boxing," said David Haye. "George is a tough guy. I've whacked George with big shots and he's always come back. He got dropped in a fight with Kenny Anderson, he was hurt way worse, his legs had gone, he got up and stopped Anderson the next round. He's proven his powers of recovery. He's in fantastic condition, he's mentally there, he's a world class fighter. He proved that from the first bell. Give the guy a chance to weather the storm. This is big time boxing - boxing at its best - you don't stop a fight like that."
Amir Khan agreed and was disappointed that reputations of both fighters may have played on the referee's mind: "If you look at the fight the referee kept warning; an elbow going in, the head numerous times. The referee was always favouring Carl. If that was anywhere else, in America or anywhere, I think there would've been points taken off."
This truly great fight was certainly overshadowed by that stench that has overshadowed this great sport since the golden age of boxing, and before. When the great Joe Louis whispered "I'm sorry" into the ear of Jersey Joe Walcott having been crowned the winner and still heavyweight champion of the world, when the whole of the Garden and those watching on the tube could see nothing but an emphatic Walcott win. There have been many instances since then that have soured the sport, and that whiff of uncertainty certainly followed this ferocious battle, a huge shame as this was a fight that will live long in the memory, the sixth round in particular was one of the greatest in British boxing, it really was that good.
There's a feeling of unjust, not just from Groves, who feels angry at being robbed of his destiny, but from pundits and punters alike. Some fight fans have even been crying 'fix' - for what it's worth (not much but anyhow) I don't think British Boxing, and Matchroom in particular, in any way influence the result of matches via money means. That said, Groves and his new Team are looking into matters, including whether Howard should've given the challenger the opportunity of an eight count. "We have to see what proceedings take place," Groves told Sky Sports News, 36 hours after the fight. "We don't wanna go down a legal route, but the decision was wrong. It was unjust and we need to make sure there wasn't ulterior motives."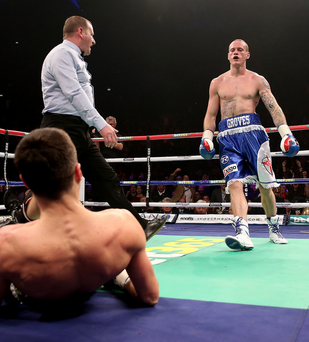 More shockingly was the fact that two of the three ringside judges had Groves leading by just one point - and with Groves winning the first 10-8 due to the knockdown that would mean the judges saw the fight as even in rounds heading into the ninth. Even Froch's mum couldn't have scored her boy just a point behind.
"That in itself points at a more serious matter,"Groves told talkSport."OK, a referee could get swept into the hype of the moment - he actually has an active role in the fight; he's not sitting there subjecting from the side of the ring - so if he thought "Oh [Groves] is chinny and I'm jumping in to save [his] career then he jumped in and made the wrong decision then so be it; he's just been a bit incompetent, but for someone to sit at the side of the ring and say that I was only a round up; well that's deceit.
"I ended Froch's career. He's got two options now - a re-match with me or retire, because no British fan, no matter what Carl Froch says or what's in the papers, will accept anything else."
Froch's reputation has certainly been tarnished - not by his resolute yet undynamic performance, but by his words following the defence of his IBF and WBO world super middleweight titles, at ringside post-match where he condescended the fans to a sea of boos: "When we're in that ring, that four cornered circle that nobody in this arena really knows what fighters go through and what we do then come here like old gladiator fans to watch two gladiators at work, [the officials] try and protect you from doing some serious damage to each other and that's what we did tonight. We got in there and fought like warriors so everyone's got to have respect for both of us."
And Froch continued the day after when he blindly fought his corner: "[Groves] was badly hurt, he was wobbled, his legs were gone. His eyes rolled into the back of his head and he was slumped. Watch it back, have a look at it. Have a look at the state of George Groves is in when I was hitting him and realise that the right decision was made by the referee."
Hmm. OK, see for yourselves here. Carl Froch is a great British boxer and true champion. He really is a warrior made of granite, but I can't help but feel he's dug himself into a hole, when trying to immortalise himself. He's certainly not done himself any favours and lost respect of some of his adoring fans (I'm one, I paid good money to watch his battle with Kessler at the O2).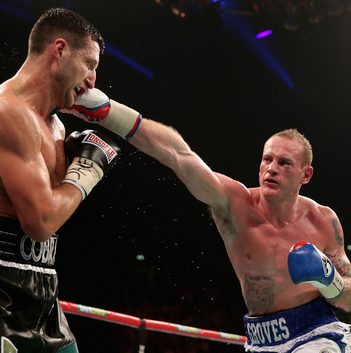 Huge credit must be given to Froch for his resolute nature and sheer strength to come back from the first round one-two that would've ended most super middleweights throughout history. But to be so unmagnanimous in victory is a huge shame. Some would say that serves Groves right for his histrionics during the build-up to the fight, but the Londoner played it perfectly. The mind games scratched away to uncover a weak spot that was uncovered round after round. Groves was faster, landed the more powerful combinations and made Froch miss more than any other of his previous 33 opponents.
Groves very nearly executed his life's work to perfection. He may have lost the battle but he unquestionably out boxed Froch and also won the war of the words. A young man who had to fight against the odds, in an almost lone battle, bar his nearest and dearest and last minute, thrown together team of Paddy Fitzpatrick (what a great boxing man and character he is by the way) and conditioning coach. No modern Hayemaker gym for George, this was the ditching of Drago's gym for Rocky's cold Moscow mountains, or the spit and sawdust of Fitzpatrick's amateur gym in Swindon.
"In the build up to this fight, I was going against the establishment," said Groves, "which is Carl Froch, going against Matchroom who are the poster boys of British boxing right now."
"Afterwards I went over to shake his hand, y'know after everything. After splitting with my trainer 10 weeks out and having everyone saying I'm gonna get beat and being called disrespectful and being booed into the ring. And having an unfair stoppage I went over to shake his hand and he didn't have time for me. Later on he wanted to come over and talk to me and he wanted to be my friend. Someone who wants to be my friend now is someone who doesn't really want a rematch. I hope he honours his word."
I doubt he will. One thing is certain though, Big Time Boxing is back in Britain once again, and with Big Time Boxing comes controversy.