I was delighted to have been asked to join London Titans FC, a gay friendly football team based in South West London for the annual London Gay Pride parade, which was host to this year's World Pride.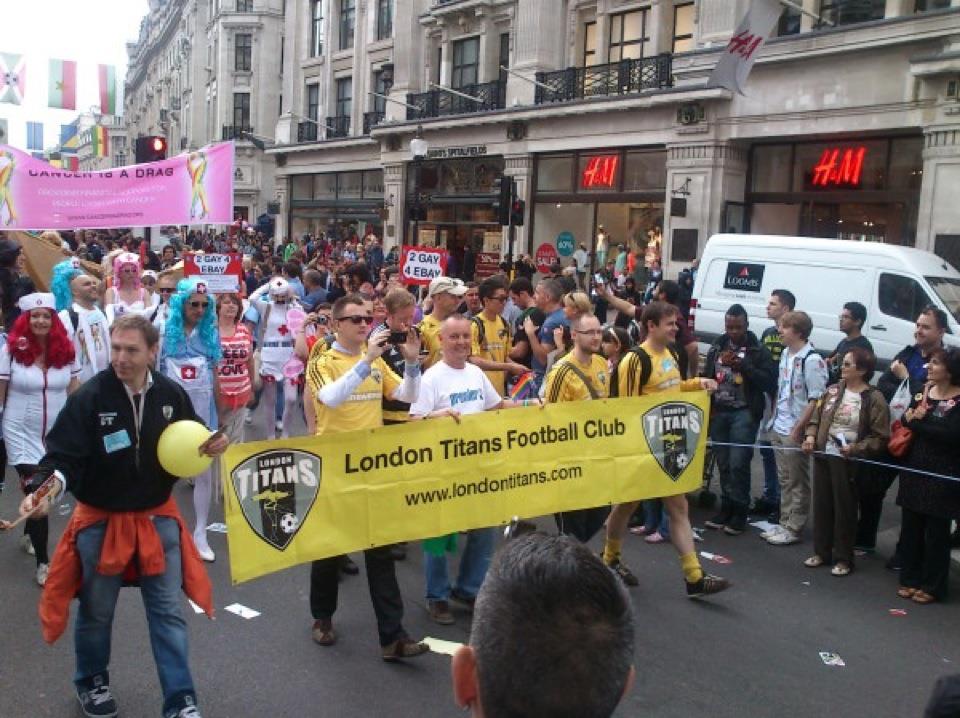 Without getting myself lost in the politics of said occasion which I think has been highlighted enough by others; I realised that joining a sports organisation was fully relevant in today's murky climate of modern equality.
Last year I was asked to sign the Homophobia in Sport Charter at 10 Downing Street which I of course did, in the company of many of my personal sporting heroes. I have also watched with interest how the F.A. have handled and responded to racism and homophobia in British football over the past 12 months and drawn myself to the conclusion that equality in sport is lacking, failing it's athletes as well as it's audience.
It has to be said that this year, Chelsea FC sent the Titans a personal letter of support for World Pride which was gratefully accepted by the players and the coaching staff. It's also important to note that this year at Liverpool Pride, Liverpool FC will march proudly as a team showing their support to gay rights in their home city. They will be the first British football team to do so; an incredible move.
I usually join the LGBT contingent of the British Army at Gay Pride, however this year I felt it was more important to join a group of people who are trying to make a difference in the sporting field, something by signing the Charter, I am also committed to.
Whilst walking the parade route with the footballers of London Titans FC, I was pleased to see so many other organisations coming together in the name of equality. I saw Stonewall walking with youngsters who had travelled to London from around the country that morning to have their presence and their voices heard. I saw LGBT supporters from across the three main political parties, all keen to show their support to gay rights; and I also saw gay men and women from across the public services including my own- the Army, who have come incredibly far in a short time with regard to gay equality.
Some people argue that Pride marches are irrelevant and not necessary in todays world, which I think is utter rubbish. In 2012, we still have no sportsmen in any British football league who feels able to say the words I'm gay. We have youngsters in our our schools who are bullied and harassed on a daily basis on the presumption of being gay, some as we know are driven to suicide; and in some countries being gay is still punishable by death.
When we come together as a community like we did last Saturday at World Pride, we come together to campaign and acknowledge these very truths. We come together to say we understand how far we've come in recent years but we also need the world to understand we've got so far still to go.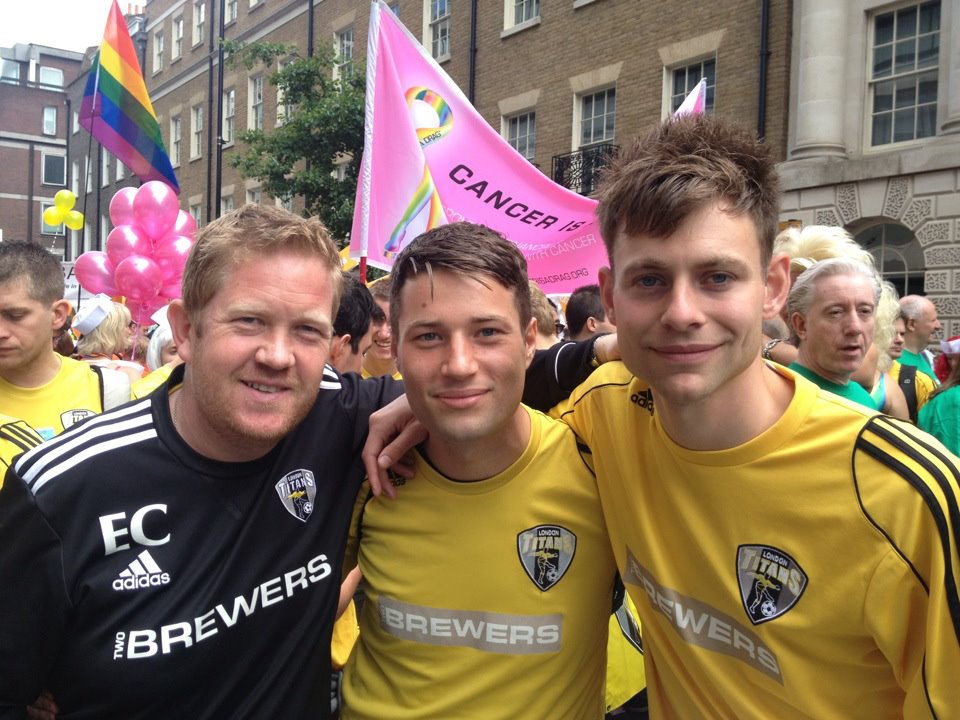 Equal Marriage. Teen suicides. Homophobia in sport. Homophobia in schools. These things can only change when we as a gay community, with our powerful straight friends alongside, march and campaign for our own right to be accepted.
Organisations like London Titans FC are paving the way for sporting teams to be diverse and accepting. To have the chance to spend a few hours with them at World Pride was a huge honour for me... and I thank them deeply for it. I'm looking forward to working further with them.
London Titans FC are hosting a fund raising event in aid of the Food Chain at the Two Brewers in Clapham, next Sunday 22nd July from 5pm.
See you all there!
Originally posted on James-Wharton.com