If there's one tip I have for a first time backpacker, it is this: pack light.
It sounds obvious, but almost no one does it. Trust me, when you're out there - wherever it may be - there is something immensely satisfying about rocking up to the overnight bus with a bag that can fit under your seat, or checking into a hostel with a backpack on one shoulder while other travellers huff and puff and dump their gargantuan rucksacks in the lobby.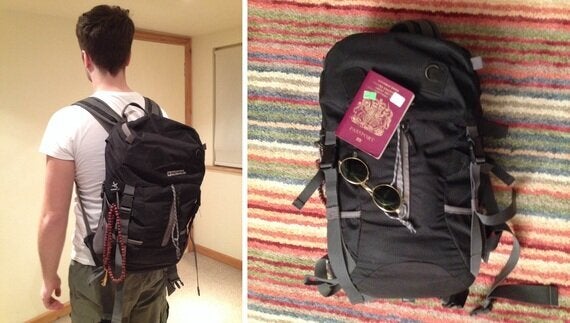 This time last year, I was in Southeast Asia with a buddy of mine. We spent four months there and were carrying 35 litre rucksacks. This is what I packed:
I packed 5 sets of clothes with a mixture of long and short sleeved tops and one spare pair of trousers. I also packed flip flops and swimming shorts. Five days worth of clothes should be enough. Unless you're really getting off the beaten track, there will be somewhere to get your clothes washed. Otherwise, pack an elastic washing line and do it yourself.
In your rucksack, pack clothes in a thin drawstring bag - a stuff sack. You can get sets of stuff sacks in most outdoor shops and I recommend you get some. They allow you to squash things down and separate your bag into sections, which makes keeping track of your stuff easier. Pack a spare stuff sack to fill with dirty clothes.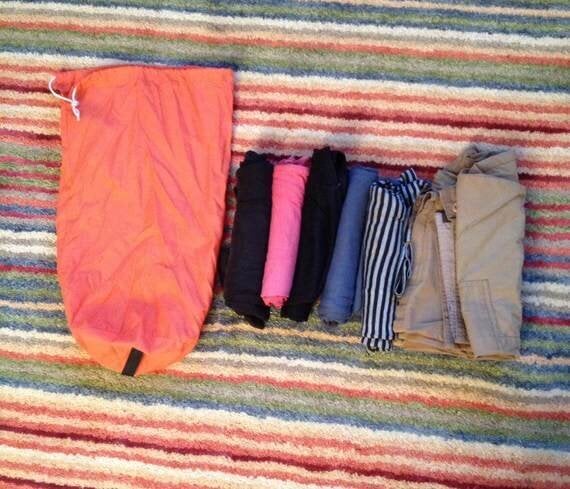 Roll clothes rather than folding them to save space (it also keeps the clothes from getting crumpled and creased). Keep the flip flops loose in your bag. If you want to go really light, leave the flip flops behind. A whole article could be written about ideal travel footwear, but I'm not going to go there. If you do take flip flops, make sure they are your secondary footwear. You'll want something more sturdy for days when you're on your feet for hours seeing the sites.
If you're packing light then you should be able to take your bag onto the plane as hand luggage, in which case, you won't be able to pack some things in a wash kit because of the restrictions on liquids in hand luggage. But that doesn't matter, just buy whatever you need when you get there (or in the airport after security). Pack a bar of soap and then collect any that come with hotel rooms as you travel - this way you shouldn't run out. Same goes for loo roll - take some with you initially, then stock up when hotel rooms supply it. Loo roll can be a scarce commodity in some parts of the world and you don't want to be caught without!
Toothpaste tubes are small enough to be allowed within the 100ml hand luggage limit, so pack that and a toothbrush. Pack a roll-on or stick deodorant as you won't be able to take spray as hand luggage. As for a towel, buy a travel towel from an outdoor shop - they pack down to a fraction of the size of an ordinary one and work almost as well. Pack some antibacterial handwash somewhere easily accessible in your bag like in a side pocket or in the hood - handwash is useful for roadside snacks when you're out and about, or even just when the bathroom in the hostel is a bit grotty.
Pack an additional stuff sack with electronics - chargers, adapters, electric razor, torch, spare batteries, that sort of thing. Add any other odds and ends you might want to this stuff sack - a mini combo padlock, for example, for hostel lockers (although if you are travelling as a pair, it is usually just as cheap to get a twin room in hostels as it is to get two dorm beds, so you can lock things in your room).
Pack your camera loose in your bag in an easy to reach spot - you never know when a photo opportunity might present itself. Your guide book should also be packed somewhere accessible. Pack a first aid kit with plasters, simple dressings and any pills you might need e.g. malaria tablets. Remember, you can't take scissors as hand luggage on planes.
Fill a plastic wallet with your important paperwork and stuff it down the back of your bag - insurance docs, flight details, vaccination list, medical info, emergency numbers (including next of kin, banks and embassy numbers), a few passport style photos of yourself for visas, and a photocopy of your passport (you'll want your actual passport accessible, preferably on your person in a zipped pocket or a money belt).
When you are using ATMs whilst travelling, you'll want to withdraw large amounts at a time because most machines will charge a transaction fee for foreign cards. Therefore, you should have a money belt or something similar to store the majority of your cash in. You don't need to wear it all the time, but just keep it separate from your daily money. When you are not moving from place to place, leave your passport in the money belt too and stuff it deep in your bag, then lock away your bag, either in your room or in a locker in dorms.
As for books and entertainment, I packed a couple of novels on top of the guide book to get me started, then just picked up books along the way. Wherever there are tourists, there are bookshops. Also, many hostels have a book-swap shelf. I also packed a journal, some pens and a deck of cards.
After that, all you need to do is stick a pair of shades on your collar and you're good to go!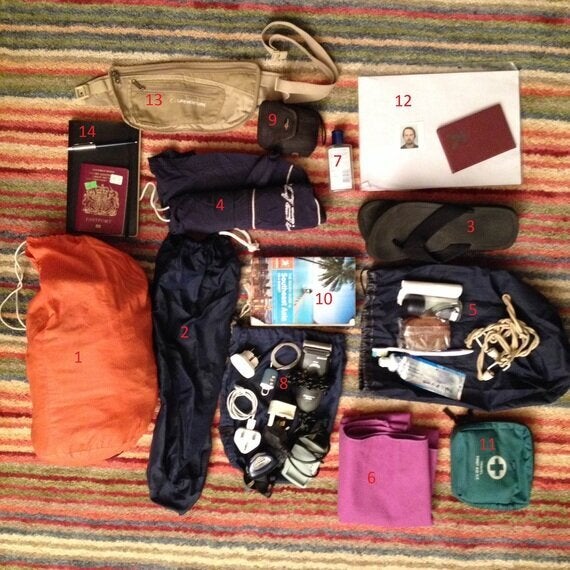 7. Antibacterial handwash
8. Miscellaneous/electronics bag