HuffPost UK is running a month-long focus around masculinity in the 21st Century, and the pressures men face around identity. To address some of the issues at hand, Building Modern Men presents a snapshot of life for men, from bringing up young boys to the importance of mentors, the challenges between speaking out and 'manning up' as well as a look at male violence, body image, LGBT identity, lad culture, sports, male friendship and mental illness.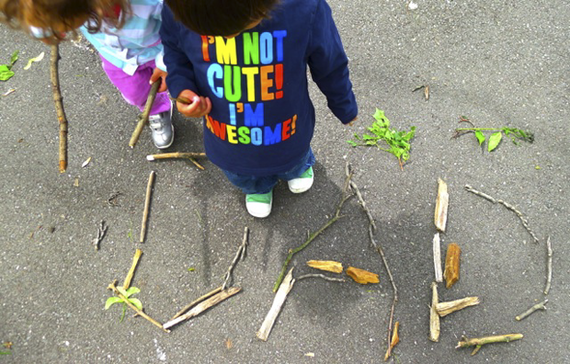 Picture the scene. It's 7am on a Monday. Our twin toddlers wake us screaming from their cot beds. We've overslept!
"Oh ****, I'm going to be late for work!"
One of us jumps into the shower, the other changes two toddlers, then drops them in front of the TV and begins preparing two milk bottles and an adult lunchbox.
Out of the shower, mother throws on a business suit, slurps some coffee, grabs the lunchbox, kisses dad goodbye and is out of the flat by 7.15am.
Hold on! Wait a minute. She's out of the flat?
That's right. She's out of the flat.
And dad's at home, doing the washing up, laundry and looking after the children, amongst other things.
Yes, dad's the primary carer.
Now, fast-forward two years if you will and I must admit it still feels strange working as a stay-at-home dad and not being paid to work, like I had done for the previous 20 years. It still feels like I really ought to be going into work everyday rather than looking after the children.
Apparently though I'm one in a growing trend. It's something to do with the recession forcing an increasing number of dads out of work, who then choose to look after their young children full time. To be the primary carer.
A year before I discovered my partner and I were expecting twins, I lost my job. I was mortified. I had spent years freelancing as a journalist and had finally secured a full-time job in a role that really meant something to me. But, in a flash, it was gone. I spent the following year looking for a new job whilst doing a little freelance work. But things didn't work out quite as I had hoped.
Then we discovered twins were on the way, and as the due date approached we agreed that one of us should look after the children full time. We didn't want a nanny and we didn't want to send the children to a nursery, yet. Ideally, one of us should become a stay-at-home parent.
In the end it was a no-brainer. I didn't have a secure job. Mother had an established career and was being well paid for what she did. We decided that mother should take the generous three-month maternity allowance on offer and then go back to work; in the end she took eight months off work, five of which were unpaid. I would put my career on hold and look after our children on a full-time basis.
I would become a stay-at-home dad!
How hard could it be? Easier than going into paid work every day, surely!
I would have to change a few nappies.
I would join a few playgroups.
I would drink lots of coffee with new mates in cafés.
I would have a nice dinner waiting for mother when she arrived home from work each evening.
It all sounded a lovely prospect.
So, here's how things turned out:
I change up to 70 nappies a week.
I have constant back and shoulder aches and regularly sail perilously close to clinical depression.
I drink and pay way too much on coffee, wine, beer and cake, all with a healthy mix of no exercise.
Yes. Little did I know that becoming a stay-at-home dad would become the hardest job I have ever done, or will ever do!
But in many ways I have been very fortunate. Deciding to become a stay-at-home dad was an easy decision to make; it came at a convenient stage in my life.
But would our decision have been as straightforward had we both been enjoying established careers?
Who would have given up their job then to look after the children?
It's all well and good my shouting from the pulpit that one of us should look after the babies, because that's what's best for them! But what if we both had dream jobs? Would we then have been tempted to send the children to a nursery, full time?
I don't think so. In fact I'm sure. Cue problem!
Traditionally, it has been the mother who has given up a career to look after a child. But times are changing. As a consequence of more and more women having babies later in their lives, women are spending more time forging established careers, just like men have always done. At least that's what I'm experiencing in my neck of the woods.
But am I happy that I became a stay-at-home dad?
I miss paid work, how it stimulated me and the social aspects of going into work every day. Of course I don't miss office politics. I now crave spending more time blogging or establishing a career, whilst mother would love to spend less time at paid work and more time at home with the children. Nothing unusual there.
These days, each time I walk past a building site in London where workers on cigarette breaks stare at me as I push a double buggy along, I do feel a little vulnerable. It's not that I'm scared of having jokes thrown at me (or wolf-whistled at!), it's more that I'm reminded that I'm a man working in what is traditionally a woman's world. Surely that's a natural feeling, or is it a macho feeling?
When every so often somebody tells me to enjoy these early years, when my children are two-years-old and are innocent, fun and still relatively immobile, I am reminded that I should be happy with the decision I made. That we made. The children will soon be five-years-old, at school and I'll be back at a desk recollecting all our memories via this blog. The tears, tantrums and back ache will all soon be forgotten.
My partner and I were lucky. Not everybody gets the choice we were given.
And if I wasn't going to be an astronaut, centre forward for Chelsea or thriving in an established career, I should try my hardest to be the best stay-at-home dad as possible.
I'm no Superdad, but I'm doing OK.
This article first appeared in Man&Buggy. Jamie's twins are now four-years-old, have started school, leaving Jamie to blog about it all whilst stumbling through the perils of parenting just like everybody else.