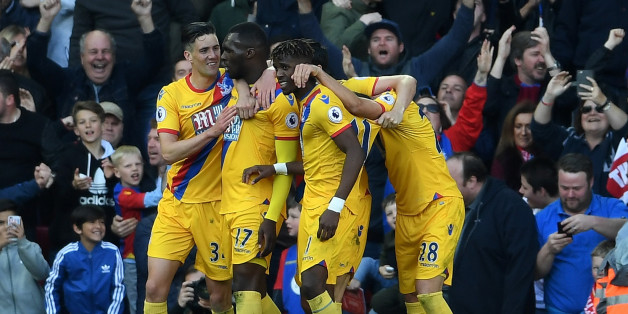 Laurence Griffiths via Getty Images
Christian Benteke had every right to 'go crazy' when he equalised for Crystal Palace against Liverpool on Sunday. It was his fourth goal in a run of five games that had already seen the Belgian score and assist in a huge win over league leaders Chelsea, as well as grab a goal in a crucial 2-2 draw against Leicester, all after what had been a tough start to life with the Eagles after a £27million summer move.
So when Benteke subsequently then scored a second goal at Anfield to hand Palace the lead, his fifth in those five games, and one that would soon turn into another invaluable three points for the relegation threatened side, he had yet more right still to go even 'crazier' in celebration over what he had done for his team.
Given that both Swansea and Hull had picked up victories only 24 hours earlier to keep the pressure of a relegation on, a positive result was vital, a win even better. Palace moved up to 12th place in the Premier League table as a result and are now closer to the top half than the bottom three.
And yet, on neither occasion as the ball went in did Benteke bat an eyelid. He was statuesque and emotionless, not overjoyed like he ought to have been for providing such a crucial contribution, not only this week but now consistently all month.
A pre-rehearsed 'rock, paper, scissors' routine on the sideline with Mamadou Sakho, on loan from Anfield and therefore ineligible to play, was all that leaked out.
The sole reason for Benteke's lack of celebration was Liverpool.
"I said to myself if I get the chance to score I wouldn't celebrate because I respect Liverpool. What happened when I was here, it's behind me and I was really looking forward to playing my old team-mates," he explained in front of the Sky Sports cameras after the final whistle.
Benteke spent one unsuccessful season as a Liverpool player, was widely branded a flop, while the majority of fans were relieved when he was quickly sold on at only a minimal loss and were largely happy to see the back of him.
Benteke owes Liverpool absolutely nothing, but it is increasingly ingrained in most modern players that celebrating against a club you used to play for is the ultimate taboo. And it's just plain stupid.
The fact that he also admitted that facing his former employers actually made him extra motivated after what happened during his ill-fate spell at Anfield makes it even stranger that he then actively chose not to celebrate two utterly huge goals for Crystal Palace.
It can, of course, be different if a player's relationship with their former club was more significant. Cesc Fabregas, for example, refused to celebrate a goal for Chelsea against Arsenal in February.
He spent eight years with the Gunners from the age of 16 and it was with the club that he got his start in professional football. You therefore understand the almost apologetic nature of Frank Lampard's goal for Manchester City against Chelsea in 2014, even if it was his professional duty.
But at the same time you have respect for players who break the 'respect'. Robin van Persie was muted in his celebration against former club Arsenal in November 2012 when faced them for the first time after joining Manchester United. He was when he scored at the Emirates later that same season as well, but rightly let it all out the following year when he netted yet again.
While he might have initially felt he owed Arsenal for his chance in England and sticking by him through the injury nightmare, Gunners fans destroyed that by the level of abuse he received in the aftermath of his transfer north.
Emmanuel Adebayor took it too far when he ran the whole length of the pitch to celebrate in front of Arsenal fans after he scored against them for Manchester City in 2009, but his actions were also quite understandable given the abuse he'd been subjected to since leaving.
Football is football. You do your job and you celebrate your goals. Rather than be worried about offending any over-sensitive Liverpool fans because he happened to (not) play for them for less than a year, maybe Christian Benteke should have been more concerned about offending fans of his current club by refusing to celebrate goals of such importance to them.
Barring the very exceptional circumstances, that should go for everyone else as well.