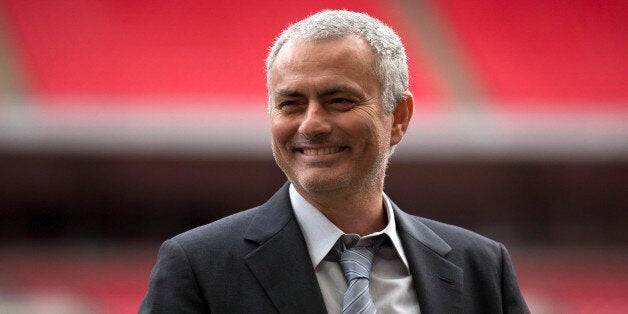 ​'No, not him, anyone but him.'
Was this you when Jose Mourinho was finally confirmed as Manchester United manager in May? Because it was definitely me. The former Chelsea boss took over as a proven winner, sure, the man to restore the glory days of the Sir Alex Ferguson era. That certainly appealed to the growing army of modern 'fans' who care only for results and success.
When Jose was pictured smiling broadly in front of that emblematic black background dotted with United badges, Adidas logos and the AON insignia, it felt as though Ed Woodward had traded away the soul of an historic football club for short-term gain - the new relationship between the two men some kind of weird tryst that strangely fitted the lyrics of Taylor Swift's 'Blank Space'.
There were genuine and valid fears about his playing style, too pragmatic and defensive minded for a club like United; his policy on youth players, no academy graduates have become regular first-teamers at any of his previous clubs; and his legacy, he's found it incredibly difficult to source the secret to longevity and keep things going into a third season wherever he's been.
But less than two months in, those fears are just beginning to wash away. Mourinho, to his great credit, is doing and saying all of the right things to allay the concerns. It's still only early days but this doesn't now feel like the train wreck that seemed as though it would be inevitable, albeit with some silverware to show for it.
The Portuguese seems to have something different about him, a quality that he had lost at Chelsea as things started to quickly unravel at Stamford Bridge last season.
That tumultuous period between August and December was the first time in his career that things hadn't gone Mourinho's way - his dismissal from Chelsea the first time round in 2007 had been much more sudden and unexpected. The end of 2015 was a learning curve, and for a man with a reputation for arrogance, arrogance that came through horribly last season, he actually seems to have taken something important away from the whole situation.
He appears infinitely more humble and respectful in his new surroundings. Mourinho began the first interview after taking the job by consistently to the 'giant' club that he is now tasked with leading, while he clearly knows that he won't get any more chances in the Premier League further down the line - a league he regularly professes a deep affection for.
Mourinho wanted the United job in 2013 when he was coming towards the end of his time at Real Madrid. That much was obvious by the way he approached the Champions League tie against United a few short months before Sir Alex Ferguson confirmed his intention to retire. Old Trafford officials were scared away from Mourinho then, deeming him too risky, too dangerous.
When he addressed the world's media for the first time earlier this month, there was a moment that almost felt like the extension of an olive branch to those who still feared how he would approach. It was a rather aggressive statement, but there was a reassurance behind it as well.
"What is playing well?" he asked. "It's to score more goals and concede less than the opponent. It's to make your friends proud because you give absolutely everything. It's to make your fans proud because you win.
"So we want everything at the same time. And again, an aggressive approach by myself, I want everything. I want to play well, I want to play young players, I want to score goals, I don't want to concede goals."
In terms of the playing staff, Mourinho has been fair and intelligent thus far. After months of watching from afar, he quickly recognised that the squad left behind by Louis van Gaal, while not playing to its full potential, was capable. Therefore it was never about tearing things apart to put his own name on everything in a mass spending spree, as many hoped he would.
The signings have been precise and carefully identified to strengthen areas of the team needed improving. He could have instantly got rid of those that don't fit his usual profile, but he didn't and might yet not.
Daley Blind started over Phil Jones against Wigan recently, Juan Mata has been allowed a chance to prove himself. Even with younger players, Will Keane has been rewarded with a place in the pre-season tour squad, as has Axel Tuanzebe. Jesse Lingard looks like he will still have a role, while Mourinho has actively preserved Marcus Rashford's path to stardom by declining to go after more than 34-year-old Zlatan Ibrahimovic up front.
In fairness, Mourinho has adapted to the demands and the specific culture wherever he's been. He's never had a challenge like Manchester United before and maybe now that should tell us we'll be seeing a different, more appropriate Jose Mourinho at Old Trafford.
For more fan views or to join the conversation visit www.90min.com