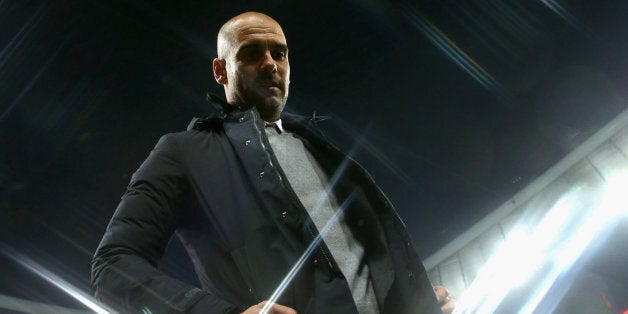 If you want to place a bet on the Premier League title race in 2016/17 you'll quickly discover that Manchester City are favourites with bookmakers across the board, largely priced at odds of 5/2, 12/5 or 9/4.
The evidence of City's title credentials appears to be two-fold. Firstly, the presence of a handful of world class individuals, and secondly, that Pep Guardiola is now in charge.
The question for the critical thinker at this stage would be, 'is that actually enough?'. Dig a little deeper and it seems quite clear that the champions of 2012 and 2014 still have an awful lot of work to do. To label them 'favourites' at this moment feels a bit of a stretch.
To begin with the squad, there are plenty of areas which proved to be City's undoing last season that still need serious attention. Only three signings have been made so far, none of which have really immediately addressed obvious weaknesses.
Midfielder Ilkay Gundogan isn't expected to even start full training until next late month at the earliest after arriving with a knee injury. A return before October is therefore unlikely for the German international who has a history of fitness issues.
Oleksandr Zinchenko was among the youngest players at Euro 2016 and is a bright talent for the future - it's unfair to ask him to be anything more any sooner. Nolito will bring additional creativity and firepower from wide, but City were already Premier League top scorers.
It's elsewhere that the problems lie. What City have done so far in the transfer market is almost akin to comfort revision when you're studying for exams, going over the topics you already know well because it's easier and less challenging than trying to understand something you're not as familiar with. It feels productive at the time but it actually achieves very little in reality.
Defensively, they are still relying on an injury-prone Vincent Kompany, a hopelessly unpredictable and unreliable duo in Nicolas Otamendi and Eliaquim Managala, and now a raw and unpolished Jason Denayer following Martin Demichelis' departure.
City looked a top class team capable of beating anyone when Kompany was in the side last season. That was never more clear than in the opening weeks of the campaign when the team began with five consecutive victories and five consecutive clean sheets.
It's blunt and harsh but Kompany has had it. Those kind of persistent muscular injuries never fully disappear. He'll still return to fitness from time to time but the next problem will never be far away. It happened with Rio Ferdinand across town at Manchester United and it will ultimately always disrupt the development of a new defensive unit.
The club is still pursuing a potential £50million move for John Stones. But without a calming senior figure like Kompany for guidance, that could be nothing short of disastrous. Additionally signing Leonardo Bonucci would be a possible solution answer, but the 29-year-old represents little value after a £37million offer was already allegedly made and quickly rejected.
Meanwhile, at least two new full-backs are being targeted with City seemingly no closer to landing anyone. At present, the four most prominent options on either side of the defence have a combined age of 124 years. It's no wonder they're thought to be after Arsenal's Hector Bellerin, although that's another that will be far from easy to complete.
Questions also still remain about Joe Hart in goal. There's no smoke without fire and the sheer volume of rumours linking City with high profile moves for the likes of Claudio Bravo and Marc-Andre ter Stegen would point to the manager not being convinced by the England stopper.
As far as player recruitment is concerned, Guardiola is fast running out of time to buy players. There is only a month of the transfer window left and some would even argue that time is already up in the context of being able to suitably integrate the volume of new players into the squad and still hit the ground running when the season kicks off on 13th August.
It will therefore solely be down to Guardiola's ability as a coach to get much, much more out of an existing squad that, even with the likes of Sergio Aguero, Kevin De Bruyne and Fernandinho, only finished fourth last season - it might have been worse still had Manchester United not given away a late season initiative.
It's perhaps worth noting that Guardiola inherited incredible groups of players of players at both Barcelona and Bayern Munich, tasked simply with adapting the focus and putting his own style and tactics into use. He's never before had a challenge like this one that required real building and that is enough to plant a seed of doubt until results can prove otherwise.
He's a man manager and a players' coach. But can he still do the job and achieve the same results without a perfect set of tools in his shed?
For more fan views or to join the conversation visit www.90min.com