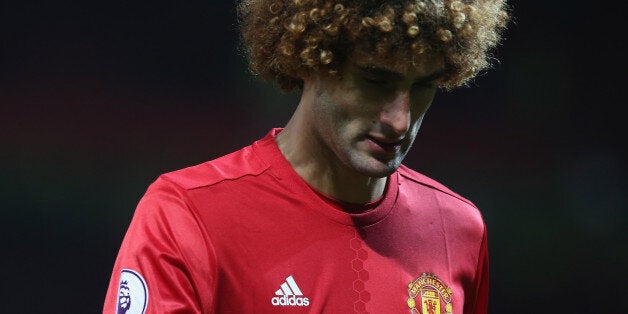 ​'Daaaaanny Rose...is a w**ker, is a w**ker' were the cries that rang out around Old Trafford in the final stages of Manchester United's Premier League win over Tottenham Hotspur on Sunday afternoon - a long overdue home victory for the club after a string of draws.
The Spurs full-back was the man responsible for the heavy challenge that prematurely ended Henrikh Mkhitaryan's game and denied the Armenian playmaker the chance to complete his first full 90 minutes since joining the club in July.
After Mkhitaryan had skinned Rose with his deceptive pace, the full weight of the Tottenham defender's body came down on the United player's left ankle. He left the field on a stretcher and Rose was met with a chorus of boos for the remainder of the game.
That kind of response from supporters sticking up for one of their own was nothing less than one would expect to hear at Premier League stadium. An opposition player filling the role of pantomime villain and the home fans making sure he knew he had wronged them.
Yet mere moments earlier there were boos at Old Trafford for a completely different reason, an altogether more shocking reason.
Small sections of the crowd had broken out into jeers and as everyone looked around for the cause it was immediately clear - Marouane Fellaini had got up from his seat on the bench and was beginning to warm up along the touchline. Some United fans were actively booing their own player and it was absolutely shameful to behold.
The Belgian was still bearing the brunt of ill-feeling after his appearance in the previous Premier League game had resulted in giving a needless penalty away and subsequently, the dropping of two more invaluable points. But even so, to boo one of your own is not how supporters should behave. And it's certainly not how United fans should behave when the mentality at the club has always been 'us against the world'.
The booing extended from the warm-up to the moment he replaced Ander Herrera in stoppage time. After he touched the ball for the first time there was what sounded almost like ironic cheers - whether that was an attempt from the rest of Old Trafford to drown out the boos or simply another barrage of unnecessary jeers directed the player's way isn't clear.
Fellaini did make a mistake that cost United the win at Goodison Park a week ago, but there was more than just that to the reception he was met with on Sunday; had it been any other player giving away that penalty on Merseyside, United fans would have been unhappy, annoyed, angry, but the frustration would not have been personal. With Fellaini, it certainly was and that is unacceptable.
The Belgian has been unable to win most supporters over ever since he joined the club back in 2013 - the only signing of a thoroughly disappointing summer that saw new manager David Moyes and new executive vice-chairman Ed Woodward fumble their way through negotiation after negotiation for the likes of Cesc Fabregas, Toni Kroos and Leighton Baines without success.
It is as though Fellaini has taken the blame for the failings of others. He struggled to make an impact in his first season because of a persistent wrist injury and general fitness issues, but he later showed himself to be an asset during two years under Louis van Gaal's rule.
He bullied opponents when the team's tactics played to his strengths - home wins against Tottenham and Manchester City in the spring of 2015 and against his former club in last season's FA Cup semi-final particularly stand out.
It is for that reason that Jose Mourinho appears to like Fellaini so much. He's a mild mannered individual off the pitch but he will always do what any manager asks of him as best he can and works incredibly hard for his team whenever he plays.
Mourinho recently described Fellaini as the natural replacement for Paul Pogba in United's best team, a comment that drew sarcastic and negative responses from critical fans. What the Portuguese did by bringing him on against Spurs on Sunday in similar circumstances to the Everton game was very deliberate. He wanted to make it obvious he supports Fellaini.
"I want to dedicate this victory to Fellaini because he deserves it," Mourinho told Sky Sports afterwards. "In the last match, it was him that was involved in the loss of two points, and that's why I want to make it clear he is an important player for me."
Marouane Fellaini is a Manchester United player and will continue to be so until the club decides otherwise. Until that time, he deserves the full support and respect from fans that every other member of the squad is automatically entitled to. Any 'fan' who can't do that doesn't deserve to support a club as special as United.
For more fan views or to join the conversation visit www.90min.com