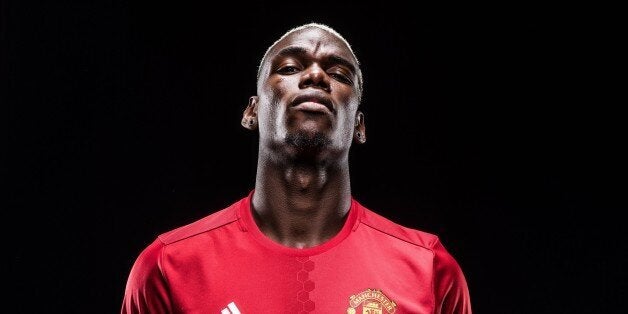 Four years after walking out on Manchester United over a perceived lack of first-team chances, Paul Pogba is back at Old Trafford. No longer a lanky teenager with talent and untapped potential, the Frenchman is now a world beater and the most expensive footballer the planet has ever seen.
It took a long time to get this far. United were first linked with Pogba back when David Moyes was manager and the speculation persisted on and off during Louis van Gaal's reign.
For everyone following the saga, the last few weeks have been nothing short of torture. The deal was 'agreed' so many different times it was hard to keep track. Super-agent Mino Raiola, the man at the centre of Pogba's Old Trafford departure in 2012, was at the heart of everything again.
Raiola had already given United both Zlatan Ibrahimovic and Henrikh Mkhitaryan, but he made sure to stretch this one out and out, 'blah, blah, blah', and all.
But it's done and the attention can finally turn away from the rumour mill and on to reality, the reality of Paul Pogba in a Manchester United shirt and what that now means for the club on the pitch where the real talking is done.
Jose Mourinho was very clear in his vision when he sat down in front of the media for the first time as United manager in early July. He wanted four players to strengthen the core of what already had the makings of a very good team. Eric Bailly was on board at that point, so too was Ibrahimovic. Mkhitaryan followed a few days later and now Pogba is the final piece of a very precise jigsaw.
This was no mere crapshoot, throwing money at the nearest available player with an elite reputation. Pogba fitted the exact profile of the player Mourinho wanted. Had United not been able to strike a deal, the Old Trafford hierarchy would have moved on to Blaise Matuidi instead, a player in a similar mould, and not on to another big name for the sake of landing a huge statement signing.
Pogba is the midfield driving force that United need, that any successful team needs. Think Roy Keane in his prime, or Bryan Robson if you're old enough. A box to box player who can defend, attack and do everything in between. Nothing gets past him and it all comes through him. In future maybe he can be a leader too.
Mourinho is known to like a settled team. His starting XI will hardly change over the course of the upcoming campaign - he actually made a point of boasting about the lack of injuries his team encounter in that maiden press conference.
He has a front four that is the envy of any team in England. With Ibrahimovic leading the line, Wayne Rooney in behind in a number 10 role and Anthony Martial and Henrikh Mkhitaryan coming in off either flank, there are goals in the team.
Add to unit, that Juan Mata, Memphis Depay, Jesse Lingard and Marcus Rashford ready to come in when necessary.
Pogba will form part of a central midfield pair in a 4-2-3-1 formation. He will provide the legs and the energy alongside a sitter, possibly Morgan Schneiderlin, possibly Daley Blind, occasionally 35-year-old Michael Carrick.
At this point it almost certainly won't be Bastian Schweinsteiger. Mourinho also has the always eager Ander Herrera and the human battering ram Marouane Fellaini at his disposal in those central areas.
If the midfield does its protective job the defensive unit can be just as mean, if not meaner, than it was last season. Chris Smalling and David de Gea are the leaders at the back. Both have matured incredibly well over the last two years.
Alongside Smalling, Bailly is raw but talented, Luke Shaw will get fitter and stronger with each passing week at left-back, and the regular right-back place looks set to go to Antonio Valencia - the Ecuadorian is finally shifting to a defensive mindset and possesses the speed and power that Mourinho likes to see in his players.
This is Jose's jigsaw, and Pogba is the final piece.
For more fan views or to join the conversation visit www.90min.com