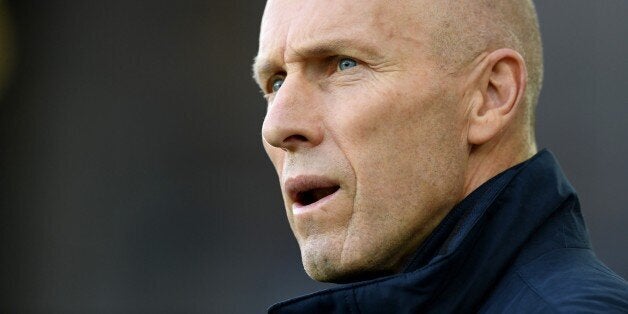 Swansea City left their Premier League fate in the hands of Bob Bradley when the decision was made to sack Francesco Guidolin in October. 'Who?', came the cries, as cynics and critics quickly told anyone who would listen that the Swans were digging their own grave by hiring an American who would undoubtedly ask his players to line up in a 'wildcat' rather than a 4-4-2.
Before Bradley had even taken charge of his first game, he was being mocked. How can he possibly know what he's doing when he's always calling it the 'Pr-meeer League'? That accent makes him stand out like a sore thumb in the world of European football, where few American players and even fewer American coaches achieve success.
It's indicative of a football culture in Britain that while so open to foreign players and coaches hailing from countries with a noted football heritage, those from places like the United States are faced with a hard-to-shake scepticism. You could easily imagine a similar reaction and the disparaging headlines if an Australian coach was put in charge at a Premier League club.
Had Bradley been Italian or French instead, arriving with club experience in three different countries spanning two continents, as well as two jobs in international management over the course of seven years that included going to two World Cups and four continental championships, he would have been welcomed to the Premier League with open arms, celebrated as a brilliant appointment.
His American accent has ensured he's having to work hard for every scrap of praise instead.
The fact of the matter is, Bradley genuinely is a top coach. He's an educated man having attended Ivy League college Princeton University - bear in mind that English 'national treasure' Harry Redknapp had to claim he was too stupid to be able fiddle his finances to dodge tax evasion sanctions in 2012 - and a very well spoken man who communicates extremely well.
What's important to remember is that Swansea have yet to employ a manager with pre-existing Premier League experience since earning promotion in 2011. Neither Michael Laudrup nor Francesco Guidolin had coached in England before, Brendan Rodgers had been a manager for only three years and was still shy of his 40th birthday, while it was Garry Monk's first job ever.
All were successful in the role at the Liberty Stadium, at least temporarily, even Guidolin after steering the team away from relegation. So while Bradley had no Premier League experience when he took the job in early October, he certainly had no less than any of his predecessors in south Wales. He has also brought more general coaching experience to the job than Rodgers, Laudrup and Monk could and has a long list of good achievements as a coach to his name.
Bradley has been around success his whole career. He was an assistant when DC United won the inaugural Major League Soccer title in 1996 and claimed his own as head coach at Chicago Fire two years later. For that, he was named MLS Coach of the Year in 1998 and again in 2006 for his work with Chivas USA before taking the national team job.
On the international stage, Bradley's USA reached the knockout rounds of the 2010 World Cup, relative success for a country still finding its place at a global level. He also oversaw three consecutive Gold Cup final appearances, winning in 2007, and even ended Spain's incredible run of 15 straight wins - a 35-game undefeated streak overall - to make it to the 2009 Confederations Cup final.
Since taking over at Swansea, results have been mixed but there are positives. A narrow 3-2 defeat at the hands of Arsenal in game one was a marker to lay down. A clean sheet against Watford was an important step, while only Everton's very late equaliser prevented an away win at Goodison Park with a heavily changed team.
The 5-4 victory against Crystal Palace was a touch unorthodox but it was Bradley's introduction of Fernando Llorente from the bench that ultimately made the key difference. Progress is clearly being made, and why should it not be?
"He obviously knows his football, his knowledge is very good, and everyone I've spoken to who has worked with him in the past say he's really good - and we are seeing that ourselves," Gylfi Sigurdsson said of Bradley at the start of November.
"He strives to get the best out of players. The lads have said training has been really good. He looks a really exciting manager. He looks up for it and backs his ability," Neil Taylor, the club's second longest serving player, said soon after the appointment in October.
Long gone are the old days of former pros who've 'been there' as a player stepping into the dugout. Management at the highest level is no longer the closed shop it once was. Bradley is a career coach and a keen student of the game who took his first job at the age 23. You can't dismiss all that experience and knowledge because of where he comes from and how he talks.
For more fan views or to join the conversation visit www.90min.com