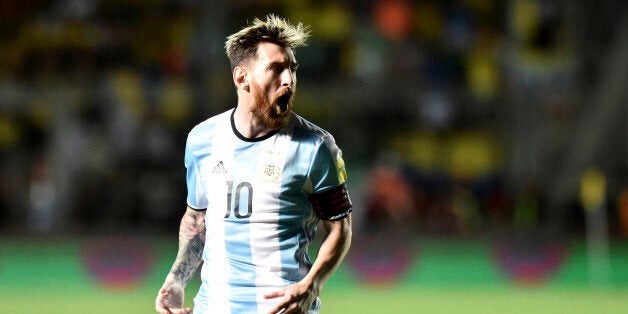 ​Whether Lionel Messi actually leaves Barcelona in 2018 when his contract is due to expire will remain up for debate for some time. The latest rumour is that Marca's story effectively pushing him out of the door was 'revenge' for Barça boycotting the publication's recent La Liga award ceremony, so who even knows what to believe anymore.
But, in a land where it's possible to imagine that Messi will no longer be a Barcelona player just 18 months down the line, it seems fairly obvious (alright, semi-plausible if you think very wishfully) that he's destined for Manchester United when that time comes...just dream a little.
In 2018, the football landscape at Old Trafford will be quite different.
United will be bidding farewell to Zlatan Ibrahimovic after a two-year stint following the expiration of a contract that looks likely to be renewed into the optional second. Finding a new talisman and marque superstar forward will be the order of the day.
Wayne Rooney's time as a United could finally draw to a close that summer as well after 14 years. His contract isn't due to expire until June 2019, but with his career winding down, his best days long behind him and strong interest from new MLS franchise Los Angeles FC who will begin their inaugural season in July 2018, the timing is certainly right to wave goodbye.
A legend will depart, leaving his number 10 jersey vacant. Conveniently vacant, one might say. Ready for a certain Argentinean who has become synonymous with that particular pair of digits.
Don't forget the role that Adidas are bound to play as well, obviously...
For years there were rumours that Nike would help fund a deal to bring Cristiano Ronaldo back to Old Trafford. Certainly don't be surprised if there is some kind of similar rumour regarding Messi now that United are the jewel of Adidas' football crown.
Manchester City, Paris Saint-Germain are both likely Messi suitors. They're also both Nike clubs. Chelsea are an Adidas club now, but will make the jump to Nike next season, too. Adidas have watched their superstar play for a rival Nike club his whole career, now is the opportunity to bring him 'home' to them.
Real Madrid are an Adidas club on equal footing with United, but would Messi really do that?
Would United say no to a 31-year-old Lionel Messi? Would anyone if they had a chance? It's unlikely. As a free agent it would certainly be an attractive opportunity even if his wage demands and signing fee would be through the roof. United can definitely afford it and have shown they're willing to splash big money on an over-30 star as has been the case with Ibrahimovic.
Maybe Messi fancies a change of scenery after more than half his life at Barcelona. There's no more trophies he can win there after winning everything multiple times over, and he's broken countless individual club records over the years. No one would begrudge him a move, would they?
If he does, it's going to be United, you just know it...
For more fan views or to join the conversation visit www.90min.com