If you live in London, you may find Heathrow and St. Pancreas two of the busiest points of departure from the city. However, there are better things to do in these ports instead of staying in the waiting areas if you've arrived early for your journey. Here are my top 3 suggestions to keep you chilled before crossing UK borders.
Both Heathrow and St. Pancras have an array of shops available to you before you board. Even if you don't feel like shopping, you might find something useful that you would want to buy tax-free. This is a good way to save money, especially if the item is very expensive (hint: luxury goods).
Personal Shopping at Heathrow is also available gratis with an accredited stylist, and the experience would be individually tailored to your needs. I used their personal shopping service when I needed to find generic gifts for my family, and I ended up buying English delicacies. My personal shopper was really friendly and helped carry my shopping bags when I was fumbling about with my wallet. She also told me about the offers available and my boyfriend ended up saving a lot on a pair of Bally shoes.
You can book a personal shopper through Heathrow's booking form on their website. However, if you find yourself without a booking, there may be personal shoppers available for ad hoc bookings after you pass security, just be on the lookout.
World Duty Free at Heathrow offers various free mini-pampering treatments from express makeovers to mini-facials. There's need to book as you can just show up at the counter and ask if you can have a makeover or a mini-facial. Note that there will be no signs for these offers so you just have to ask at the counter. Every terminal offers different services so I recommend that you check the website beforehand if you're looking for something in particular.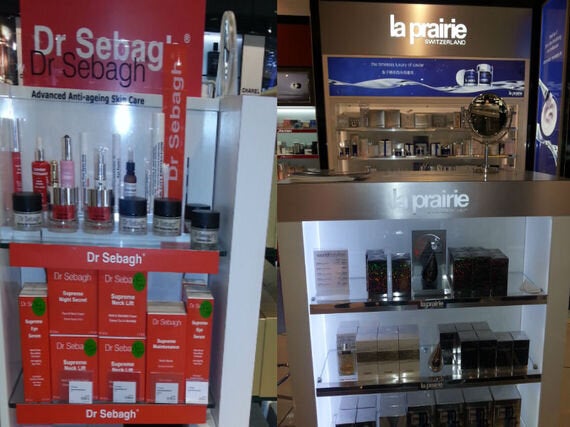 Dr Sebagh and La Prairie counters at World Duty Free
As I'm not into makeup, I got a free mini-facial from the La Prairie counter and tried some products from the Dr. Sebagh counter. The store consultants for each counter were quite helpful and informative. As with any mini-facial, they would select the products they use to suit your needs. They're also very time sensitive so they would fit the mini-treatment within your time-scale. However, as shown on the image, the counters are mostly stocked up on travel-size products so you can take them on board with you, so other products might not be available.
St. Pancras also has some skincare shops which will let you sample some of their products, and I usually learn about new products this way.
Airport and train station restaurants are known for being small, but that doesn't mean you can't have afternoon tea. I think of it as a late lunch with tea in the mix fueling up your stomach during your journey. It's also a nice way to send off your foreign friends.
Searcy's St. Pancras is a nice spacious restaurant and bar in the midst of a busy station. The atmosphere is very chilled and relaxed which is perfect for afternoon tea (starting at £22 per person). The only slightly negative experience when I visited was the bathrooms weren't as clean as I expected, but I'm sure it's a one off.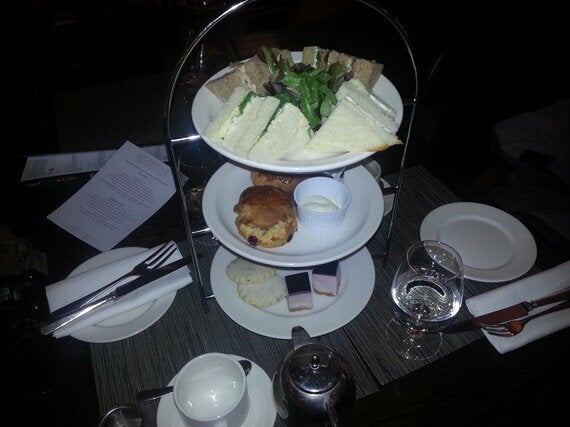 Afternoon tea at Searcy's
Heathrow also has a variety of restaurants which offer afternoon tea such as Oriel Grande Brasserie (from £20 per person), "rhubarb" restaurant and bar (from £17.50 per person) and Caviar House & Prunier Seafood Bar.
Related