Feel in need of some pampering? Here are 10 of the world's most dreamy locations for a spa treatment.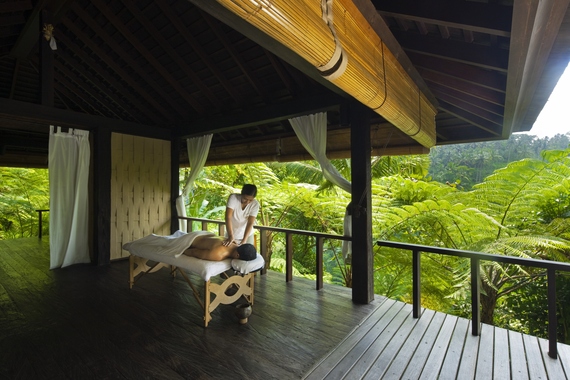 Photo: COMO Hotels and Resorts
COMO Shambhala Estate, Bali, Indonesia
For a jungle massage, it doesn't come much more spectacular than COMO Shambhala Estate, built alongside Bali's Ayung River. Spa treatments are offered around the estate, most spectacularly in the Pavilion in Kedara, Sanskrit for 'The Water Garden'. This area features four treatment pavilions and a Pilates studio.
What to try? The nurturing COMO Shambhala Massage uses signature blended massage oils to calm the mind and gently rejuvenate the body. It is an ideal massage for those looking to improve their general wellbeing.
Book it: Essential Escapes offers seven nights from £2,725 per person in a Garden Room including return flights, transfers, breakfast and dinner (or lunch) and a choice of a 60-minute spa treatment (including the COMO Shambhala Massage) or yoga each day.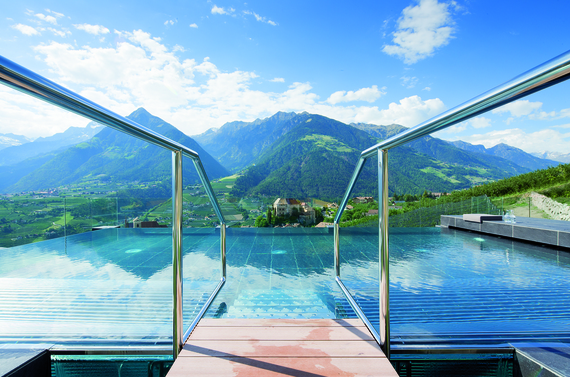 Photo: Hotel Hohenwart
Hotel Hohenwart, South Tyrol
Hotel Hohenwart is an award-winning four-star wellness hotel and spa in the picturesque South Tyrol. The dark exteriors and light, white interiors are designed to calm whilst the 360-degree views of surrounding mountains and fairytale Scena Castle give a dreamlike quality to the whole experience.
What to try? A full moon treatment takes place outdoors at night. It's a back massage in the open air, lit only by the moon where guests can also enjoy hot drinks and a tipple. There is also an open-air spa on the rooftop.
Book it: Hotel Hohenwart has a three-day 'Wellness á la Hohenwart' package including a 50-minute beauty or massage treatment each day and full board. Prices start from £408 per person. British Airways flies from London to Verona from £106 return.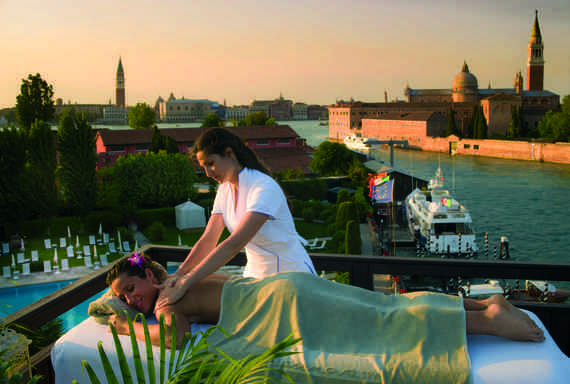 Photo: Belmond Hotel Cipriani
Hotel Cipriani, Venice
The Belmond Hotel Cipriani is one of Venice's most exceptional hotels, situated on the island of Guidecca in the Venetian lagoon. Rooms offer palatial spaces, marble décor and Murano glass finishes. Guests can opt for a rooftop spa treatment with sweeping views of Venice.
What to try? Cipriani Mood is the hotel's signature treatment exclusively designed by Aromatherapy Associates for those that want to arouse their senses and get in the party mood. It begins with a light dry body brush, then a nourishing marine alga is applied and warm oil scented with patchouli and sandalwood is poured all over the body. Finally, guests enjoy a de-stressing massage.
Book it: Kirker Holidays offers three nights at the Hotel Cipriani from £1,896 per person including breakfast each morning, a guaranteed entry ticket to the Doge's Palace, return flights and water taxi transfers. Kirker Guide Notes and Concierge services are also included.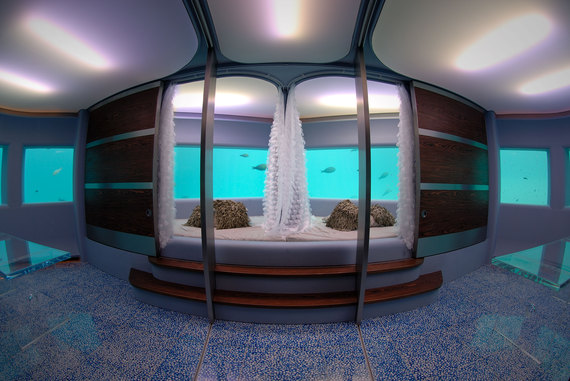 Photo: Per AQUUM Retreats
Huvafen Fushi, Maldives
Huvafen Fushi is one of the most dreamy resorts in the Maldives. Its LIME spa offers the world's first underwater spa experience. From the two couples treatment rooms guests have views under the Indian Ocean, and the spa itself is designed to maximise the underwater sensory experience with mood lighting and the use of natural materials.
What to try? The signature LIME Light treatment uses local products and focuses on the feet and face. As the Radiance Ice Cubes work to stimulate the face, guests can gaze into the turquoise waters of the Indian Ocean and watch the surrounding sea life.
Book it: Turquoise Holidays offers seven nights on Huvafen Fushi in a Beach Bungalow with Plunge Pool including breakfast, transfers, flights and a 150-minute couple's LIME Light spa treatment from £2,725 per person. Honeymooners also enjoy a bottle of Champagne and fruits on arrival plus one complimentary dinner.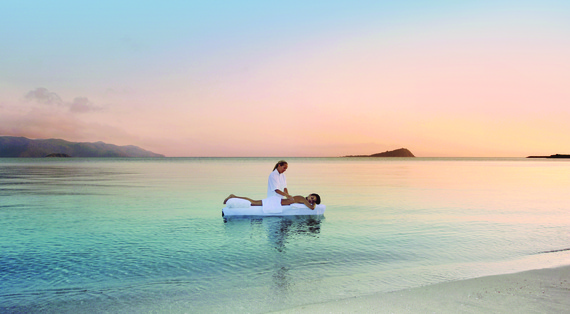 Photo: One&Only Resorts
One&Only Hayman Island, Queensland, Australia
This ultra-luxurious resort is the latest from One&Only Resorts, renowned for pushing the boundaries of guest experiences. Located on Hayman Island in the Great Barrier Reef, here you can have a massage in the Sea, or in the rainforest at Nightfall Wilderness Camp on the mainland.
What to try? As part of the Signature Ritual treatment menu, and probably the most famous Whitsunday spa experience, Hayman Islands' Ocean Massage takes place amongst the tranquil waters and tropical fish of the Coral Sea. Relax to the sound of waves lapping up the beach, whilst looking out over the Great Barrier Reef as the sun sets.
Book it: Bridge & Wickers has seven nights at Hayman Island from £2,389 per person in a Lagoon View room, including breakfast, flights and transfers.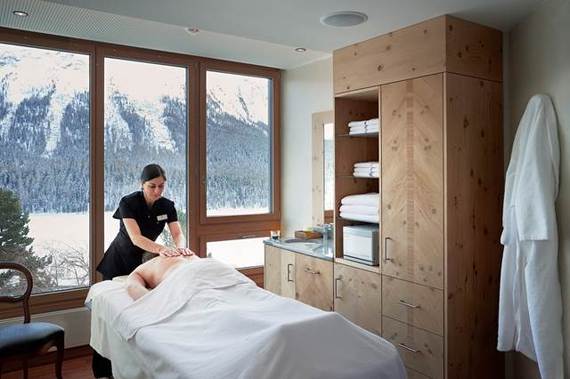 Photo: Kulm Hotel, St Moritz
Kulm Hotel, St Moritz, Switzerland
St Moritz is renowned as a luxury ski resort and is home to the Cresta Run and an Olympic bob sleigh course. Hotel Kulm is one of its most historic and spectacular hotels overlooking Lake St Moritz. It may be the grande dame, yet its most up to date in terms of modern luxuries including a spectacular new £8million spa where couples can enjoy the vast pool with underwater music and outdoor heated pool with water jets. You can book the candlelit couples spa suite with huge picture window and heated waterbed for snuggling up with a glass of champagne and choice of nibbles, plus a double water jet bath pool, sauna and steam room.
What to try? The Alpine honey scrub with Mountain Crystals invigorates the skin, followed by the Energy Lift by Ericson Laboratoire, a fabulous facial.
Book it: Original Travel can tailor-make package deals to the Hotel Kulm including return flights to Zurich and rail travel to St Moritz.
Photo: Westin Resort Costa Navarino
Costa Navarino, Greece
Costa Navarino in the Greek Peloponnese is home to two five-star hotels and the award winning Anazoe Spa, one of the finest in the Mediterranean. The name "Anazoe" is from the Greek word for rejuvenation and its therapeutic olive-oil treatments are based on ancient practices inscribed on clay tablets discovered at the nearby Palace of Nestor.
What to try? Signature treatments include the Messinian Thyme Scrub, Nestor's Massage Remedy and the Traditional Olive Nourishing Facial. New spa treatments for this year include the Anazoe Grape Seed Scrub, the Anazoe Sea Water Treatments, and a series of Outdoor Treatments.
Book it: Sovereign Luxury Travel has seven nights at The Westin Resort Costa Navarino from £859 per person in a Deluxe Garden Room including breakfast, return flights and transfers.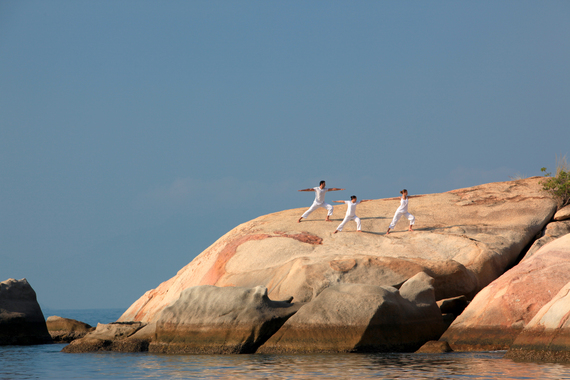 Photo: Six Senses
Six Senses Ninh Van Bay, Vietnam
Hidden within a secluded bay overlooking the East Vietnam Sea, Six Senses Ninh Van Bay combines modern luxury with traditional Vietnamese architecture. Located at the foot of a dramatic mountainside, the Six Senses Spa at Ninh Van Bay provides seclusion within tropical jungle surroundings.
What to try? One of the therapists is Ms. Nhung, blind from birth, has superb healing hands and knows exactly how to identify stress and tension zones to provide relief. Signature treatments include a traditional Vietnamese massage which uses blanda and penduliflora oils and incorporates a pressure point technique with invigorating movements to relax and rejuvenate the body.
Book it: Exsus has seven nights at Six Senses Ninh Van Bay, Nha Trang from £2,375 per person in a Hill Top Pool Villa with breakfast, including flights and transfers.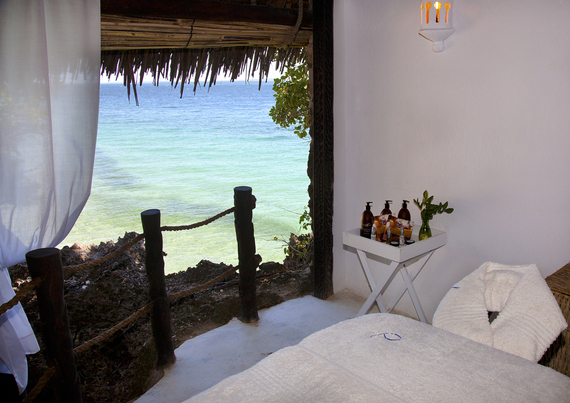 Photo: Azura Retreats
Azura Quilalea Private Island, Mozambique
This castaway island resort has one of the world's most spectacular spas. It's located on a headland where there is a natural rock alcove. Lie back and listen to the calming sounds of the ocean lapping against the headland cliffs as you are pampered by a therapist.
What the try? Signature treatments are based on natural ingredients and based on local traditions. These include being rubbed down with ground coconut shells, covered head to toe with tamarind and aloe, or gently massaged with warm marula oil. The popular Essence of Africa hour-long massage will leave you feeling re-invigorated. 
Book it: Abercrombie & Kent offers seven nights in a Sunrise Villa at Quilalea from £4,295 including all meals, local beers, spirits and selected wines, and activities such as kayaking and snorkelling. International and internal flights are also included.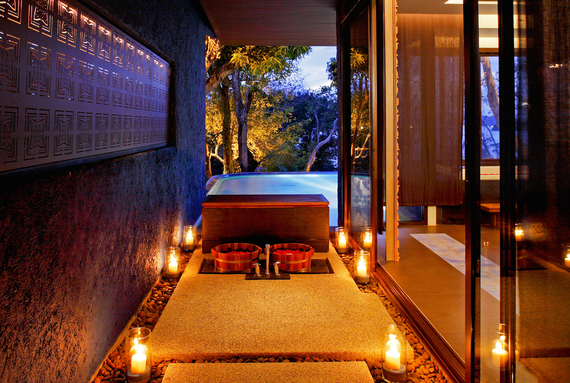 Photo: Sri Panwa
Sri Panwa, Phuket, Thailand
This all-villa island resort has one of the best spas in Thailand. Completely secluded amongst lush rainforest, and set within its own private tropical water gardens, the new Cool Spa is an oasis of serenity. All treatments use Sri Panwa's own product line created using ingredients including mango, papaya, rambutan, coconut and tamarind. Treatments can be enjoyed either in private rooms or outside in secluded Salas.
What to try? There's everything from traditional Thai massage and Indian massages using aromatherapy disciplines to herbal Thai Prakob to ease away aches and pains and stretch muscles and Anti-Oxidant Green Tea massages to calm skin after a day in the sun.
Book it: The Ultimate Travel Company has a seven-night package from £2,095 per person based on accommodation in a Pool Suite, including breakfast, international and internal flights and private transfers.
* Jane Anderson is Editor of 101 Honeymoons