It's a well-known fact that pets can play a fundamental role in bringing joy, companionship and comfort.
I adopted Poppy the Cairn Terrier at eight weeks old during the time when my husband frequently worked away from home so I know first-hand the great company that pets provide.
Even if you don't have a pet of your own, most of us recognise the many benefits that having a pet can offer. For some older people living alone, a pet is nothing short of a lifeline. The company you keep can have a tremendous impact on your mental health, staving off loneliness and feelings of depression, and this includes the company of pets.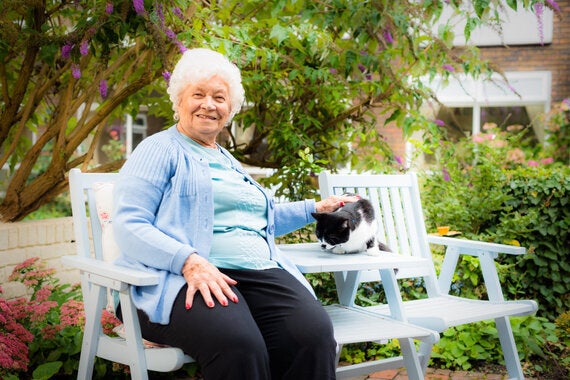 Gladys with cat Laurel. Photo credit: Anchor Trust
We know that loneliness has a huge impact on people's health; it is proven to cause a more significant impact on your welfare than obesity. This month it was reported that GPs are 'burning out' as, in addition to their usual workload, they are also dealing with rising numbers of older people suffering from social isolation. Preventing loneliness therefore not only benefits the individual but, through reducing visits to GPs, we can help relieve the building pressures faced by the NHS.
Backing this up, Anchor's new research has found that 30% of those aged over 65 think a pet reduces feelings of anxiety and 28% believe they increase happiness. Tellingly of the companionship and comfort pets can offer, the majority of older pet owners said they rely more on their pets for company than they do on their friends, children or neighbours.
Some 37% of older people also think pets boost your chances of meeting new people - which is, unfortunately, often no easy feat. Poppy certainly made settling into my new neighbourhood that much easier, as I met fellow dog owners during our walks. It's no wonder the research also showed that one in five older people wish they owned a pet.
At Anchor we recognise the importance that pets play in people's lives. This is why we readily encourage pet owners to bring their furry friends with them when they move into our care homes or retirement housing.
Not all providers have a welcoming pets policy, so it comes as no surprise that the majority of older people believe that you are unable to bring pets into care homes, which is a cause of great worry for many older pet owners.
But pets are increasingly considered a vital part of the family, with a 2015 Nielsen survey finding that 95% of US pet owners consider this to be the case, up from 88% in 2007. So it's only right that care homes and retirement housing properties encourage residents and their animals to stay together; whether it be a budgie, a rabbit, a cat or a dog - animals should be welcome.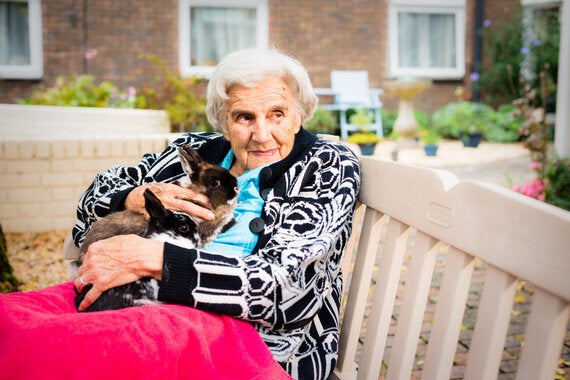 Mary and rabbits Mollie and Millie. Photo credit: Anchor Trust
Of course, being a pet owner isn't right for everyone, even for those that enjoy the company of pets. That's where pets that are owned by our care homes and looked after by staff, as well as residents, play such an important role. Take 87-year-old Mary who loves the company of her home's two rabbits, Molly and Millie (pictured). Mary can spend up to an hour each day them, petting them and making sure they are well fed.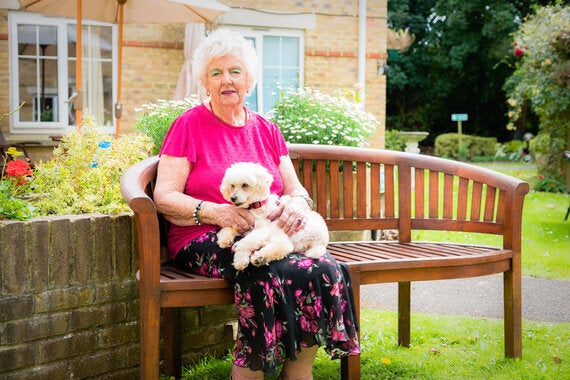 Doris and her dog Bonnie. Photo credit: Anchor Trust
Another resident, Doris (also pictured), brought her dog Bonnie with her into her new home, and she wouldn't have had it any other way. Doris adopted Bonnie eight years ago when she was already an older dog and says she feels as though "they are pensioners ageing together". And who are we to stop Bonnie and Doris from doing just that?