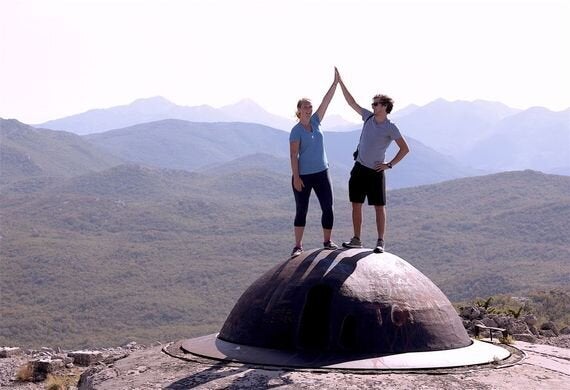 Photo Credit: Janet Newenham
Bosnia and Herzegovina isn't exactly at the top of many bucket lists. In fact most people I know could barely point it out on a map and my Irish friends are only familiar with the name thanks to it popping up in the Eurovision Song Contest every year!
As with everything in life, however, it is sometimes the unexpected places that leave the biggest impression upon us. Why did I fall in love with Bosnia and Herzegovina? Here are 11 reasons to start with!
While every country in the Balkans region claims to have the best Ćevapi, the best Ćevapi we ate was definitely in Bosnia! In fact we loved the Ćevapi so much in this one restaurant in Mostar that we ate there two days in a row.
10. Wine tasting in Trebinje
While wine tasting might not be associated with a visit to Bosnia Herzegovina, it turns out much of the country is home to some award-winning wineries and many smaller, family owned vineyards. Think quality wine for a fraction of the price you would pay elsewhere!
Börek is essentially a delicious filled pastry made of a thin flaky dough and often filled with cheese or spinach, and sometimes meat. I honestly couldn't think of anything better to eat for breakfast!
Stari Most (or Old Bridge in English) is a UNESCO World Heritage Site and one of the most famous attractions in the entire country. This beautiful bridge located in Mostar's old town dated back 427 years until it was destroyed on 9 November 1993. It's not hard to see why it is the main attraction, as it takes pride of place in the centre of Mostar and looks just as beautiful whether you visit day or night.
Vjetrenica cave in Herzegovina is a UNESCO-nominated site and the biggest and most important cave in Bosnia and Herzegovina. Exploring this incredible gave is a must do when touring Herzegovina, even if it's just to lay your eyes on the main inhabitants of the cave; human fish otherwise known as salamanders!
Hiking up to Fort Strac, an abandoned Austro-Hungarian in Trebinje was probably the coolest thing we did on our entire trip. We posed for photos on top of the old bunkers, looking out into the distance where we could see the road winding into Montenegro in one direction and the road winding down the mountains towards Croatia in the other direction.
5. Biking the Via Dinarica trail
If you have not heard about the brand new Via Dinarica Trail in Bosnia and Herzegovina, you are missing out! This is an incredible new hiking and biking trail that takes visitors through some of the most beautiful natural sites in the Balkans. We spent two days biking part of the trail with some local guides and were blown away by the scenery we passed.
4. Explore Mostar's abandoned buildings
Visiting the old sniper towner, inside an abandoned bank, was one of the highlights of my trip to Mostar. Not because it was "cool" or because the views were incredible, but because we were brought there by a local who shared her own personal story with us while there.
Of all the unique and wacky hostels I have ever stayed in during my decade long travels around the world, no hostel even comes close to my 2 night stay at the Sarajevo War Hostel. We were met at the door by a man in full camouflage and were told there were no lights, one of the toilets didn't work and not to be shocked by the "war time shower". The walls were covered in newspaper cuttings from the way and graffiti saying things like "Fuck the war" or "Welcome to hell". An interesting experience!
2. Tour the Tunnel of life
The Tunnel of Life is a tunnel that ran straight through the city of Sarajevo, underneath the city's main airport and runways, connecting east and west. This tunnel was the only lifeline between the fully surrounded city during the Siege of Sarajevo.
In my experience, there were smiling faces and friends to be made everywhere we went in Bosnia Herzegovina. I think if (or should I say WHEN) I ever return to Bosnia and Herzegovina it won't be for the food, the sites, the adventure. It will be to rekindle friendships with all the amazing people I met there. This post is for you guys.