UFC fans around the world witnessed a special and unforgettable moment over the weekend.
Millions of viewers tuned in to watch one of the organisation's showcase events. In the lead up, all the talk was about the outspoken Irish phenom, Conor McGregor.
Before McGregor even entered the Arena, the show had already been stolen by a woman you're going to hear a lot more about in the coming months.
Her name is Miesha Tate and she is the new UFC Women's Bantam Weight Champion of the world.
Regular readers of my column will be surprised that I am writing about Mixed Martial Arts. Combat sports have divided people for a long time because of the intense physical - and at times brutal - nature of competition.
I personally have so much respect for these athletes, who regularly undertake gruelling weight cuts, spend hours training and continually push their body to the limits. Such determination and dedication is hard to comprehend for someone like me, who spends most of his week in an office.
I've been observing Miesha's career for several years, and after such a defining moment in her professional life, I feel compelled to share what I know about this impressive athlete.
Tate is first and foremost a lady in the truest sense of the word. She conducts herself with grace both in and outside of the Octagon, always showing her opponents respect and never belittling others in pursuit of success.
Many other professional fighters feel the need to trash talk their opponents to help sell a fight, and some will say that it's 'just part of the business'.
That it may be, but it's certainly not the best message to send to our youth who tend to mimic the behaviour they observe from their heroes. In life we don't need to bring others down to elevate our own status and I've always admired Tate for the manner in which she treats her opponents before and after combat.
Not only is Tate a fantastic role model for young women, but she sets a great example that young men can learn from as well.
Miesha's story is fascinating, and she's had to overcome plenty of adversity to achieve her dreams.
After a devastating defeat in a title fight in 2013, countless experts thought she'd lost any chance of becoming a World Champion. Doubters and arm chair critics across the globe were quick to write off Miesha's future in Mixed Martial Arts.
The path back to another title fight was both physically and emotionally testing. Facing one setback after another and having promises made and broken to her about a future title shot from the UFC, one could forgive Tate if she'd decided to walk away from the sport that she loves - but a true champion relentlessly pursues their goals and that's exactly what she did.
As the saying goes, 'if at first you don't succeed try, try again'.
Tate's fight on the weekend was a perfect reflection of everything that had led up to it. There were tough moments and it required patience, positivity and a 'never say die' mentality to get that belt around her waist.
Seeing this woman have her arm raised while tears streamed down her face was incredibly moving and inspiring. It sends a message of hope to all of us who have to face challenges that sometimes seem too difficult to overcome.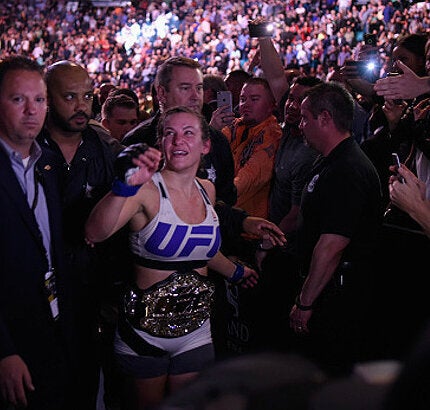 I have no doubt that when Tate sits back and reflects on what has just happened, proving the doubters wrong will be the furthest thing from her mind. This was about proving something to herself, and at the end of the day that's all that counts.
In the next few weeks there will be a lot written about Miesha's victory. Fight experts will analyse the technical aspects of her performance, undoubtedly highlighting her impressive grappling skills and dogged determination. What you probably won't read about are the things that make her a champion outside of the Octagon.
In the days leading up to the biggest moment of her life, Tate was spending time with kids suffering from cancer, perhaps a reminder that no matter how big her upcoming fight was - it dwarfed the fight that others in our world were going through.
In the past, she's also used social media to help create awareness about the mistreatment of circus animals, something that is very close to my heart.
We need more of this from our sports men and women. They're given an enormous platform to not just make a difference in their particular arena, but to our world in general.
A few weeks ago, some friends and I were having a discussion about what made a sports person a 'great champion' as opposed to a 'good champion.
In my view a 'good champion' is someone who is able to reach the peak of their potential in a particular sport.
A 'great champion' is someone who consistently tries to reach the peak of their potential in life.
I hope we witness more 'great champions' like Miesha Tate in the years to come.