Alongside the usual diverse array of pop, indie, rock, hip-hop, dub step, grime and more musical genres of live shows that happen nightly across the UK, in recent years, a very exciting new party player has entered the fray. He goes by the name Afrobeats and is clearly here to stay with venue bookings across the country for its main stars set in stone.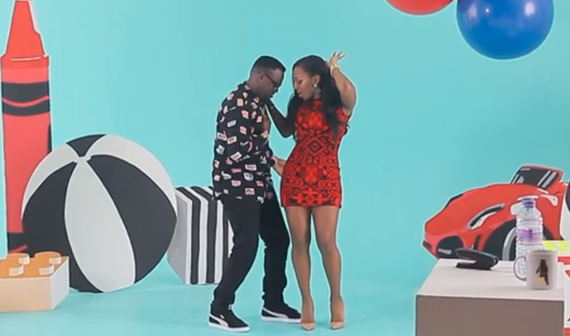 ALEXANDRA BURKE WITH DR SID ON SET OF THEIR COLLABORATION VIDEO- 'BABY TORNADO'
PHOTO COURTESY- Uzo Oleh and Michael Buckman (OlehBuckman Productions).
Numerous pieces have already been written about the afrobeats scene. Its play listed on Radio 1, the BET Awards this year recognized the acts on air, black music star's Kanye and Akon have signed up African talent, and now the trend of collaborations between Afrobeats artists, and international acts from other genres seems to be exploding.
UK chart music star Wretch32 tells me it's a good thing "It's so good to see Afro beat acts getting worldwide recognition. A genre as strong as that deserves to be global - its talent you can't deny'', whilst British (via Congo) comedian / host Eddie Kadi enthuses ''It is testament to how far the music has come and its ability to cross over. As a result we will now see a rise in new Afrobeats stars from the diaspora''
The infectious beats pumping out of Africa are something that the world cannot ignore. A sound so popular and specifically African conjures up the term Afrobeats. The popular sound taking over the UK airwaves pay homage to the old skool highlife sounds of Afrobeat, conceived by Nigeria's musical genius Fela Kuti. The evolved, modern genre is a young and funky twist, where you can find memorable hooks sang in Pidgin English over an Afro infused hip-hop beat.
It's right here in London that we see the magnitude of its success. Clubs and radios stations are being forced to play Afrobeats to cater for its high demand. The demographic and economic presence of Africans in the Diaspora has been the wagon through which Afrobeats is breaking into our western consciousness.
Let's start with Nigeria. It's so huge it's akin to a continent with numerous tribes in itself. There are over 165 Million people in Nigeria alone, not to talk of the Nigerian community living abroad. So that puts into perspective the potential reach that embrace and support this monstrous musical movement which is spreading its tentacles globally, and therefore generating a lot of money in the process.
Nigerian born, British based, female music act May7ven even feels that the scene is even having a beneficial economical effect in the UK ''Afrobeats has travelled far in a relatively short space of time here in the UK. We still have a long way to go, but the progress is good, steady and we have certainly got the attention of the entire music industry the world over. Odd tracks are getting play listed on day time on some of the UK's leading radio stations, and we're starting to have a presence in the charts and clubs. Also, with the frequency of the large scale concerts holding at 5,000 capacity venues headlined by Afrobeats stars, we can certainly now claim to be contributing to the UK economy however little. People may laugh but the airlines are making money, hotels, FEU (Foreign entertainment tax) UK Boarder, jobs are being created!''
In the early days of the Nigerian Pop music, acts like Eedris Abdulkareem attempted to gain equal footing with American artists such as 50 cent, by inflammatorily sitting in 50 Cents first class seat; a protest to the unequal treatment of indigenous artists by Nigerian promoters and concert organisers. After reportedly being told to 'Get out of that seat', Abdulkareem responded
"You cannot treat me as a second and or third class citizen in my own country, I will not take it from anybody," Abdulkareem said after the infraction. "If 50 Cent is a star in America, I am equally one in Africa."
Fast-forward to 2014 and we're seeing more Western superstars seeking out African talent and wanting to become a part of this addictive music phenomenon.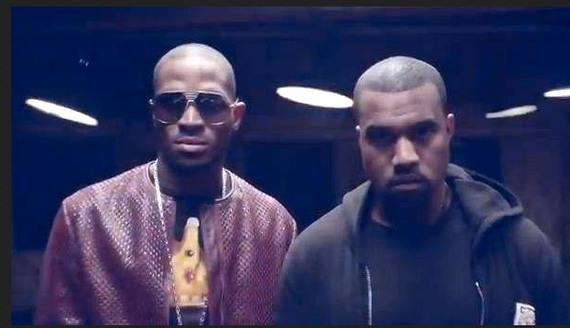 PHOTO COURTESY- DKM Media.
This movement was internationally recognised when Kanye West signed Nigerian acts Dbanj and Don Jazzy to his G.O.O.D music label in 2011. It has to be said. Jaws dropped. People were impressed and excited. Nothing could prepare fans for the moment when Kanye West walked on stage to join Nigeria's hottest exports- the then 'Mo'Hits' turned 'Mavin Records' label. Kanye joined them at Hammersmith Apollo in London for their third instalment of the Koko Koncert series (2011). The excitement was intense. Fans alike stamped, shouted and screamed in awe as Kanye West took off his chain and put it around Dbanj's neck, announcing to the world that the signing was official. Dbanj and Don Jazzy were then the newest members to join G.O.O.D Music.
Tim Westwood from CapitalXtra said at the time: "I know Kanye well, but when he arrived back stage it was so exciting - it was a hot moment in the game. When he came on stage to perform and then passed the Good Music chain to the D'Banj, the crowd went crazy"!
Some acts have even been accused of jumping onto this latest fad as a business angle. Abrantee Boateng is a radio presenter on CapitalXtra in the UK who champions the afrobeats genre and is known as DJ Abrantee ''there's definitely been a steady rise as a lot of people still don't understand the whole afrobeats movement although they are jumping on the band wagon, which is a good thing, as it now shows that people are taking notice. One thing is for sure, in every club around the world you will now definitely hear the DJ play an afrobeats set, which wasn't happening before''
So how many of the new collaborations from her genre are authentic? So far there have been numerous alliances between African and international acts, in the same way as in the early British days of urban music trying to break out to a bigger listener demographic, we used to persuade American acts with huge amounts of UK record labels cash, to feature on our remixes. The idea that now the occasional UK acts, as well as American is being sought out, to feature with afrobeats talent, is telling.
The videos also expectantly feature an over sexualisation of women and you'll see that reflected again in the collaboration between African act Sid and X Factor alumni Alexandra Burke who collaborated earlier this year on their single Baby Tornado. Alexandra rocks a skimpy clinging red mini dress and shorts whilst she suggestively and sexily sings her chorus.
"We shot the video for 'Baby Tornado Remix' featuring Alexandra Burke with UK producers Uzo Oleh and Michael Buckman", says Dr Sid. "They were able to bring something different to my visuals. The magic happened when both our styles met. Alex brought her sexy vibe, while I brought my African flavour. I feel it was a great synergy between the UK and Nigeria and am very proud of the result. African music will thrive with or without international recognition because it's not just music- it's also a culture. It can never die out- it will just keep evolving. Having the support and interest internationally, is an added bonus. I continue to be grateful for all the support".
Alexandra herself has an opinion on what is helping Afrobeats star rise. ''Personally I think social media, clubs and the radio all play a massive part in fuelling the love of the Afrobeats scene. Not only that, but also most importantly Afrobeats is a joy to listen to. It's particularly great to listen to when you are in need of cheering up, as it will never fail to make you want to dance. It always puts a smile on my face. I've been friends with Dr Sid for a while, I actually met him through his fiancé. I told him about my love for Afrobeats and we sat in my studio and listened to his album. It all just worked out. I heard his song Baby Tornado and fell in love. We wrote the verse and I recorded it there and then in my studio at home. It was a magical experience. Shooting the video for Baby Tornado was awesome. The energy was electric. The vibe was totally natural. Dr Sid made me feel right at home. He also taught me all the right dance moves! It was great, I look back with very fond memories''.
As a supporter of black music over two decades, journalist Hattie Collins has seen the African acts fight for their right to party in the global music industry, across many decades
'' Afrobeats is as thrilling and important as anything the UK or the US has produced and has the potential to be as globally culturally important as Hip Hop, R&B or Dancehall. It's taken a few years, but finally, it's not unusual to read about Azonto on Noisey or listen to a mix from Mista Silva on i-D. ...Having the OK from a Kanye, Jay, Wayne or Drake can make the world of difference - see Drizzy's recent Popcaan endorsement as proof, as well as Sean Paul teaming up with Ghanaian raised Fuse.The future of Afrobeats looks incredibly bright right now, and deservedly so. It's about time that African, Indian, Brazilian music was invited from the shadow of the land of niche to be fully embraced by audiences worldwide''.
As we head into the last quarter of 2014, the UK has been given an array of confirmed gigs and Afrobeats tours from the likes of Iyanya, Mafikizolo, Tiwa Savage, Wizkid, Davido and Dr Sid. This further reiterates the words of Sid that 'the scene will continue to thrive with or without international support'. There will always be a demand. I look forward to see what else the scene has in store.
My top five Afrobeats collaborations (in no particular order) are:
Dangerous Love stormed the UK chart at number 3!
Scape Goat was a massive look with Kanye jumping on a favourite of
1- Dr Sid and Alexandra Burke:
Related