With all the Ferguson outrage and unrest raging across the USA, and media globally debating it today, I can't help feel that we as a society have regressed dramatically in the last few years.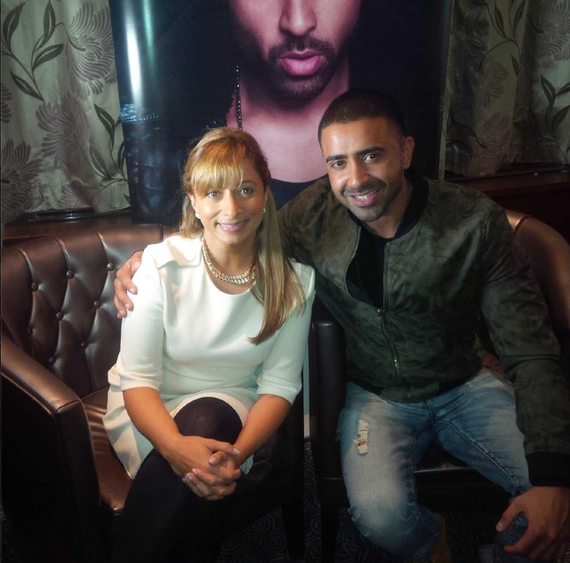 JASMINE WITH JAY SEAN- PIC COPYRIGHT JASMINE DOTIWALA.
In the eighties, many of us were protesting for equal rights in our various fields but it feels like now it's worse than ever.
Like it or not, it's a fact that a black persons life is worth less than a whites. A white child goes missing and they make front pages of tabloids and headline news. Ethnic kids go missing daily and no-one bats an eyelid.
A white child is cheeky or disadvantaged and behaves badly and he's a troubled little boy with issues. A black child is the same and labelled as a violent, threatening young man.
Life's unfair yes we all know and accept this but we shouldn't. We are way too developed as a society globally not to challenge injustices, and in recent years seen how people powered change; can have a deep impact on the status quo.
Re Ferguson and many American states, how can a police force treat a community like savages and continuously bully them? Why do people use terms like nigger casually and its not questioned?
I see this irritation every day and I really don't have a cultural chip on my shoulder. I have worked hard to get where I am but I see injustices and inequality at every turn.
This week I was reminded of this when west Londoner Kamaljit Singh Jhooti aka music chart star Jay Sean popped into Media Trust to speak to me.
Jay Sean is a born and bred west Londoner that grafted away as a musician for many years in the worlds of R&B and rap in his youth. He was signed by various music companies and had minimal success here in the UK, but was never taken seriously as a chart topping music act.
A few years ago he was picked up and signed by one of Americas biggest rap music record labels- Cash Money Records- home to superstars Lil Wayne and Nicki Minaj.
Before you knew it Jay Sean was topping international charts, making him the first solo artist of South Asian descent, and first UK urban act to top the Hot 100, making him the most successful British/European male urban artist in US chart history, and this makes him the first British artist to top the Hot 100 since Freddie Mercury of Queen in 1980, duetting with Justin Timberlake and Nicki Minaj, appearing on all the biggest prime time American TV shows and snapped in paparazzi frenzies globally.
But did we hear one iota of this success here in the UK? See him on the sofa of Jonathon Ross, Graham Norton or Alan Carr? Did we champion him as our own and claim him as a Brit done well globally? Of course we didn't.
The UK press has never been able to accept different ethnicities in roles above and beyond what they stereotype. They fit us in the racial compartments they feel unthreatened by.
All Asian women must be victims of male and religious domination, all black women are sexual beings lauded for their jungle exoticism, Asian males must own corner shops, be doctors or lawyers, black men must all be criminals and thugs and name checked by their colour when referred to in the press.
Jay Sean has managed to break the American music market in ways that our biggest acts like Robbie Williams and Tinie Tempah haven't.
He breaks down his American break through '' Cash Money actually heard a song that I did called Ride It, which was a really pivotal song for me in my career. It was also the song which crossed me over from just the Asian population into the urban scene and that's when I won a lot of the black audience over as well and the song went international so it was winning over a lot of new territories. it's very difficult to break America. I had the most incredible experience of my life being signed to Cash Money. I mean without a doubt. It took me from here to here (raises bar) I became a household name in America. That first song I put out wit them went number 1 on Billboard!'
'' We ended up selling over 15 million records over there so for me it was great. The madness that came along with that was of course one of those things that you tell your grandkids, Justin Timberlake called me up to get me on his show in Vegas where it was just a handful of Justin's friends. When I was growing up in Southall I never thought that would ever happen in my whole life. And then you have all of these other things. Casual chit chats with Jay Z who is my ultimate icon but then he's talking to me and making jokes that I stole both of his names. These funny little antidotes, which you will never forget, only happened because I made it in America and it was really an amazing thing.''
Jay Sean explains the magic formula for making it in America but warns that whilst UK street genre Grime may be big here with path blazers like Wiley, Dizee, Wretch32 and Krept & Konan being huge, they're unlikely to break he USA '
' Sam Smith is killing it over there because he's coming with a singer/songwriter style that American artists aren't doing, Adele did the same thing, Ed Sheeran did the same thing, they're different, they're unique. When it comes to British Hip Hop, if I'm honest, Grime is going to be so difficult to break into America for one reason only: they need to understand what we're saying. It sounds so stupid but when I'm singing, I sing in an American accent, not intentionally but because I grew up listening to Stevie Wonder, Michael Jackson, all of these people you listen to you sing like them so that's how you learn to sing. So we just have an American accent when we sing. British rappers of course are very British sounding and if the audience over there cant understand what they're saying, how can they be drawn to it? How can they get attached to it? That's the only thing I can think of which is making it so difficult, not because they're not good''.
Jay says his British Asian status isn't even acknowledged out in the States '' No, some of them don't know I'm British, they definitely don't know I'm Asian. Everybody speaks to me in Spanish when I'm over there, everybody because they think I'm Peurto Rican or Dominican or Mexican, they don't know. Once they get to know me and I open my mouth in interviews is 'Oh my God you're British' they focus on the British thing more than anything, they love it. They just love British culture. And the British accent really helps out there, by the way''
Ironically being British hasn't helped him in Britain. Asked whether he feels dismissed and ignored unfairly by the British press jay looks at us in disbelief '' For sure, I'm slept on. I know that for sure. It used to bother me a lot, when I was a kid but now that I'm a man that shit doesn't bother me. I had mainstream success. I had 3 top 10's before I even went to America and a couple of top 20's. All in England but you never saw me in the Heat magazine, you never saw me in the front page of GQ or even in GQ or any of the other British publications. For some reason, I just think they thought 'ah, but, he doesn't really fit this. Asian Network right, that's what you do, Asian Network'. I'm sorry, what about Radio 1, wasn't I on that as well? Everything was very much 'oh, I don't know how he fits in here'. That's cool man, it's alright, I'm different, I'm unique, I'm one of hardly any others who are like me. So, if I don't tick all your boxes, I'm not gonna try to impress you so I can be all up in your magazine. That's not my style man; I've never been in it for that. Write about me if you want, that's cool, don't write about me if you want!''
Jay has just completed a UK schools tour encouraging young people to follow their dreams. He's a great example of tenacity after having bad experiences with his past record labels Relentless and Virgin '' I feel I have a lot to share, I have stories for years, and I've been through everything, there's nothing you can throw at me that I haven't been through. Trust me, I've been in the independent world twice, I've been signed to 2 majors, walked out, I know this game inside out. So for me, I have a lot to share with the kids who are trying to get into it, I see all these kids who's eyes light up with visions and dreams of being a star and I wanna give them, not only the hope and dream element but I wanna give them everything it takes. Everything it takes, the truth that nobody will tell you because once you're in that world and then you're like 'no one told me how to deal with all this, no one told me about this backlash and this media and why people are cussing me and why people are writing stuff about my mum, I don't know how to deal with this'. Stupid stuff that people don't expect comes along with stardom. I have to teach them all of that stuff; I want to tell them all of that stuff. They loved it because they knew, I'm telling them things like 'don't forget your real friends man, don't start worrying about the amount of followers your getting to see if that's how you're popular, and don't lose your real core'. Don't lose your real friends and family, those people will keep you grounded because when all this ish goes and it will go one day, that's all you got left. When I tell them that man, I can see that they appreciate that and it makes me happy''.
Jay feels strongly thar in the current education system, there should be more emphasis on the creative arts.''Well Latimer Upper, the school I used to go to was amazing, they're producing on pro-tools, they use literally the same set up that I do as a professional recording artist so I was amazed to see that. I would like to see some emphasis on different genres of music because its pretty funny to this day that we learn about Beethoven, Mozart and stuff like that on the piano and that's important because they are beautiful pieces, but I bet if you said to a kid you have a choice 'Beethoven or Coldplay, which one you wanna learn' they'll say 'Coldplay' because that's contemporary, that's what they want to get into and it would be nice to see some of that too''.
He even thinks media training for schools would be a good idea and gain confidence and employability for youth '' there are a lot of kids who are very talented and when you put them in the spot light, they wouldn't know how to claim that moment, wouldn't know how to seize that moment and would say a bunch of stuff like they're talking to their mate Tony: 'You get me like, man just get into the game like' you have to understand that they might not understand what you're saying. You're gonna lose a big opportunity here because you're not saying what you wanna say in that moment, look 2 minutes to get your point across. Those types of things are important. I've seen so many people fail at that hurdle and that's why they don't have that x factor to become a star. You have to be a star when you grab them in your hands. When you look at Beyonce, every interview she does is just perfect delivery, perfect execution, and the thing is, she has honed that skill down. I do interviews so much more than I do other things in my life, imagine if I didn't know how to do a good interview, people wouldn't wanna know you anymore, people wouldn't wanna interview you. The word would spread around, don't interview Jay Sean, trust me you're gonna get nothing outta him. Little things like that are important''
Jay Sean has just won his independence from Cash Money Records and is now making his own next moves with his new album ''The Mistress''. So far he's managed to continue his global messaging as an independent, proving that you can take the boy out of west London and he can still impact internationally, whether the Brits want him or not.