Like numerous past years, this years Brits have come in for a bit of a backlash by musicians and music fans that aren't happy with the nominations.
Every year music stars like Noel Gallagher, Calvin Harris and their peers find a reason to slag the Brits off.
This year however, with the dreaded ''diversity'' buzzword on every industries lips, the focus has been on the lack of black and ethnic nominees, leading to the #BritsSoWhite hashtag trending.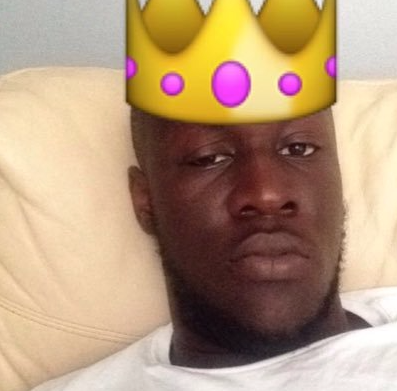 STORMZY. GRIME MUSIC AND POP CULTURE STAR.
And who HASN'T had an opinion? Most acts are too scared to speak out, naturally for fear of repercussions. However, Stormzy bravely tweeted about it and rapped four lines in his freestyle including "What? None of my G's nominated for Brits? / Are you taking the piss? Embarrassing."But next year, I'm going on dark / Like wah gwan, is my face too dark? Last year, they told the mandem that to be nominated / You've gotta go on UK charts. So what do we do? We chart!''
Apparently if Stormzy- one of grime music's biggest stars this past year- had released his single Shut Up a few days earlier, it would have been eligible. So he's eligible next year.
Laura Mvula said she would boycott the ceremony due to "the diversity issue" and said black children were growing up feeling they were "not acknowledged in society, in media and in mainstream music". However, that powerful statement was extinguished as she added that she may go to the awards next year if she releases an album.
Before her, outspoken, always straight-to-the-point Lily Allen, wrote a long Facebook rant slamming people who "work at major labels" for ignoring some artists in the grime and rap scene, and instead focusing more on their signed musicians. Lily stated "The Brit awards' blindness to black British talent goes on, as incredible years for Skepta, Stormzy and Lady Leshurr are shunned for music Alan Partridge would approve of."
Next James Bay, decided to avoid the question of diversity by dragging Lily's credentials 'I can't think of her last album, [or] when she last released something' as if that made her opinion any less relevant.
So you get it, it's a hot topic and everyone has an opinion! The nominations aren't very diverse, but it would be a knee jerk reaction to say that the music industry is racist.
Hattie Collins who is a Music Editor for i-D Magazine says ''Race and ethnic diversity is woefully unrepresented in the music industry, as are again females in key positions, so of course you're going to get the product of what these people are promoting and working on, and that is very much in the majority, male white British acts, which is unfortunate because there's so much more happening out there. Brands and huge establishments like the ICA are spending money - people are prepared to invest in this culture (grime music) yet the one place where you would expect that to be - the music industry - seems unprepared to support it''.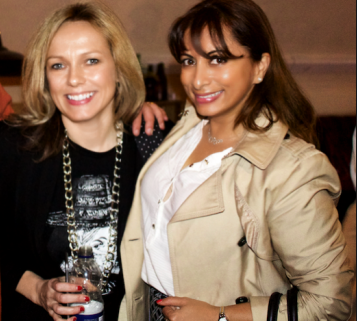 HATTIE COLLINS SPEAKS TO JASMINE FOR CHANNEL 4 NEWS.
Pic Copyright Jasmine Dotiwala.
Hattie gives us some perspective; ''We're a small country and the effects of Grime have been really keenly felt and not just in its own scene but in places like the Barbican, the ICA. There are a number of books that have been done this year. If you look at any mainstream website like the Guardian to Pitchfork to Fader, you look at mainstream artists like Drake and Kanye West, these people are endorsing the music that we are making in this country and yet our own establishment for some reason is choosing to ignore that. That just tells me there is an endemic problem, not just necessarily within the music industry but within the UK and as much as we like to think we're a very multicultural nation with our days of racism long behind us its just not true. To me it does suggest that there's a problem within the establishment within society that we still continue to ignore young British, black working-class people and their culture''.
Grime is a big deal to British kids - of all backgrounds, races and classes.
Logan Sama is a grime DJ that has been championing the scene since its inception over many years ''I've been playing grime for over a decade now since it started in 2001/2 and its always been a big melting pot of races and backgrounds because its come from the council estates and they are that - white people, eastern Europeans, along with west Africans, west Indians, Asians - everybody living together and growing up together which is why I love grime because its incredibly inclusive. Now days I have shows in Glasgow, Edinburgh, Taunton and Exeter - the length and breadth of GB. Its mainly students and students is a mixed bag. Not just playing to working class kids off the estates - I'm playing to the middle class kids - I'm playing in Oxford in a couple of weeks and there's loads of uni kids there. We play to everybody and there's a lot of white faces in those crowds''.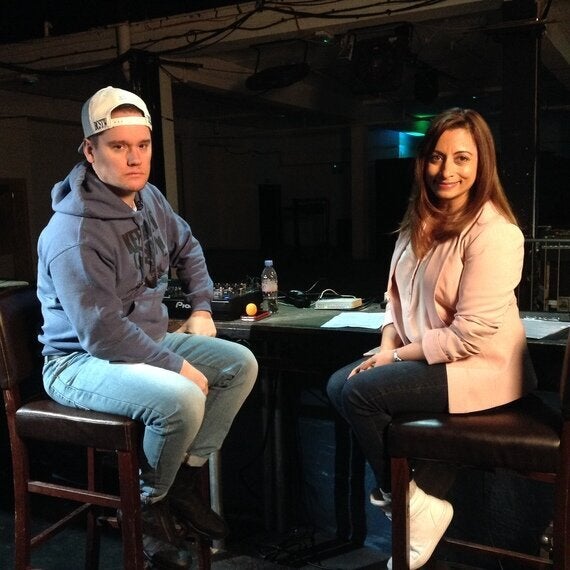 DJ LOGAN SAMA SPEAKS TO JASMINE DOTIWALA FOR CHANNEL 4 NEWS.
Photo copyright Jasmine Dotiwala.
Grime artist Big Narstie told me ''the grime scene is the true voice of the streets of London, England, we are generations and built from drum n bass and garage, whereas garage was Moschino and nice girls, grime is more council estates ''
So lets get straight to the crux of the matter. Which grime/ black acts this past year should've been nominated for a BRIT and why?
Hattie jumps straight in there ''For best video 100% lady Leisha and Stormzy with 2 fantastic DIY videos made on an iPhone for no money at all but for Lady Leshurr one of those videos has had 20 million views alone same with Stormzy 'where you know me from' which was like - I don't know the current view count but its in the multiple, multiple millions. For newcomer 'Novelist' could have had a nod in there. For best single 100%'Shut down' - without a question. If you go to any party, any festival over the past year, that's the one song that you're going to have heard played over and over again. And this isn't to denigrate anybody else that's in any of the categories, I just feel that its really really lacking in nominations of this nature''
Logan enthuses; 'When I looked at breakthrough I expected to see one of Krept and Konan, Skepta or Stormzy. They're the 3 names I expected to see - at least one of. To see none of them was surprising to me as a music professional but looking at the artists that were in there and maybe taking a step back and what I expect of the Brits and my perception of the Brits, I wasn't that surprised because I kind of feel like the Brits isn't for us and whether that's something that's acceptable is another discussion''
I think Grime artists already have this generation's ears, eyes and money, so do they need the Brits support? Do these acts want a Brit anyway - aren't the Brits a bit too middle of the road and mainstream?'
Hattie explains;''I'm sure Skepta is losing no sleep as he's counting the thousands that he makes per show around the world. JME went to number 11 so I'm presuming that he sold at least thousands of copies of his album at £9.99 or £7.99 a pop on iTunes. All that money is going to him less any distribution costs - he didn't promote it, he didn't market it, he has no team. So they're happy working independently - lots of artists don't want to be invested in the major label scenario because they do know that when they do get signed the tendency is to try and change them water them down so yes Skepta - is he bothered? Probably not, but that doesn't mean that we shouldn't ne acknowledging and be representing these guys because they are doing I think super important and contributing loads to contemporary culture. And yet again, they're being ignored''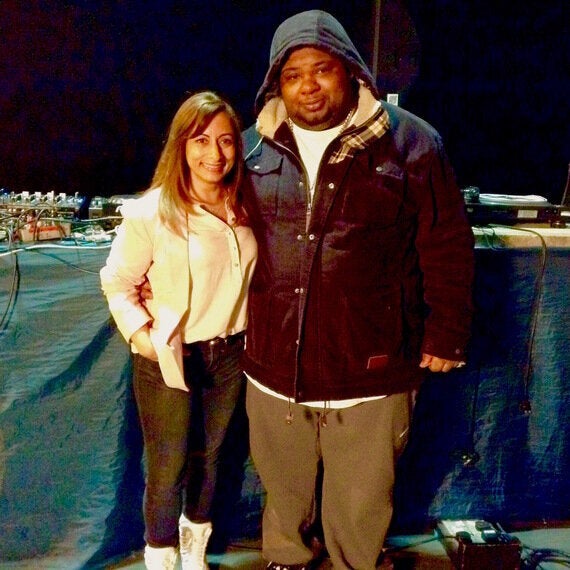 GRIME MUSIC STAR BIG NARSTIE SPEAKS TO JASMINE DOTIWALA FOR CHANNEL 4 NEWS.
Photo Copyright Jasmine Dotiwala.
Big Narstie told me; ''Of course we want Brits cos its a recognition of the fact that our British music which is authentically made in Britain is not being respected, It is important but on the other hand, how can you really care about something you've never had...and bear in kind, we've always thought we'd never get that anyway. The whole setup is not for our kind''
After all this diversity hoo-haa, The Brits realised that they have never had a diversity breakdown of their voting academy. Does that matter? I say it does. The voting panel should at the very least be representative of the general population.
In response, The Brits have promised that by next years show in 2017, that 15% of their academy will be BAME and 50% will be female. This is a positive start and a great acknowledgment by them that they care to make things better and fair.
Although in my own personal experience its not sex or race that counts but simply someone who knows the county's music landscape and culture.
Logan states; ''My most important thing though is that we are having people that are voting on these panels that are actually knowledgeable because I don't necessarily think its prudent to assume that because someone is black/ Asian whatever that they more in touch with what is happening in the music industry for those artists. I'm certainly not black or Asian but I think I'm on point when it comes to grime. I would much rather have the people making these decisions are informed and qualified, than being of the right ethnic background - that's more important to me as a music lover''.
Woody Allen said "Eighty percent of success is showing up." - so let us show up!
Watch Channel 4 News, Tuesday 23rd February,7-8pm,

to hear the above and more, speak about diversity at The Brit Awards.