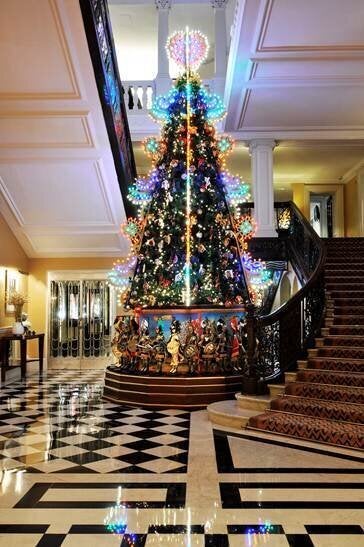 THE CHRISTMAS TREE AT CLARIDGES DESIGNED BY DOLCE AND GABBANA.
My Christmas started with an Italian themed Christmas tree, designed by Dolce & Gabana at Claridges Hotel. Claridges is by far the best hotel in London and one of my all time favorites. The service and manners guests are treated with are second to none. Whether you're a regular Joe like me or a wealthy Arabian princess I've observed all guests are treated with equal grace and a smile. The concierge, with his bank of chargers behind his desk, makes you feel like he is honored to charge your phone. It also helps that they're based in an area of central London where it's easy to park.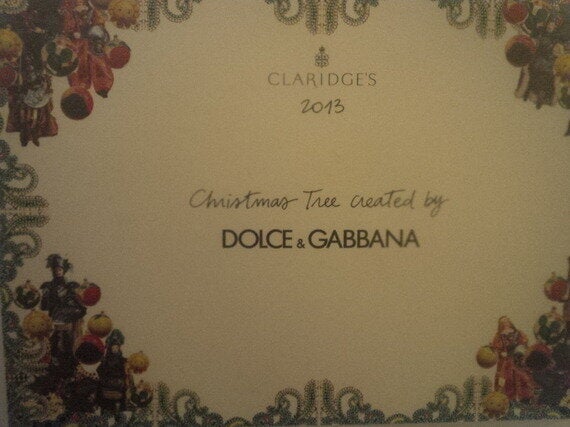 On pulling up outside the door, I noted that the banks of paparazzi were already gathered and clicking away at VIP guests entering. First came the leggy, willowy lovely Laura Bailey in her red coat and flowing ponytail. Then we had a bevvy of lovely ladies from Pixie Lott to Poppy Delevigne and the ultimate diva-Joan Collins! (It took all my will power not to jump up and down in mutual diva envy when I spotted Joan and recalled my early Dynasty viewing days).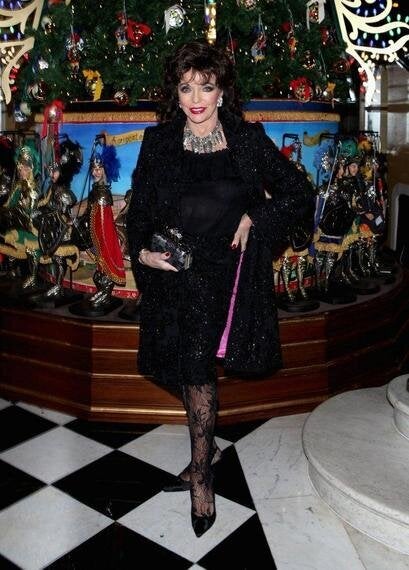 Designers Domenico Dolce and Stefano Gabbana created a special Christmas tree for the Claridge's Hotel in order to bring the warmth and traditions of Italy to London.
The Claridge's Christmas tree has long been a festive landmark, drawing visitors from around the world to marvel at its magnificent design and for the 2013 Christmas tree the other guests that attended and enjoyed the event were: our host- Stefano Gabbana (who reminisced with me about our many MTV filming adventures and staying at his home in Sardinia to film his MTV Cribs show), Eva Herzigova (who was a stunning classic in her red polka dot dress and so tall!), Oliver Cheshire, rapper Eve (who attended with her dashing man Maximillian Cooper - founder of Gumball car fabulousness and her stylist Richard Shoyemi), Mary Charteris, Olivia Grant, James Cook, Laura Bailey, Thom Evans, David Gandy, Tara Ferry, Isacc Ferry, Sam Webb, James Rousseau, Andrew Cooper, Marissa Montgomery & Jamie Rueben, Amy Gilliam, Holly Gilliam and Ron Arad.
''the seven metre-high Christmas tree represents iconic traditional, Sicilian elements drawn from the designers heritage land of Sicily''. He added that ''more than 450 festive Italian baubles that have been hand painted with images of the Sun, Citrus groves, Almond blossom and prickly pears to recreate the idea of a Sicilian Garden. At the base of the tree there are 30 hand crafted Sicilian Pupi made to resemble the Charlemagne and other Medieval Knights. The Pupi have been carved out of wood and dressed in velvet robes, Green, Red, Yellow and Blue the colours that have always been associated with Italian festivities''.
The grand staircase led to the balcony area, where we were served the most festive food menu of delicacies I can ever recall experiencing. Fois gras mince pies, festive mincemeat macaroons, white chocolate truffle snowmen and mini edible Christmas trees were all offered by waiters from festive Christmas gift boxes. Therest of the menu looked like this;
Canapé Service

Quail Egg Faberge Severn & Wye

Pate de Feuille Olive Pepper & Comte

Cep, Pine & Truffle Macaroon

Foie Gras Mince Pie

Cornish Lobster & Caviar Terrine

.

Cold

Foie Gras & Cherry

Goat Cheese & Pear

Smoked Salmon Orange & Green Pepper

.

Hot

Brioche Tart Venison & Juniper

Skewer, Pheasant, Sage, Onion

Goose, Chestnut en Croûte

Gougeres

.

Dessert

Snowman - Milk Chocolate Truffles

Spiced with Cinnamon

Montblanc - Vanilla Meringue with

Kahlua Cream & Chestnut

Snowball - Brioche filled with

Vanilla Cream & Coconut Snow

Nutmeg Praline Pinwheels

Christmas Puddings, Dark Chocolate & Orange

Speculoos Skis

Snowflake Crisps
The champagne flowed all evening as I caught up with Eve and other journalists from the fashion and bourgeois worlds. Male supermodel David Gandy was such a gent and afforded his time to all clearly trying to get just a few seconds with him. An opera singer and pianist did their thing at the top of the staircase and made the whole night feel more Italian than ever. At the end of the night we were handed a fabulous goody bag with perfume on our exit. We left having treated each of our five senses to a jovial whirlwind. What could be more festive!