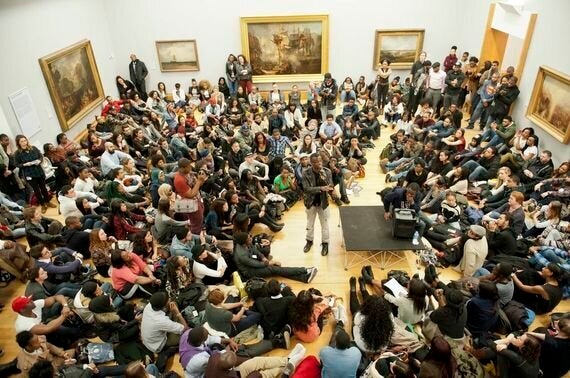 GEORGE THE POET PERFORMS AT TATE BRITAIN- PHOTO SAI PHOTOGRAPHY.
How creative spoken word and music projects like Poetry Luv - Late at Tate Britain are helping the UK's literacy issues.
Lets face it, its not often that young working class or diverse young people from ethnic backgrounds frequent locations such as the National Trust parks, museums and art galleries across the UK.
As my young reporters often comment to me, they've ''got bigger problems to focus on than visit stately homes''. There are a myriad of projects attempting to engage these groups into experiencing the free gifts that are on their doorsteps, but often they don't communicate on a level that gives real hope and change, or make big differences that leave a legacy.
This month however, I attended one such event that seemed to have ticked all the right boxes to actually make a difference. Fusing the mediums of spoken word and poetry set against a backdrop of Turner paintings, Late at Tate Britain, housed a captivating poetry event as part of National Storytelling Week 14th anniversary.
The UK's literacy issues are an on going concern particularly since this study in Oct 2013 by (OECD) http://www.bbc.co.uk/news/education-24433320) Funded by Arts Council England the Tell Tales projects are an innovative series of creative projects, which aim to improve literacy among young people.
The projects offer 16-24 year olds who are not in work, education or training a chance to re-discover their local libraries while developing their literacy skills and gaining an Arts Award qualification. Joyce Wilson, Area Director, London, Arts Council England, told us:
"The Tell Tales project is a great programme that gives young people the opportunity to embrace literature and use it as a means to share their individual stories in their own way."
It was a cold, wet night in London town but inside the Turner Room at Tate Britain it was hotter than a sauna. A diverse audience of young spoken-word fans wearing sneakers, jeans, hooded sweatshirts and backpacks filled The Clore Gallery and overflowed into it's adjoining halls to witness the "Love Story" themed poetry performances. There was a love theme for Valentine's Day, which included exceptional guest appearances from popular North-West London poets Dean Atta and George The Poet and moving recitals from the young poets from Lambeth whose pieces were themed around Love & Friendship, Loves Complexity & Uncertainty, Messages & Confusion.
It was amusing to see the gallery's security and staff hovering nervously at the entrances, in case we all got too close and over rowdy near the priceless artwork in the room hosting us.
Hosted by Poetry Luv, an emerging London poetry night, the event showcased the work of young performers and writers from Lambeth, who had attended workshops inside their local library in Clapham as part of the Tell Tales project.
Workshop leaders Nego True and Sophia Thakur introduced all acts to the hot, packed Turner Room at Tate Britain. Post show performer Dean Atta told me:
"Getting the chance to work with young people who might not have had the chance to ever tell their stories is a real gift and I really enjoyed performing alongside them".
Brixon based spoken word artist Elijah Kerr and club DJ Anthony Douglas created Poetry Luv in 2013, to help nurture and showcase young street poets and spoken word artists
Elijah Kerr is an intriguing story in himself.
He is also known as Jaja Soze is a rapper, spoken word artist and former gang leader of South London's PDC (Peel Dem Crew) who since leaving prison in 2005 has turned the PDC away from crime and reinvented it as a record label from it's studios in Overton Road in Brixton.
Jaja helps young people in the community of Angle Town, Brixton. His projects are largely funded by the Heritage Trust and Arts Council through his company Indigo Youth. Jaja has a new spoken word album due for release in May so you'd think he'd be spending all his free time promoting that, but instead he was spear heading Poetry Luv.
Jaja revealed to me how this former gang leader was inspired to set up Poetry Luv. ''I started feeling uninspired by the music industry, and felt that poetry was a powerful tool to help inspire and educate our young people whilst still portraying our art form, so I hooked up with my school mate DJ Mr Play and Poetry Luv was born. We now have a huge following''.
With Dean Atta and George the Poets popularity and signing to record labels there seems to be a shift back towards poetry being cool for young people again. Jaja states ''With artist like myself and George the poet the young people feel a connection as we speak their language whilst articulating it, so others can also understand we mix street culture with education, that's why it's becoming so popular. This art form will defo become huge and because it's becoming popular young kids are starting to write, read and go to library's to research''.
Jaja explained how exactly since leaving prison in 2005, he's turned his old PDC gang away from crime and reinvented it as a record label from its studios in Overton Road in Brixton. ''Turning our crew into a record label was a major challenge but we got through it. Now PDC artists like DVS are popping up in the no1 Hip-hop charts and my face is in the local paper for positive stuff. We now sign up-and-coming artists and run workshops in partnership with Lottery Heritage and Youth Music and I will continue to break barriers in order to inspire''.
Jaja's final word was of course about his own album out very soon. ''All I can say is it's very powerful hence the title Power, and I hope it inspires and makes a young generation move forward and progress''.
Perhaps one day soon, British parents will be thanking Jaja for their childs love of reading and poetry passion.