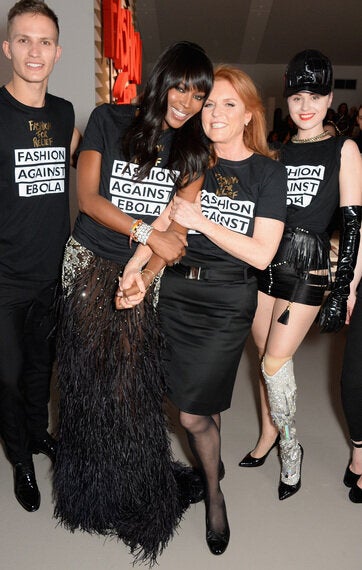 Naomi Campbell and The Duchess of York.
Pic copyright Dave Bennett.
Miss Naomi Campbell. Spotted at aged 15 and catapulted to supermodel fame, then in the tabloids all through the eighties and nineties for being beautiful, her relationships with high profile men and the now legendary stories of misbehavior.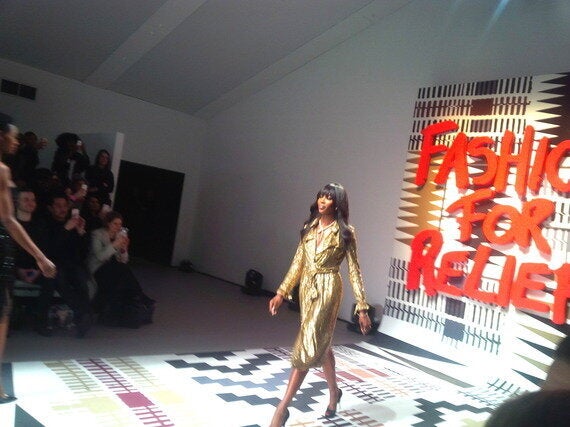 Pic copyright Jasmine Dotiwala.
This woman has lived a life that fables, myths and James Bond movies are built upon. Dining with and befriending legends like Nelson Mandela, Prime Ministers and Presidents, leaders from every sporting/movie/music genre and diamond weilding dictator's. But like Madonna and Angelina before her, she's savvy to balancing fabulosity with pro-social causes and is a Queen of moving to where the cheese is.
In the last decade, she has reinvented herself from a spoilt, tantrum-reputed diva, to a mature, socially-engaged woman of the world, trying to do brilliant things, to encourage people powered change.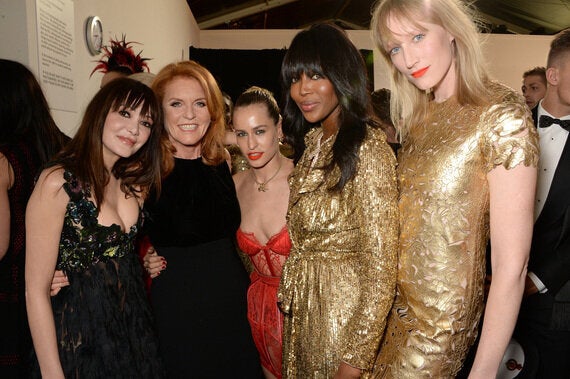 Annabelle Neilson, Duchess of York, AliceDellal, NaomiCampbell, JadeParfitt.
Pic copyright Dave Bennett.
In 2005, she established Fashion For Relief and hosted its first charity fashion show to raise funds for victims of Hurricane Katrina in New Orleans. Since its conception in 2005, Fashion For Relief has presented shows in New York, London, Cannes, Moscow, Mumbai and Dar es Salaam, and has raised millions of dollars for various causes.
Last week Naomi hosted a fashion for relief charity show at New York Fashion Week and just a few days later on Thursday night she hosted another star-studded one here to kick start London Fashion Week.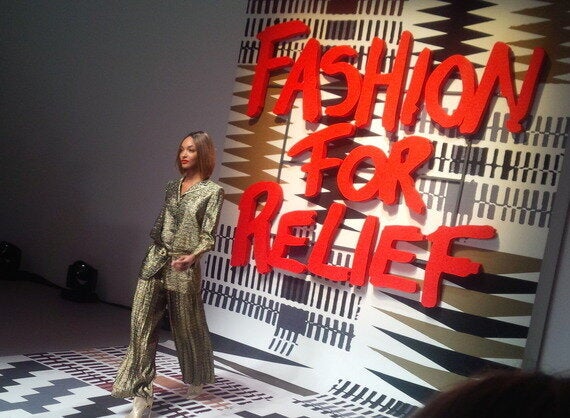 Pic copyright Jasmine Dotiwala.
You can't be a superstar these days without having a pro social cause that helps a community, and Naomi has been involved in activism and charity work for many years now. We are living in the age of giving back, and last night Naomi shone whilst raising funds and awareness for ebola with a star studded catwalk line up that walked in white, black and gold themed outfits.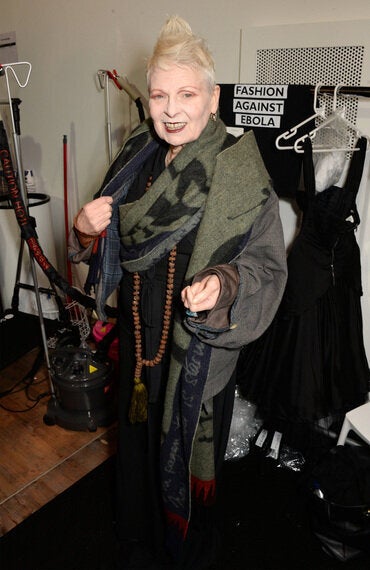 Vivienne Westwood backstage.
Pic copyright Dave Bennett.
The outfits were fierce, fabulous and fine. The models were royal, remarkable and riotous.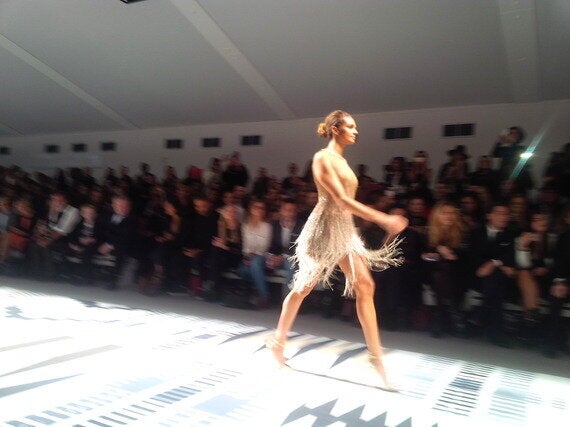 Pic copyright Jasmine Dotiwala.
American film, television and stage actor, Jeffrey Wright did the show intro and welcomed us all for what was an incredible spectacle. He said the main priority was to use events like this, as a key is to get to zero cases of ebola in these countries that were affected.
He drove home the message that ''In the USA, when the news of ebola so read globally and was hot in October last year, there was hysteria in the air and people panicked about ''what about when it'll arrive in the states!''. Then the awareness peaked off. We think that's because in the UK and USA we're powerful enough to control and cure people. When a person gets it here, a person gets treated in American and British hospitals and it gets cured and they leave healthy. On the other hand, Africans who get it die. That speaks volumes about the economics of these different countries. We must speak of the vulnerabilities and issues here. There's not one hospital in Sierra Leone you'd want to be ill in. We want to build up the infrastructure in Sierra Leone''.
''It's powerful and appropriate that the fashion community comes together around this. I come from the theatre community, which was affected by aids. It took many years for many to even acknowledge this. The gay community back then said "no. We are the creative and most fierce community in this country and we will take this on and fight it. And so for the fashion community to come together to make this happen for the ebola cause is a great thing. I want to thank Naomi Campbell for taking the charge in this crusade!''.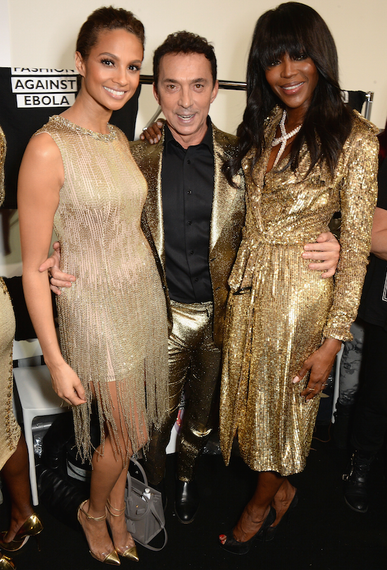 Alesha Dixon, Bruno Tonioli and Naomi.
Pic copyright Dave Bennett.
Naomi and friends hit the catwalk at Somerset house hard! All happy and working it they joked, skipped, strutted and some even piggy backed and fell on their knees in excitement!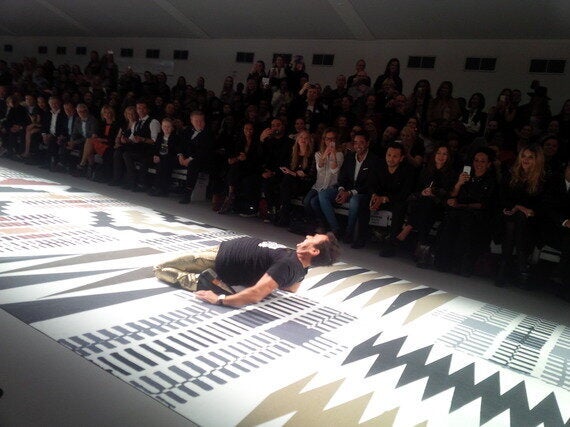 Bruno Tonioli falls to his knees in excitement.
Pic copyright Jasmine Dotiwala.
Celebrities and models that walked during #FashionForRelief included Ade Adepitan, Alesha Dixon, Alice Dellal, Andrea Dellal, Andreas Kronthaler, Annabelle Neilson, Bruno Tonioli, Caroline Flack, Caroline Winberg, Daisy Lowe, Dynamo, Duchess Of York, Ella Eyre, Georgia May Jagger, Jacquetta Wheeler Jade Parfitt Jourdan Dunn, Katie Piper, Katie Price, Laura Whitmore, Melissa Odabash, Nicola Roberts, Pixie Lott, Rob Evans, Rupert Everett, Sarah Jane Crawford, Viktoria Modesta and Vivienne Westwood.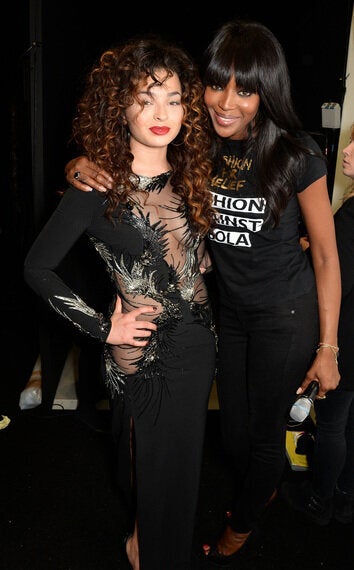 Naomi with singer Ella Eyre.
Pic copyright Dave Bennett.
Naomi and her friends, including Jourdan Dunn, Georgia May Jagger, the Duchess of York, Vivienne Westwood, Daisy Lowe, Rupert Everett, Katie Price, Alesha Dixon, Sarah-Jane Crawford, Pixie Lott, Laura Whitmore, Bruno Tonioli, Caroline Flack, Nicola Roberts, Katie Piper, Melissa Odabash and Dynamo walked the runway wearing pieces donated from the world's most prestigious fashion houses across the world including Dolce & Gabbana, Givenchy, Alexander McQueen, Azzedine Alaia, Vivienne Westwood, Stella McCartney, Balmain, Marchesa, Versace and many more.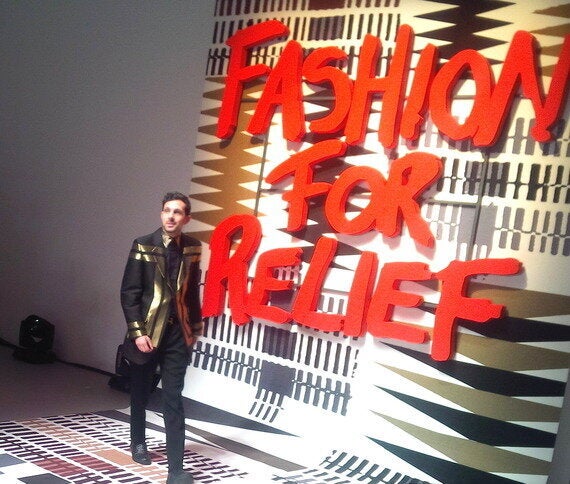 Pic copyright Dave Bennett.
Other Celebrities in the house that I spotted were fashion blogger Bip Ling, fashion designer Wale Adeyemi, Bob Geldof, Mark Wright, Michelle Keegan and Tanya Burr.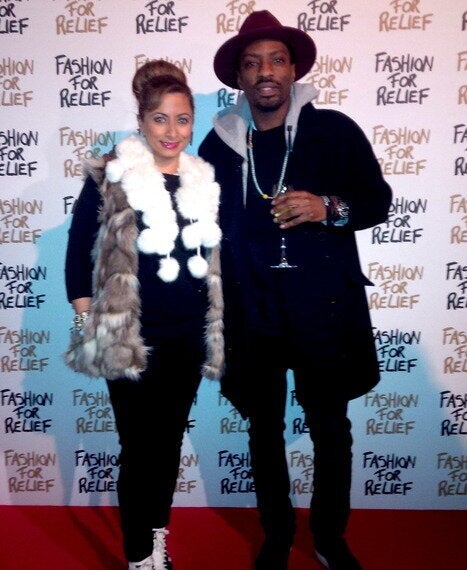 Jasmine Dotiwala with fashion designer Wale Adeyemi.
Pic copyright Jasmine Dotiwala.
Brit Award nominee Ella Eyre gave a show-stopping live performance from the catwalk, singing her single 'Gravity'.
Naomi had to take guests to task at one point, when an Alexander McQueen dress modelled by Daisy Lowe, wasn't raising enough money in the post show bid. She cocked her lip and hip out and pointed at high net worth individuals in the crowd, and name checked them into parting with more cash for the cause. The strop was most certainly, as L'Oreal would say, worth it!
Naomi was overjoyed at the end of the night, "Tonight has been incredible and I am so thankful to everyone who has been involved to make the show such a brilliant success. The fight to raise awareness and bring aid to those affected by Ebola is a cause that I am so passionate about. I sincerely hope the funds raised from tonight's show will hopefully make a difference to those affected by this terrible disease."
Fashion For Relief was pioneered by Naomi to mobilise funds for charities close to her heart. This year, the show helped to raise vital funds and awareness towards the ongoing fight against Ebola, with all proceeds going to support the Disaster Emergency Committee: Ebola Crisis Appeal www.dec.org.uk/ebola and the Ebola Survival Fund http://ebolasurvivalfund.org/