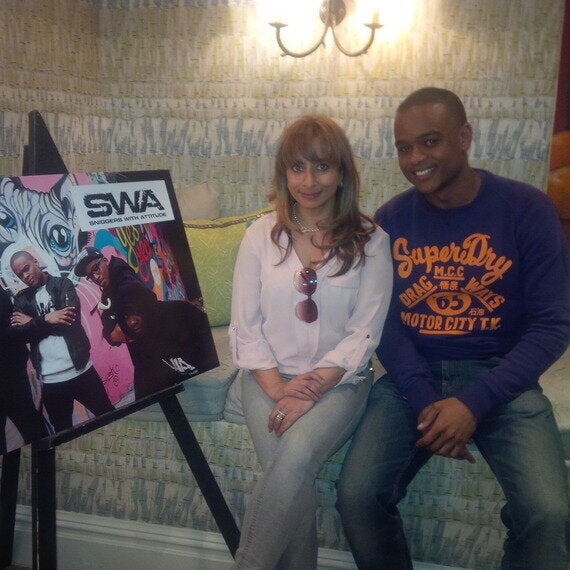 Creator of Sniggers With Attitude Jason Lewis with Jasmine Dotiwala.
PIC COPYRIGHT Jasmine Dotiwala.
Dear all. Why can't we stop making assumptions about everything based on race?
If a singer like Usher or Trey Songz is described in a national tabloid why do they describe him as a rapper?
When an ethnic commentator is seen on TV why can it be assumed they must to talking about an ethnic issue?
Up there in the top ten of our favourite, ridiculous racial stereotypes are; white people don't have any rhythm, all African American's can play really good basketball, all Asian kids are educated genius', all black men are well endowed, all east Asians are skilled up in at least two martial arts techniques and of course the ever irritating- anything a black person does in media must include the words urban and/or diversity in the title.
At a TV screening for a new comedy show in London this week, one of the first things the show's creator Jason Lewis said as he welcomed the audience of key influencers was
''this a comedy sketch show, not an urban sketch show, not a diversity sketch show, a simple comedy show''.
Jason is a young, about to blow comedian, who has Trinidadian heritage, but his new comedy sketch show (Sniggers With Attitude/ SWA ) for London Live TV is an inclusive comedy show for the new, young, pop culture demographic.
His show was described recently by TV industry bible Broadcast as ''an urban sketch comedy from Jason Lewis''. Sigh.
The show aims to give out a dose of comedy, straight with no chaser! Created and written by Jason, the show also showcases many talents of fellow comedians and co-writers Marlon Davis, Ola The Comedian and Funmbi Omotayo as well as some very special guests including Javone Prince and Daniel Kaluuya.
A few years ago whilst I was heading up production at MTV Base, Jason came to my attention. He had released many music spoofs. Artists he parodied included Tinchey Stryder, N Dubz, Jay Z and Alicia Keys.
In July 2009 Jason along with close friend actor Daniel Kaluuya released a parody of Boy Better Know's song Too Many Man, titled Too Many Weave which had young MTV fans gripped with laughter. It was based upon the fact they thought that nowadays too many women wear fake hair (hair extensions). The video was in Youtube's Most Viewed for the 14, 15 and 16 July that year.
At MTV Base, this was enough for us to give Jason, who was already creating his own online media buzz, a break and a chance to make his own self-titled show The Jason Lewis Experience. This rated well with great feedback.
It's often said that you have to be an insider to change the game. This remains true. But you also need the trust and co-sign from your bosses. Mine at the time was VP, Music Commissioning & Content, MTV Networks UK's Virginia Monaghan, who happily gave me free rein, which was appreciated.
My friend who works at the BBC then passed this tape to her colleagues in the comedy department, who were also impressed enough by him to commission a pilot show - under the watchful, supportive eye of then Controller of BBC3, Danny Cohen.
During 2010 Lewis created and starred in his own BBC online sketch comedy pilot show called SWA (Sniggers With Attitude), which featured appearances from Paul Whitehouse, Noel Clarke, Rufus Hound, and Daniel Kaluuya.
In June 2010 BBC announced that Danny Cohen, controller of BBC3 had commissioned Jason Lewis his own pilot titled The Jason Lewis Experience for the channel. The recently shot pilot featured Harry Enfield, Paul Whitehouse, Daniel Kaluuya, Trevor Nelson and David Schneider.
The same year, Lewis was a regular cast member in the third series of the BAFTA Award winning The Armstrong and Miller Show for BBC1 and featured in the BAFTA Award winning Harry and Paul, created by Harry Enfield and Paul Whitehouse. His talent and progression were clearly and openly being nurtured.
Alas not for long, as once Danny left the BBC and his replacement Zai Bennet took over, predictably Danny's slate was wiped clean and Jason's project was disappointingly stalled and shelved, going nowhere.
A true example of determination and tenacity meant that Jason - who was working as a store assistant at Banana Republic when I first met him - has persevered and finally today has got his foot wedged into yet another broadcasters door.
Jason has made the latest version of SWA with his production company Family Pictures, which he founded with fellow producer Jamie Cox.
To his relief, SWA now has a home at London Live (at least for now) and Jason humbly thanked his team as well as London's Live's Head of Programming/Commissioning Jonathan Bosely and Derren Lawford for the opportunity to keep his comedy screen dream alive. Jason said of Jonathan '' he trusted me to make a show that was important to me and I was able to keep my artistic integrity and so I remain indebted to him''
The show debuts this Friday and is on repeat for a few slots. It had the screening room audience at the Charlotte St Hotel laughing out loud and raucously.
We witnessed brilliant laughs at the expense of teenage pregnancy cases, declined credit cards, the police, black music, Nandos, Jay Z, Destiny's Child, Levi Roots, Didier Drogba and more.
A clever, cutting dig at TV development teams is seen in Jason's TV diversity boardroom sketch (not surprising after all the pain they've caused him).
Standing out, a strong favourite for a through line of continuity who the viewers will grow to love and quote, is the Lord Snooty like character Dr Leon Askwith who breaks down issues intermittently throughout the show.
Jason's had an average journey of struggle through the acting world so far. He started his career training at The Anna Scher Theatre as an actor for 6 years. He's been cast as an actor and writer for BBC show Bellamy's People, created by the BAFTA Award winning Paul Whitehouse and Charlie Higson. He's also appeared in BBC2 hit sitcom Miranda and the second series of BBC3 sitcom Coming of Age.
So you can see by his backlog of experience and content created, that he is a very broad and diverse young man. He just happens to also be black. This doesn't make him 'urban' or 'diverse'.
He just wants you to view his show with the same open mind and playing field you would allow another newcomer. Remember, he's a comedy writer and expressionist. Not an urban, diversity, box ticking stat.
Here's the big caveat to his journey to this point. Its hopeful that the bigwigs at London Live do continue to support and champion Jason's work, but a big factor remains on whether he can get enough eyeballs and profile for the show, which debuts Easter Friday evening on the channel.
Watch with an open mind. Welcome a new London loving, staunchly proud creator. But do it with an open mind.
Sniggers With Attitude (SWA) is a comedy sketch show made for London Live that aims to give out a dose of comedy, straight with no chaser!
Created by Jason Lewis, he brings along with him the many talents of fellow comedians and co-writers Marlon Davis, Ola The Comedian and Funmbi Omotayo as well as some very special guests including Javone Prince and Daniel Kaluuya.
With characters such as Jay Z, Football legend Didier Drogba, Ragga Ragga Sauce Chef 'Ziggy Spice' and Inspectors Harris and Dexter keeping the streets safe, this show is guaranteed to make you snigger.