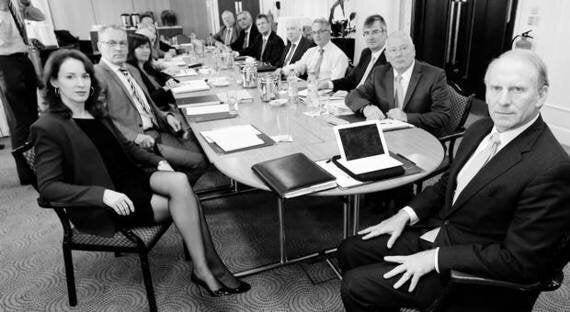 The talks chaired by American diplomat Dr Richard Haass have come to an end without a firm resolution with no significant unanimous deal being agreed upon by the five main Executive parties. The negotiations on the latest (7th) draft went on late into the night and well into Tuesday morning, but despite efforts, the parties were unable to compromise on some of the proposals. The main sticking points continue to be 'flags and emblems', however it was noted that some progress had been made in other areas - with a number of new groups thought to have been proposed to deal with parades.
The Democratic Unionist Party, in a statement released this morning, called the issues of the past, parades, protests and flags & emblems "among the most sensitive and difficult issues to address" and that they believe the "architecture across all three areas represent[s] progress" but that "some of the language and detail" they "profoundly disapprove" with. The statement thanked Dr Haass and Meghan O'Sullivan, the other political parties, and their own team for their "contribution and dedication" throughout the process.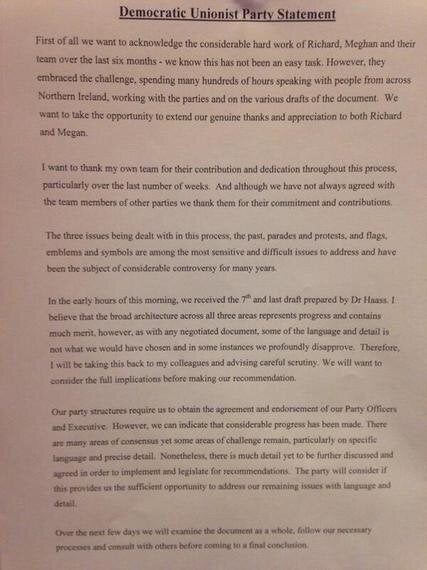 Sinn Fein released a statement after the talks came to a close noting that they would have "liked to have seen some aspects strengthened and improved further" but "nevertheless welcome the potential of this process for further mainstreaming parity of esteem and equality". Sinn Fein also noted they remain disappointed in a number of aspects of the proposals, such as the development of the Maze/Long Kesh site and reiterated the lack of agreement on the issue of flags. "Like others we have little confidence that the proposed Commission on Identity, Culture and Tradition will resolve these issues". Sinn Fein also thanked Dr Haass and Mrs O'Sullivan, and called the proposals "a significant step forward".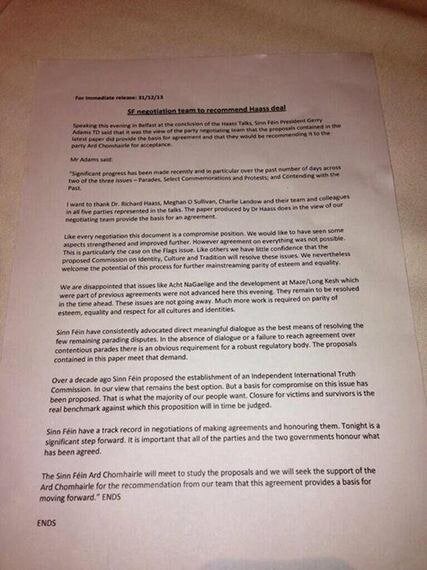 Jim Allister, leader of the TUV (Traditional Unionist Voice), courted controversy after the announcement stating "Taxi for Haass! Hope he takes with him his plans to sanitise terrorism, dilute justice and demean the flag. Beware of drip feed acceptance".
Dr Haass, in a BBC report, stated that "It would have been nice to have come out here tonight and say we have got all five parties completely signed on to the text" and that "We are not there but I believe there is a real prospect that we will get several of the parties to sign on the text in full. Several of the other parties will endorse significant parts of it, and together this will provide a basis for a serious ongoing political process".
In a tweet Dr Haass stated "NI talks: urge parties to endorse text & move with dispatch to implement those initiatives (especially re past) where there is agreement"
There is no doubt that many will be embarrassed by the latest development of the talks. Not only the political figures around the table but also diplomats - and as an extension the White House, which as we understand it has a much bigger hold over NI politics that they will ever admit. It is slightly unnerving that two diplomats used to dealing with Iraq and Afghanistan cannot make a dent in Northern Ireland. The general public too have every right not only to be embarrassed of a political leadership that after years of working together still cannot come to any significant agreement on these issues, but angry that so much time and effort has been put into a process that will most likely slip through the cracks of time - a ghost that not so much haunts the electorate but has forever damned them to an endless cycle of compromise, conflict and nonsense.
Popular in the Community